Couple: Morgan & Tyler
Resort & Location: Riu Guanacaste in Costa Rica, Central America
Photographer: Brittany and Jeremy Bay (Bay Productions: http://www.brittanybayproductions.com/)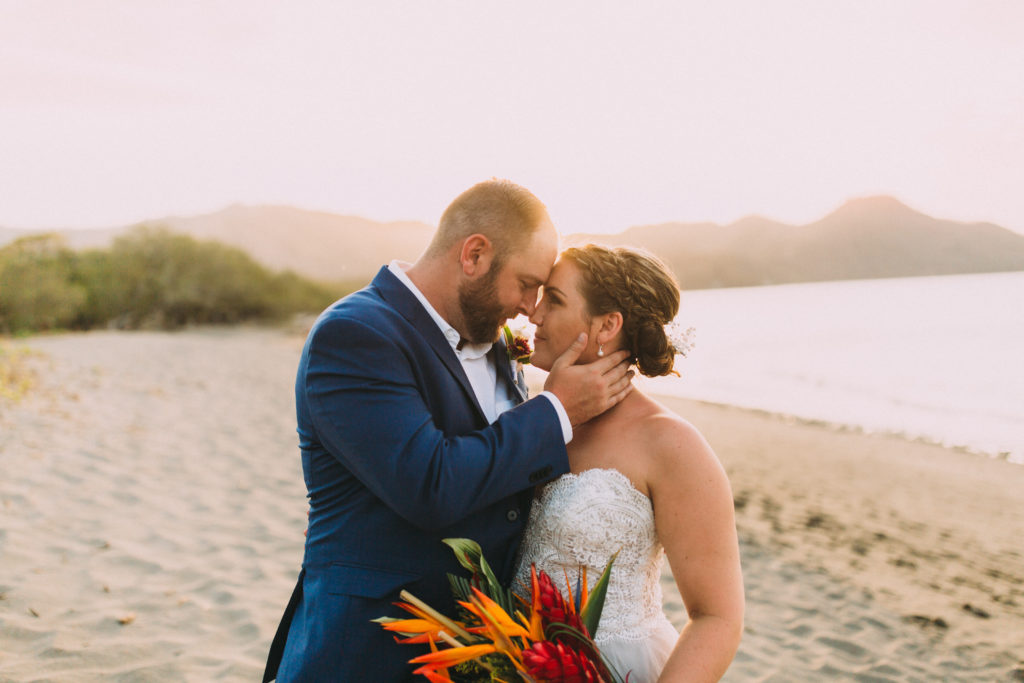 The story of how you met/fell in love:
Where do I even begin!? I was working in Salt Lake City, Utah, for my previous job. After being single for several months, I wanted to get back into dating. Being all alone in a new city was tough and I wasn't sure how to meet people, let alone date. Mind you, this was back in 2014 when Tinder was very new and one of the only dating apps besides Match.com, etc., . I gave it a shot and one day I came across Tyler's profile. We instantly matched and within the next few weeks started talking and ended up going on several dates. Everything from dinner to snowboarding, we did it all. He had been in Utah for work too and was ready to meet someone and start a new chapter too. I could tell that he was different and something about him had me falling deeply in love. Fast forward a few months later and we made the move back to Dallas, where I was from. Tyler took a chance on me and moved to Dallas with me (after only visiting once) and from there we were inseparable. Four years later and I can honestly say that swiping right on Tyler's profile was the best decision I have ever made!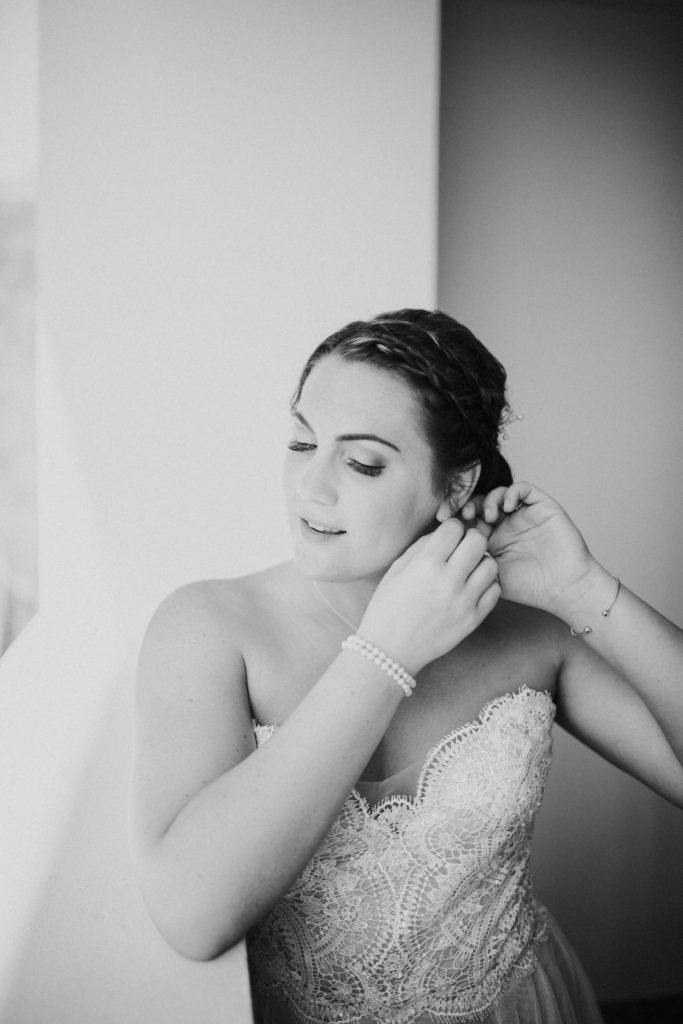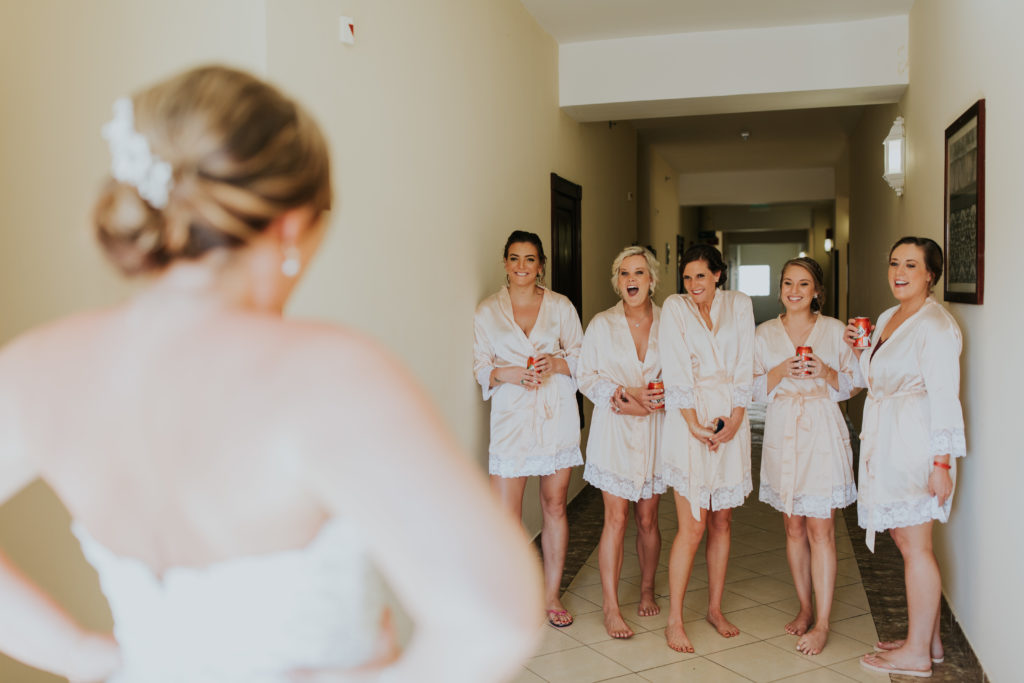 Did you always know you wanted to have a destination wedding?
Yes. We have the best family and friends around and knew we wanted to do something special with those we love most. We weren't set on spending thousands of dollars to spend an evening with people we were merely acquaintances with. So, we decided to make a trip out of the experience and invite our closest family and friends. We were extremely surprised at how many people wanted to come and it turned into the best vacation/memory we could have every dreamed of!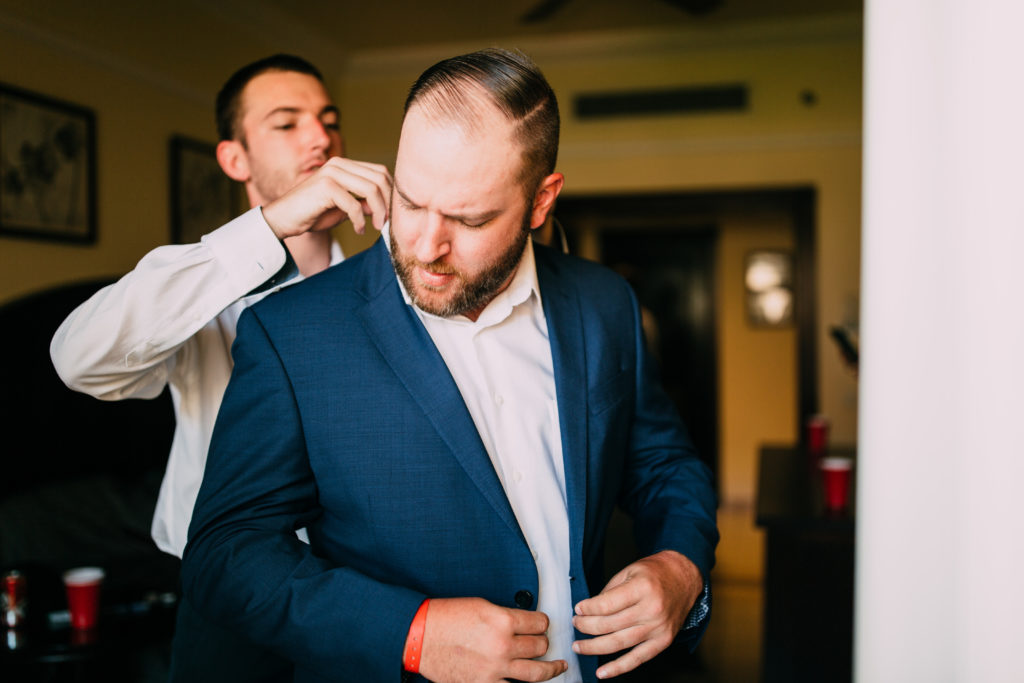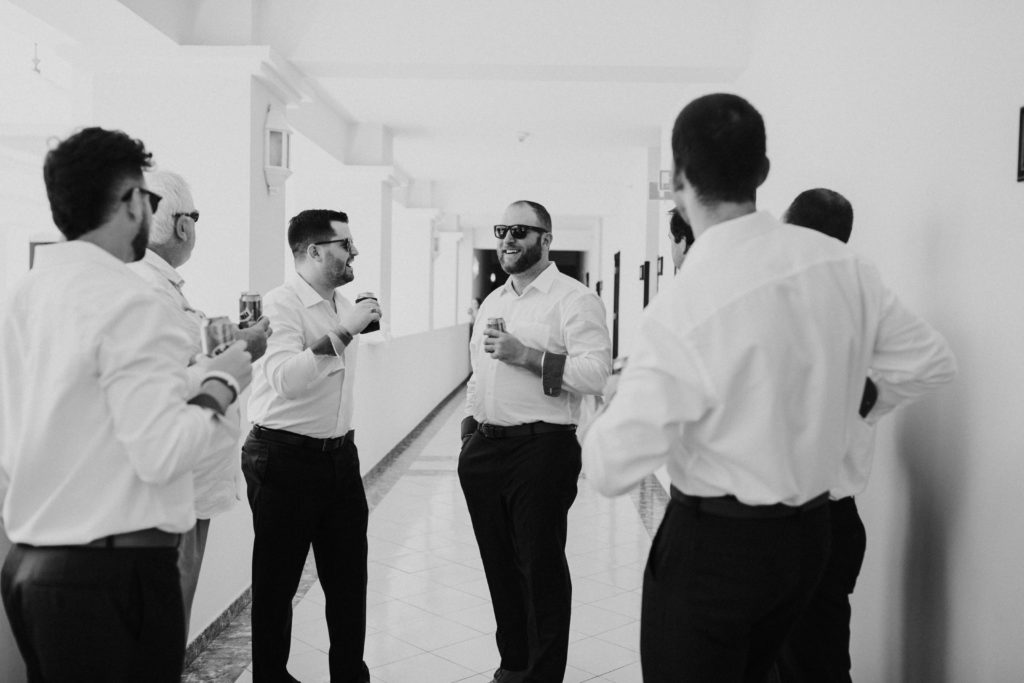 What made you choose your resort/destination?
Pinterest made our decision pretty easy! We both wanted to go somewhere we had never been that would be an awesome destination for everyone involved. Costa Rica had lots of beautiful photos online and there were countless wedding albums I researched before we decided to lock the destination in. We wanted a place that was all inclusive and people would feel safe and comfortable. That made Riu Guanacaste an easy choice! A destination wedding in Costa Rica was underway.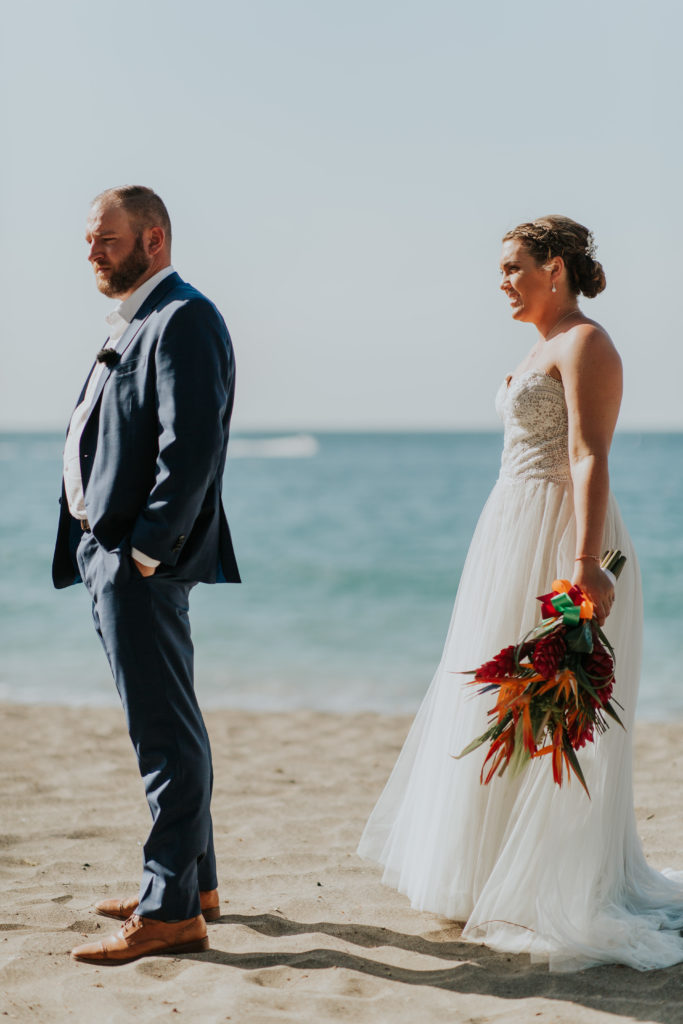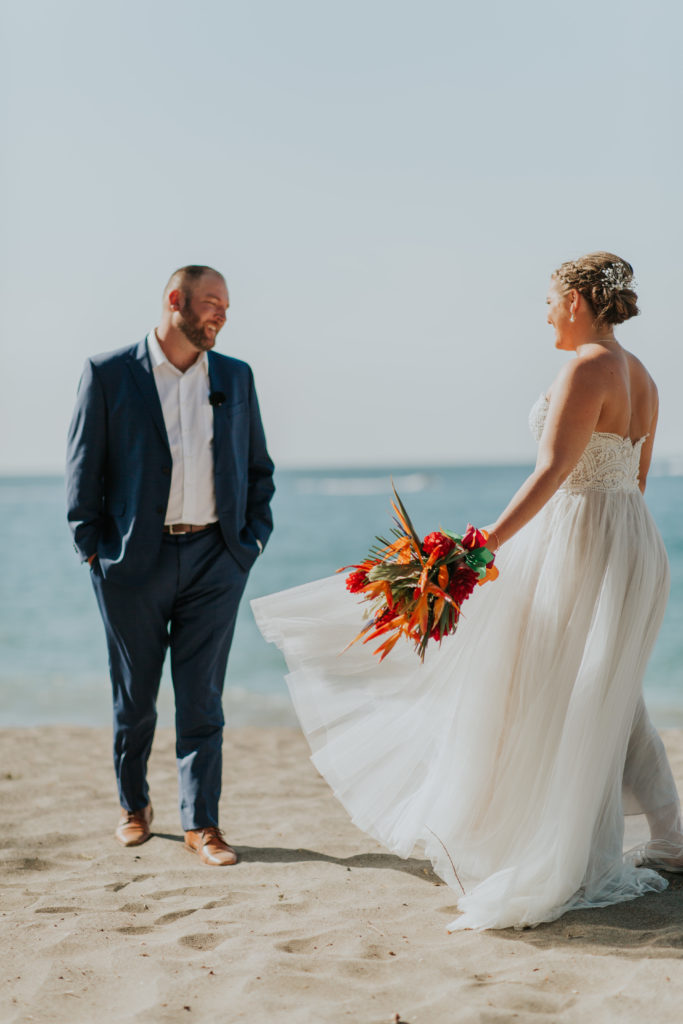 How did you personalize your ceremony and reception?
Most brides are very picky when it comes to their perfect fairy tale wedding. I wasn't the type of girl that grew up dreaming up the perfect wedding. In my eyes, I just wanted to focus on finding the right guy before I thought about all of that! The best part about planning a destination wedding is the resort takes 90% of the stress off of the planning process and makes it simple. They gave us a PDF of their wedding packages and extras, and we picked from that.
I was very adamant on having amazing photos and video because we knew lots of people that were special to us wouldn't be able to make it. I also wanted to make sure everyone attending was taken care of. It was a lot to ask of them to come to Costa Rica for us, so we needed to make it special. We made custom giftbags for all the attendees. Those included: mosquito repellent bracelets, glowsticks & bubbles, koozies, Costa Rican coffee, gum & candy, custom door hangers and more. I got my bridal party a pretty robe and bracelets for helping me tie the knot.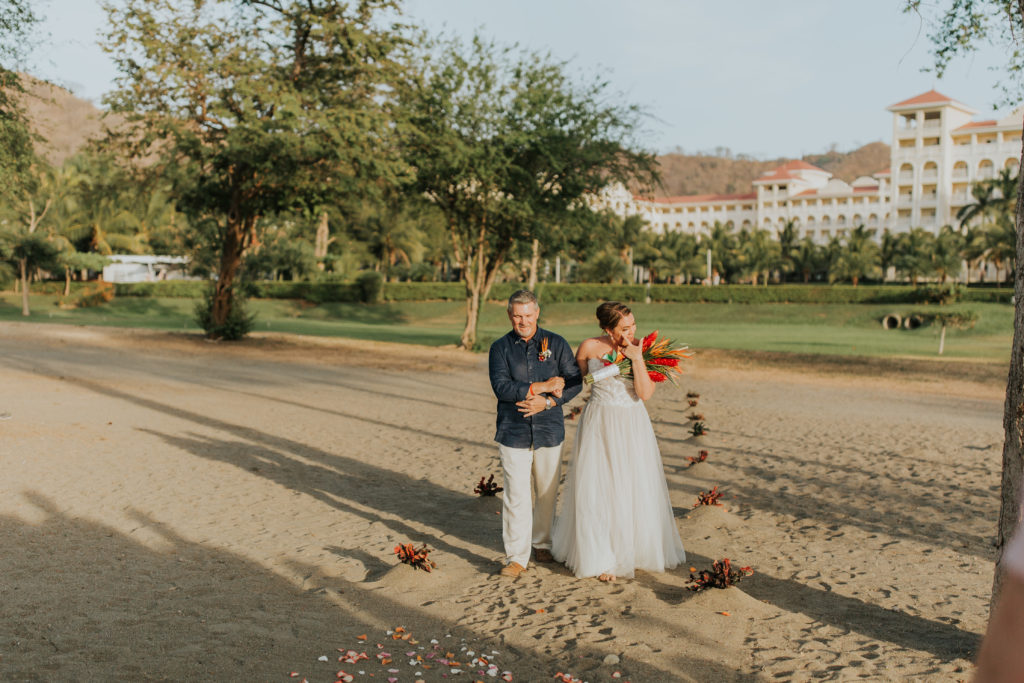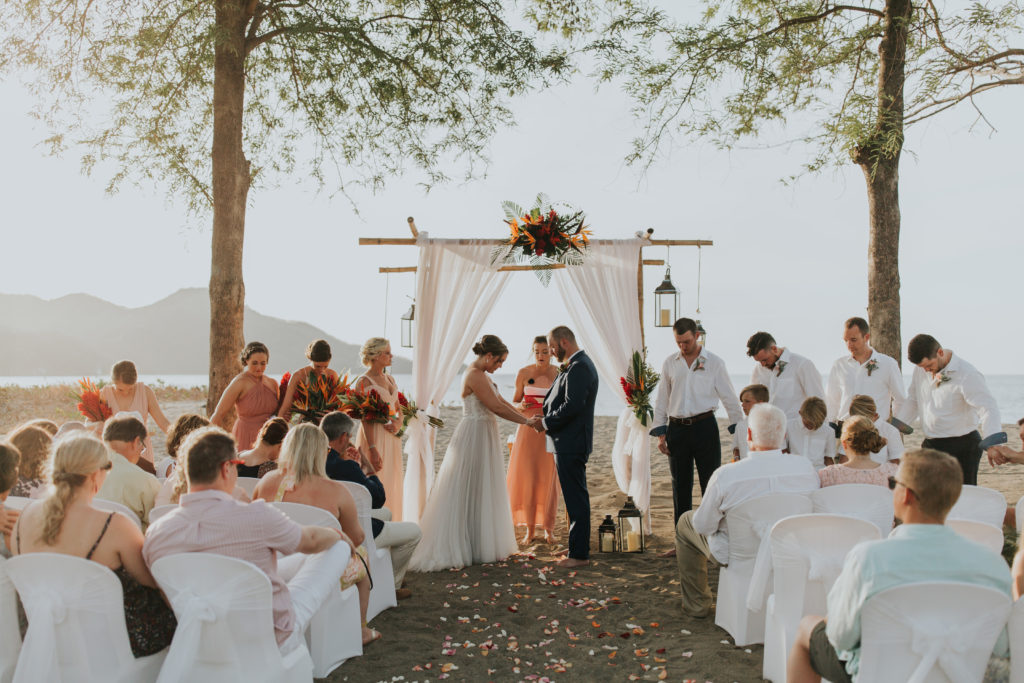 The ceremony was the most beautiful ceremony I could have ever imagined. I sent a Pinterest photo of tropical flowers to our resort planner and she presented us with the most perfect flowers. We also had custom decorations at both the ceremony and reception. I think what made our ceremony most unique was that Tyler's sister, Brenna, married us. She prepared the most special remarks and vows, and we are forever bonded by that experience. It was truly beautiful and we are so thankful for her willingness to marry us.
The reception was in an open green space with string lights and music. I think the most personal part was that everyone (after being on vacation together for a week) was truly becoming friends and family with one another. No one felt left out and the party went on all night long!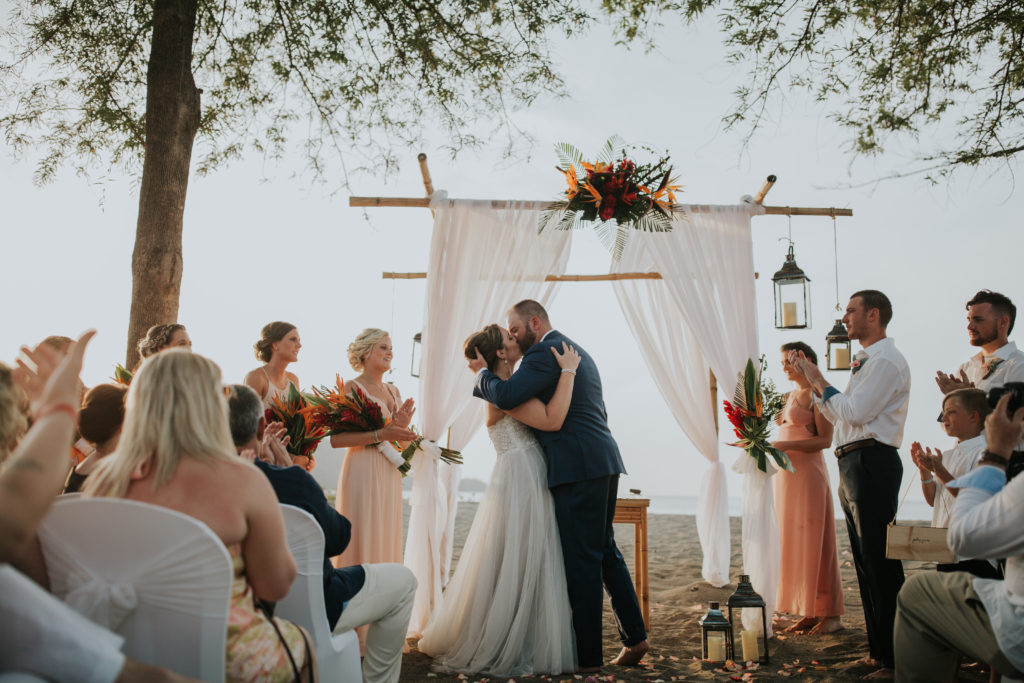 The funniest or most unusual moment was when…
I can laugh about it as the funniest moment right now, but on my wedding day it wasn't. My dress was beautiful, but we purchased a belt to wear with it too. The belt (in my eyes) made the dress. On my wedding morning, I couldn't find the belt for the life of me. I called my mom and told her to come to my room ASAP as I was having a panic attack. After a few seconds of sheer panic, we realized the belt was back home in Dallas, safe and sound in the old wedding dress bag. We cried for several minutes before we realized there was nothing we could do and would have to make the most of the situation.
My dad, being the funniest one of all, started his speech at the end of the night by asking if my mom had brought the printed copy of it for him… or if she left that in Dallas too. Needless to say, we were all laughing about it and realized there are certain things that are bound to go wrong. The fact of the matter is I was married to my best friend and nothing else mattered from here on out!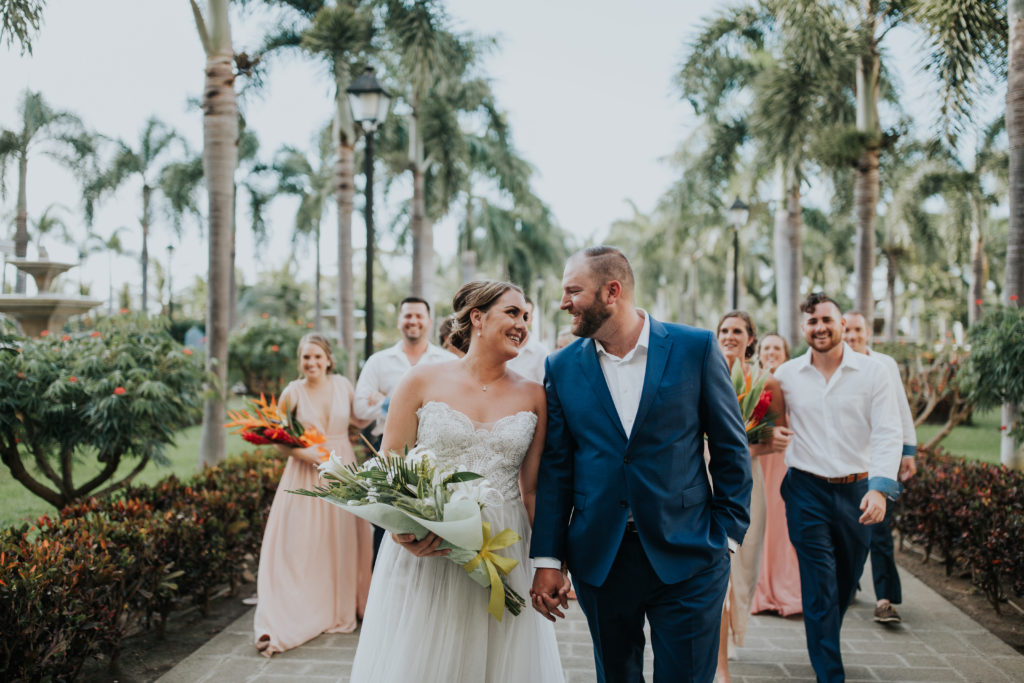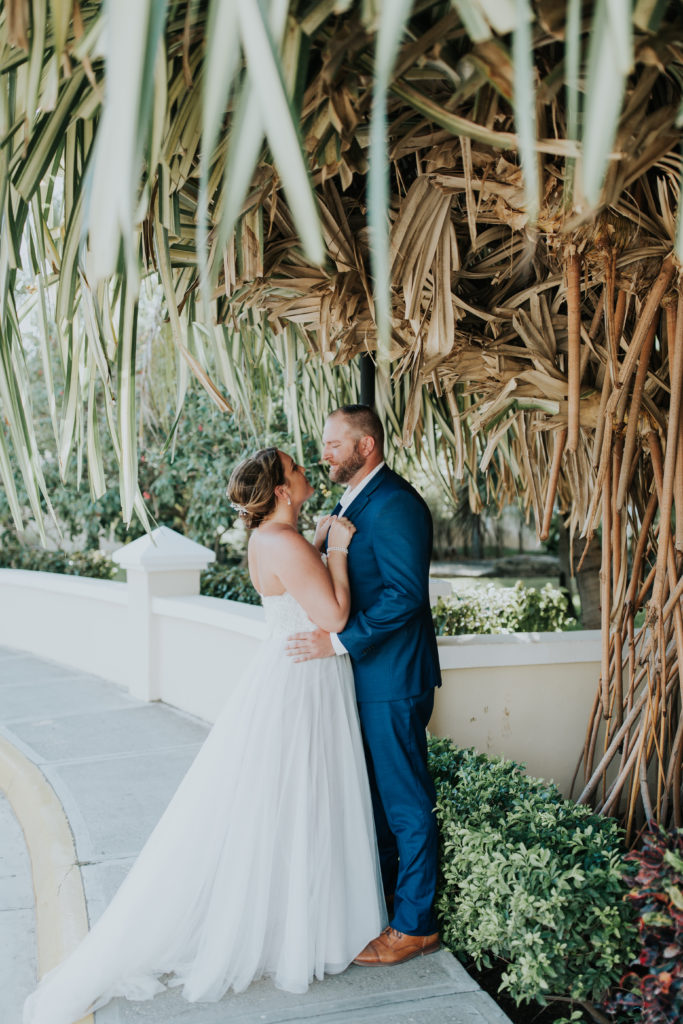 ---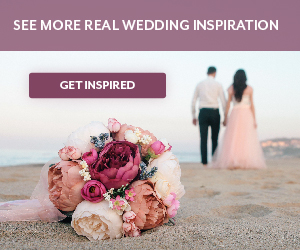 RELATED: Best Costa Rica Wedding Venues
---
The most memorable moment was when…
I think everyone's most memorable moments are always different for different people. Mine would have to be the whole experience of walking down the aisle with my dad and standing there in front of the most important people in our lives, becoming Tyler's wife. Nothing can compare to that moment of officially being pronounced husband & wife and having a partner forever. I had all the feels and every time I look through our photos, every single emotion comes back.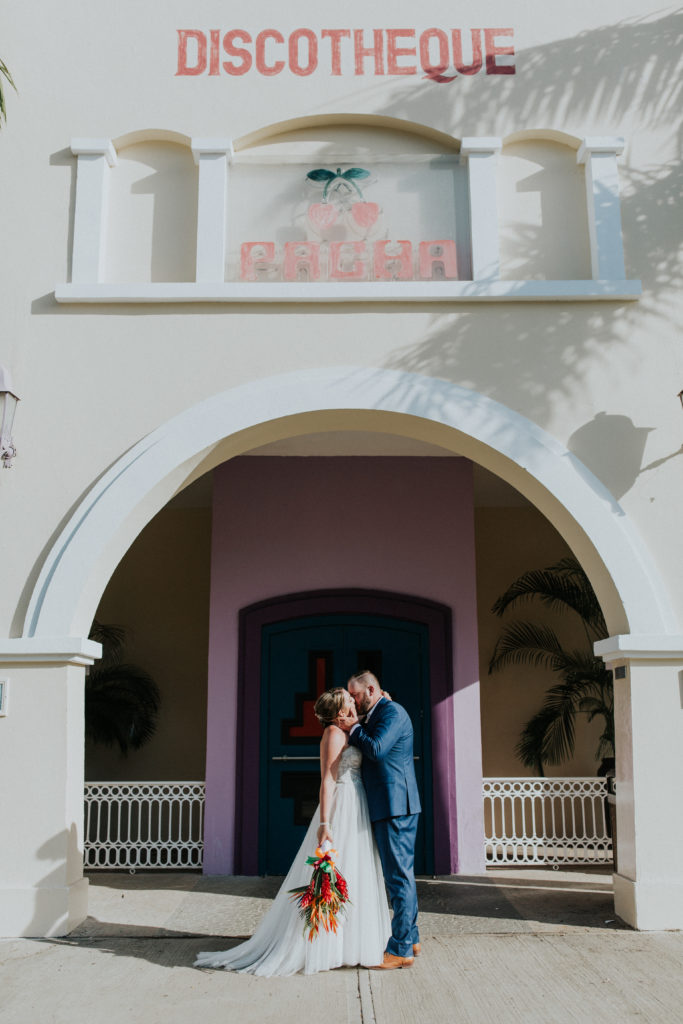 Three words that sum up your destination wedding experience are:
Fun, Cherished and Loved (Blessed too…but picking three is hard!)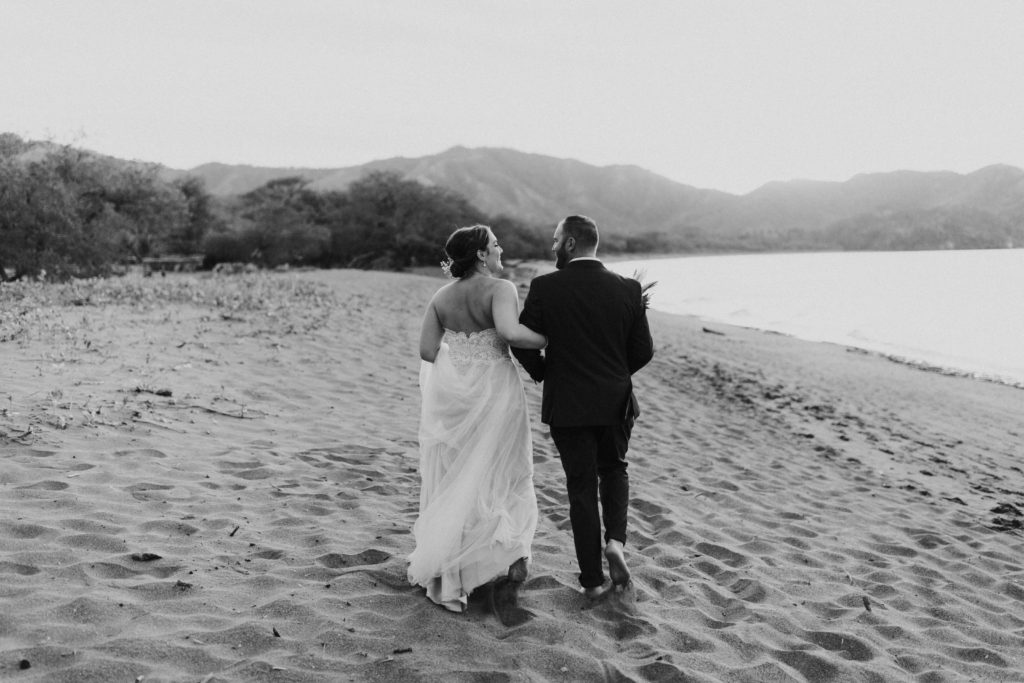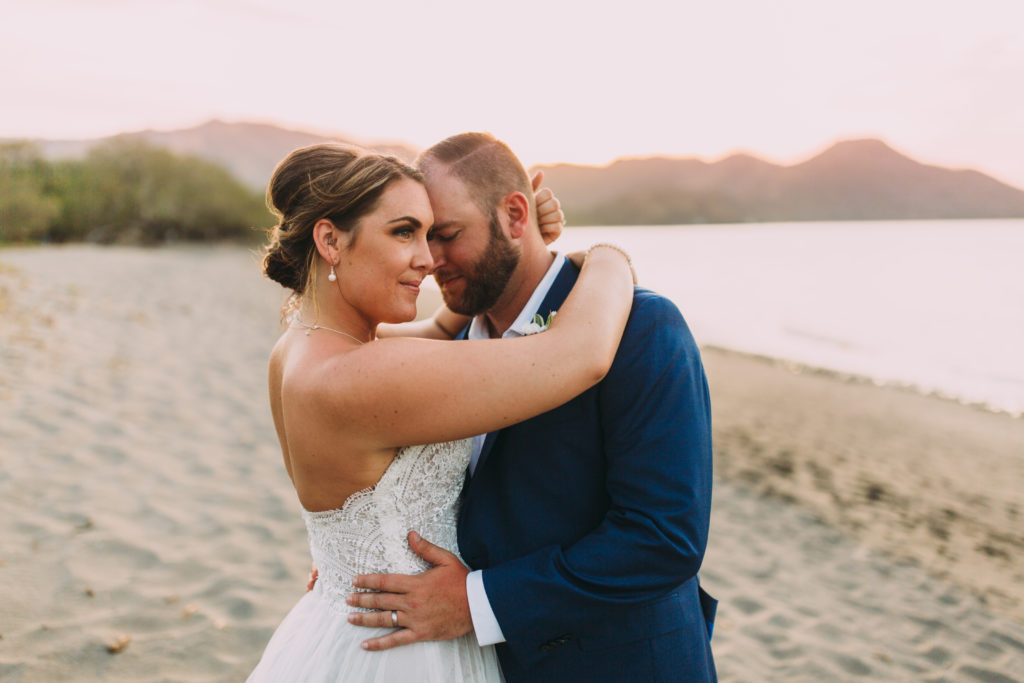 Besides the wedding itself, what was your favorite part of your destination wedding in Costa Rica?
One of my favorite parts of the trip was our rehearsal evening. We wanted to do something different, fun and memorable with our guests. So we rented a catamaran and did an afternoon boat cruise where we took everyone snorkeling, sailing, kayaking, paddleboarding and enjoyed a private beach. We also got dinner and open bar on the boat. Everyone that came to celebrate our wedding with us was there and it was the perfect day-before-wedding activity to bring everyone together. It was the best chance to thank them for coming!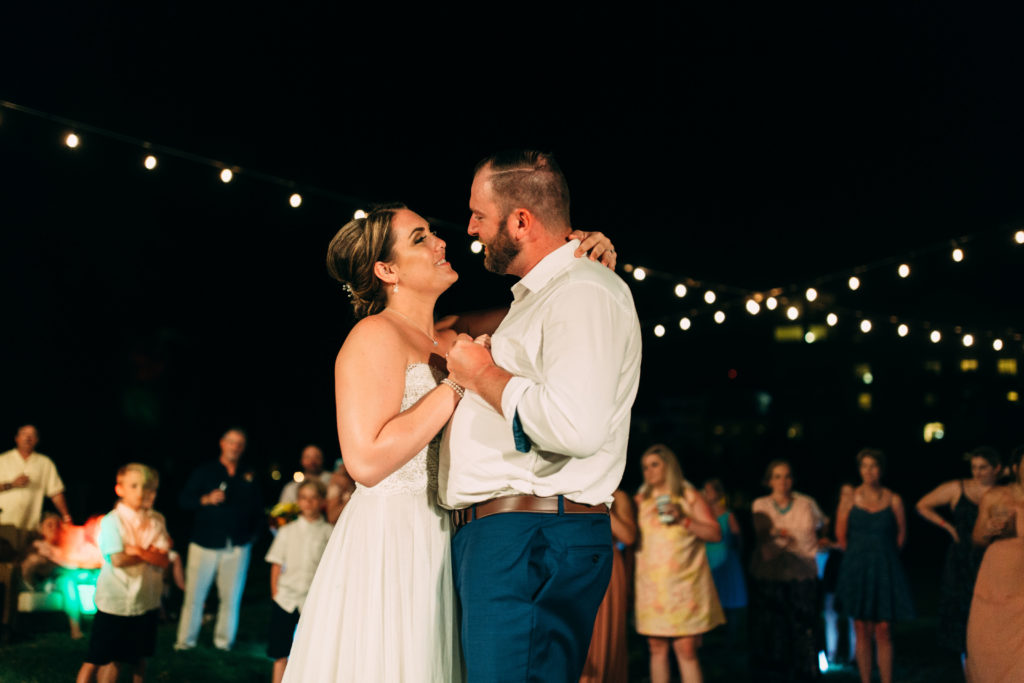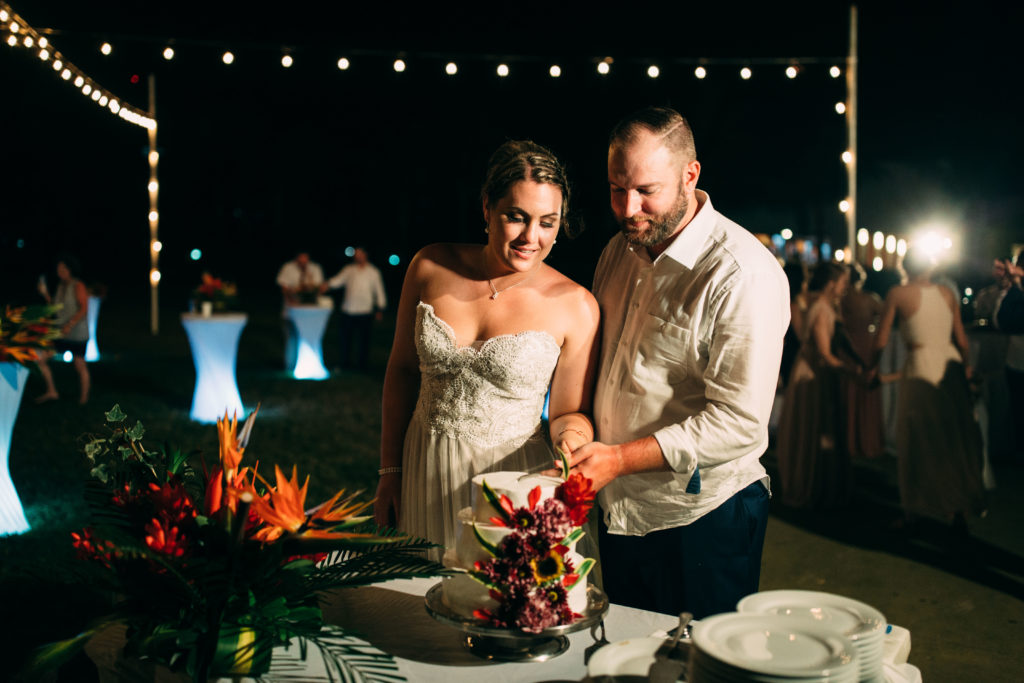 If you could travel anywhere for your one-year anniversary, where would it be and why?
Paris!! We have been to lots of tropical places already and Paris has always been on my bucket list. It is the city of love and it would be the perfect place to celebrate one-year together. I am hoping we can plan a trip there before we start our family.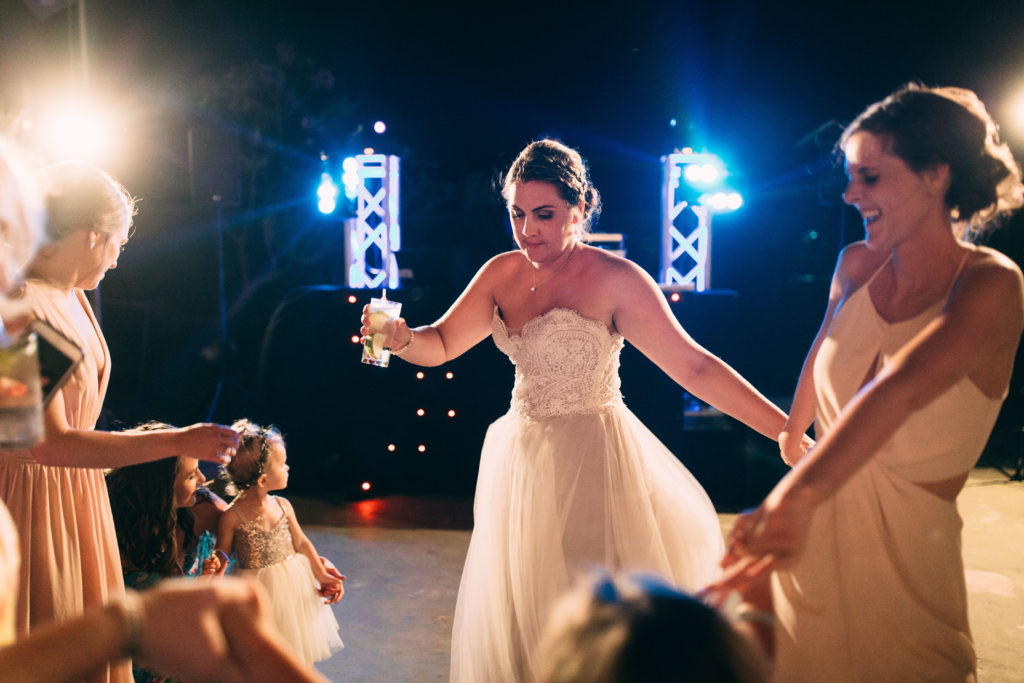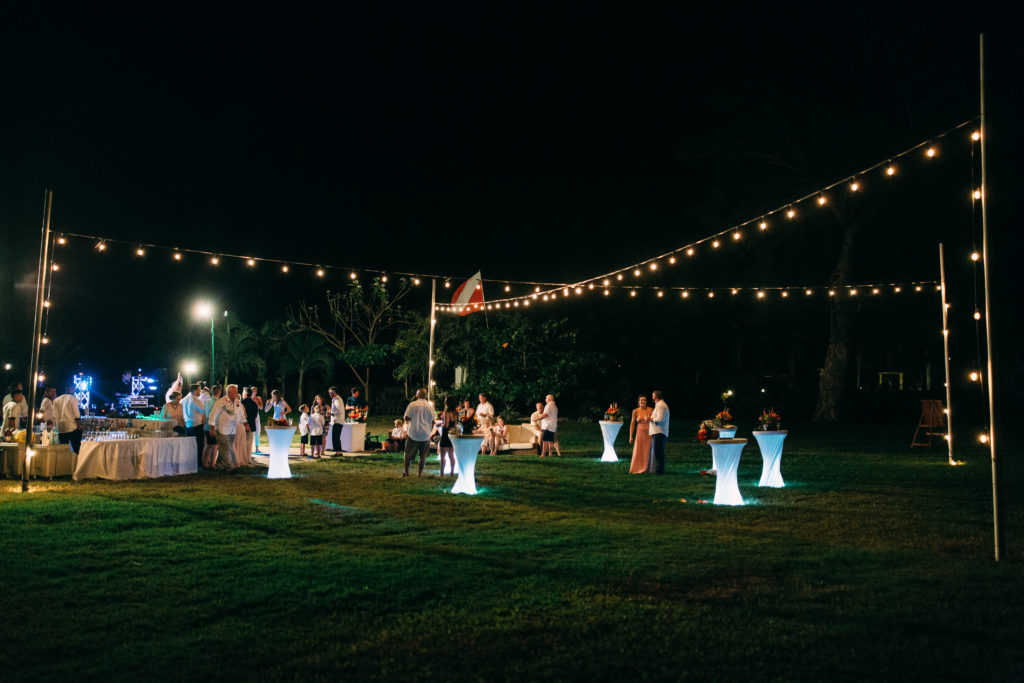 What would be your biggest piece of advice to future couples planning a destination wedding?
I would say just trust the process and don't stress. Having a destination wedding takes the stress off of the typical wedding process. You will save lots of money and enjoy a vacation all while having the best experience of your life. It's the best decision we ever made!! All of our guests still keep raving about it too, so yay us!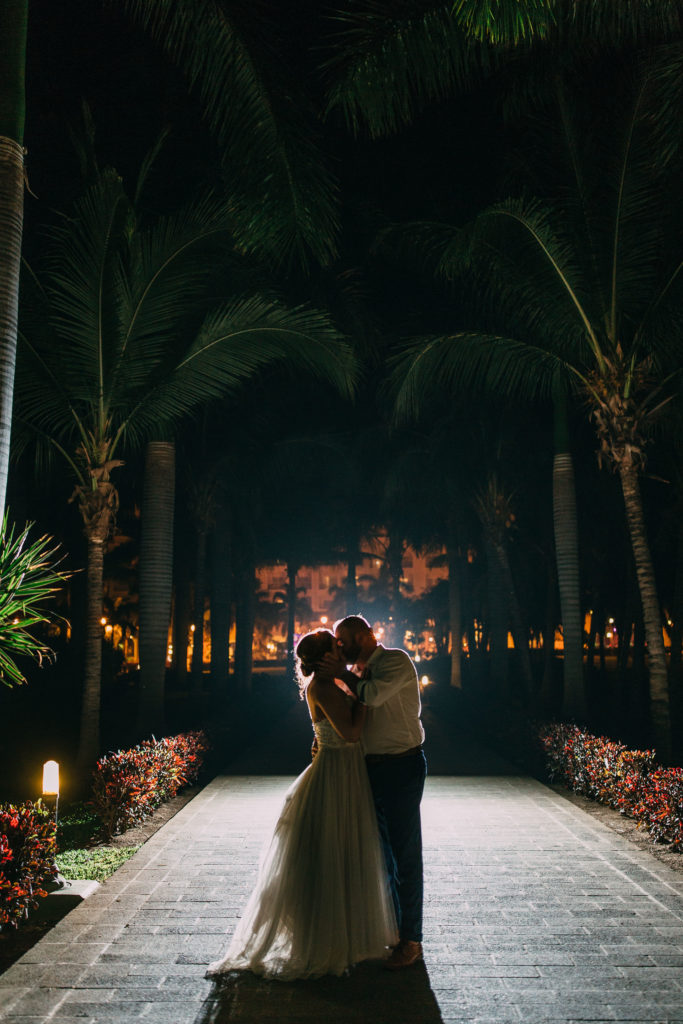 Keep scrolling for more Costa Rica wedding ideas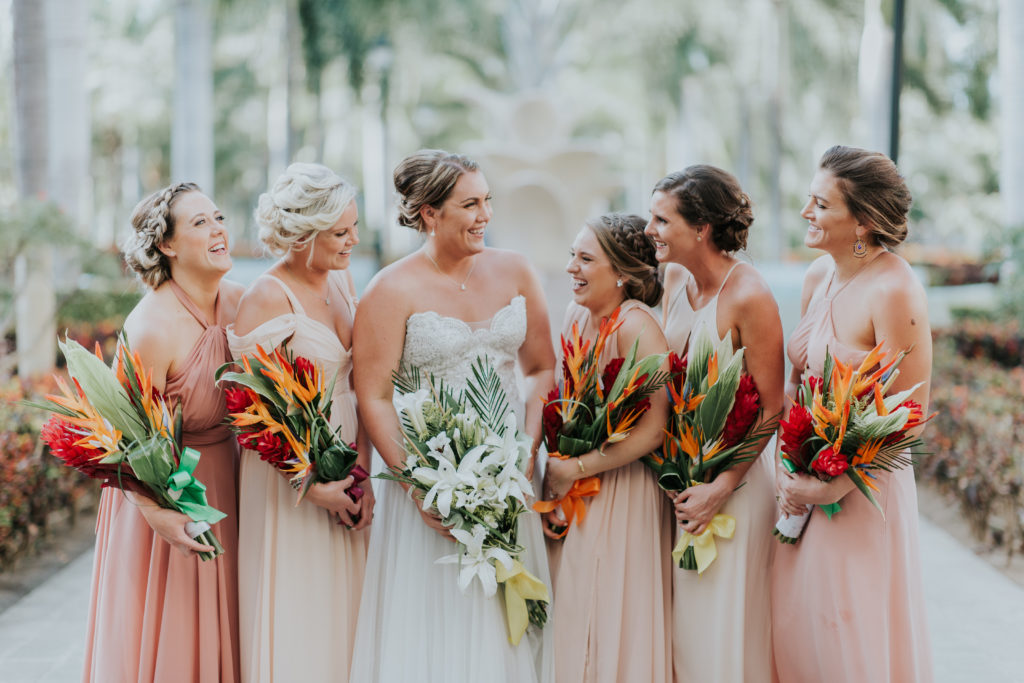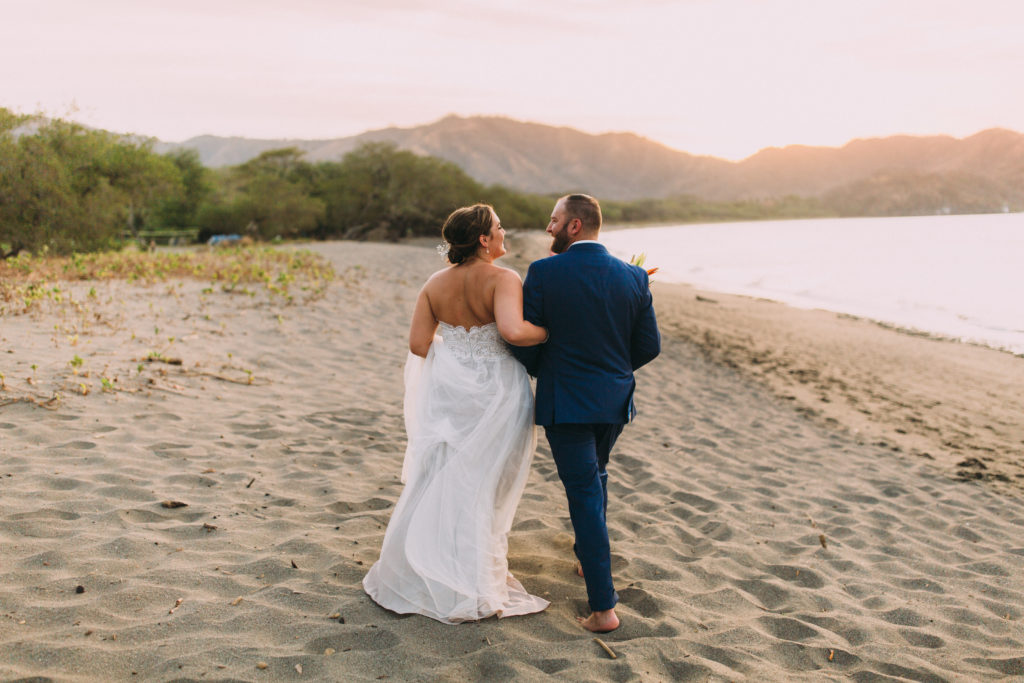 For more destination wedding inspiration, visit our website and Pinterest!