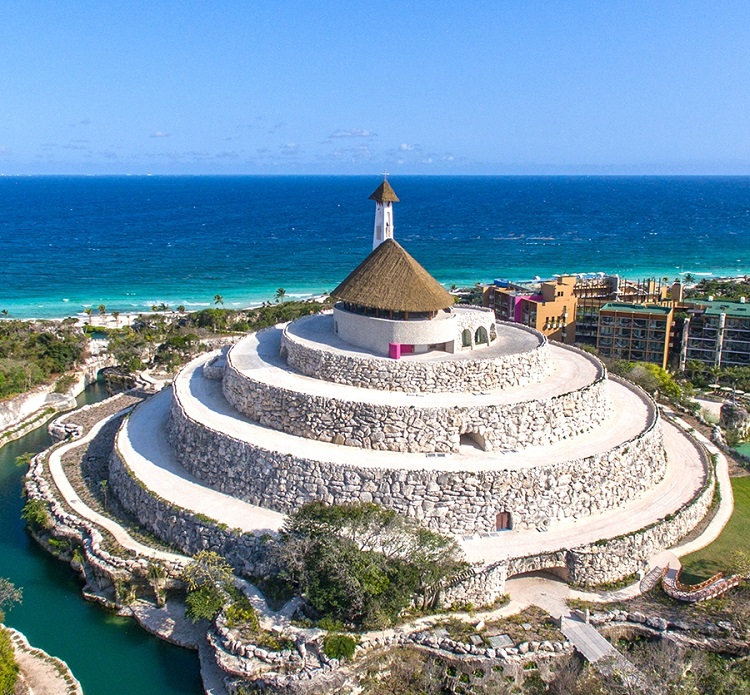 The Hotel Xcaret Mexico is a five-star resort hotel located in Riviera Maya. This all-inclusive property is a stunning choice for destination weddings in Mexico. Your entire party will be aglow in the tropical spirit of fun the minute everyone arrives at the hotel's vast property. It's truly a real treat to have your romantic destination wedding at Hotel Xcaret, which is right along the sparkling blue waters of the Caribbean. Picking a location for your destination wedding can be a little daunting, so we have made a list of the top four reasons why Hotel Xcaret Mexico could be the perfect location for you!
1. Amazing Wedding Packages
Hotel Xcaret Mexico is a truly striking setting for a wedding. It is home to unique venues throughout the entire resort, including a chapel built atop a pyramid. This pyramid structure is a nod to the unique history and culture of the area. It gives the wedding party a chance to enjoy tropical breezes even in hot weather and take in a panoramic view of ocean, river, and nearby jungle.
In addition to this breathtaking structure, there are other traditional options as well. Hotel Xcaret has gorgeous gazebo, and beach ceremonies to offer that combine natural beauty and romance.
There are multiple different options that can be used to plan your destination wedding. Hotel Xcaret Mexico specializes in making the wedding packages customize-able so that couples can get exactly what they want. It is also beneficial to work with a destination wedding Specialist at this point so they can create everything you want without you having to worry about a thing. By working with a Specialist you can create anything from a small, intimate ceremony to a full deluxe experience.  A wide variety of nondenominational and religious ceremonies can also be arranged.
Let's take a closer look at your options…
Option #1: True Love Wedding Package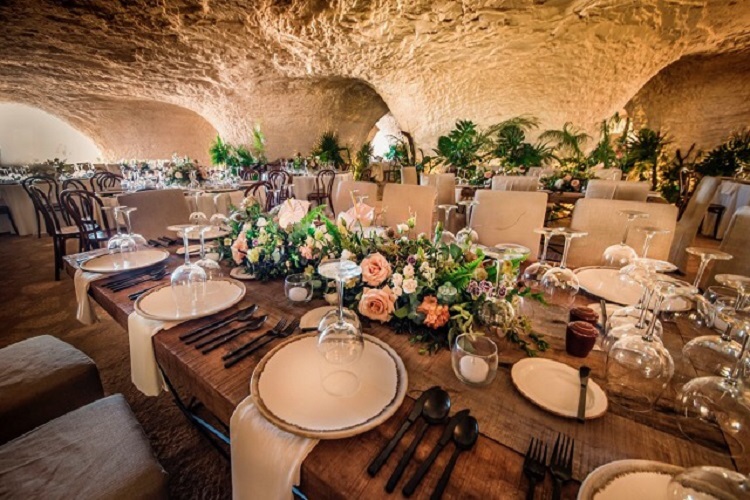 This is the base package which includes hair and makeup service , as well as a bouquet and much more. As far as the ceremony goes, you can choose any gorgeous onsite location, including the gazebo, which overlooks the water and creates a very romantic atmosphere. Also included in this package are Tiffany chairs, a bouquet and boutonniere for the couple, a minister or non-denominational judge, complete with a cake and champagne toast.
Option #2: Celebration Wedding Package

The next package, the Celebration, includes everything that the True Love package has, but quite a few extras, such as the wedding flowers for your party (boutonniere, bouquets, etc.), and a two-hour cocktail party with premium bar service.
Option  #3: Deluxe Wedding Package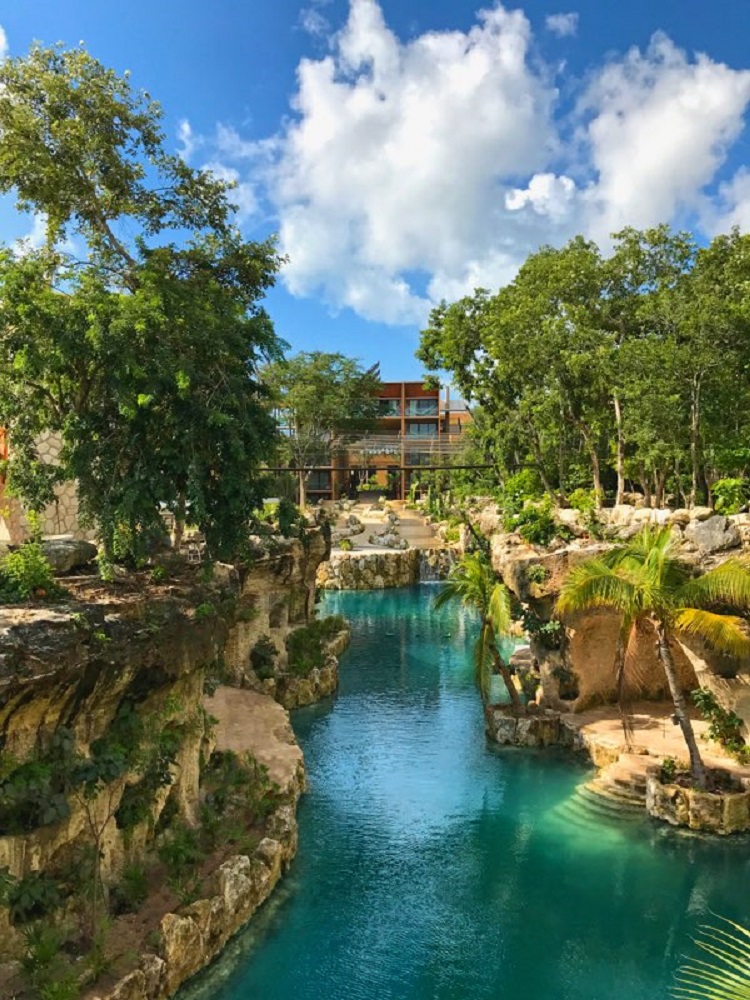 For those looking to splurge, the Deluxe package is here to oblige. You get everything that comes with the True Love and Celebration packages, along with a private dinner reception. Four hours of premium bar service is also included, so couples can have an enhanced experience, allowing them to celebrate with their guests well into the night.
---

RELATED: THE TOP PERKS OF ALL-INCLUSIVE MEXICO WEDDING PACKAGES
---
2. Caribbean Style Luxury
Your guests will be extremely comfortable in the multiple suites available in this resort. Depending on the room, they may enjoy scarlet tropical sunsets, the view over the river and nearby jungle, or stunning Caribbean vistas.
The bride and groom may want to consider Hotel Xcaret Mexico's swim up garden suites and master suites. These give you direct pool access, privacy, and a close look at tropical nature in all its beauty.
Each of the suites no matter which one you choose in the hotel have minibars with snacks and drinks, coffee makers, an HD flat-screen TV with cable and internet, and rain showers. Some have jacuzzis in suite as well.
3. Endless Activities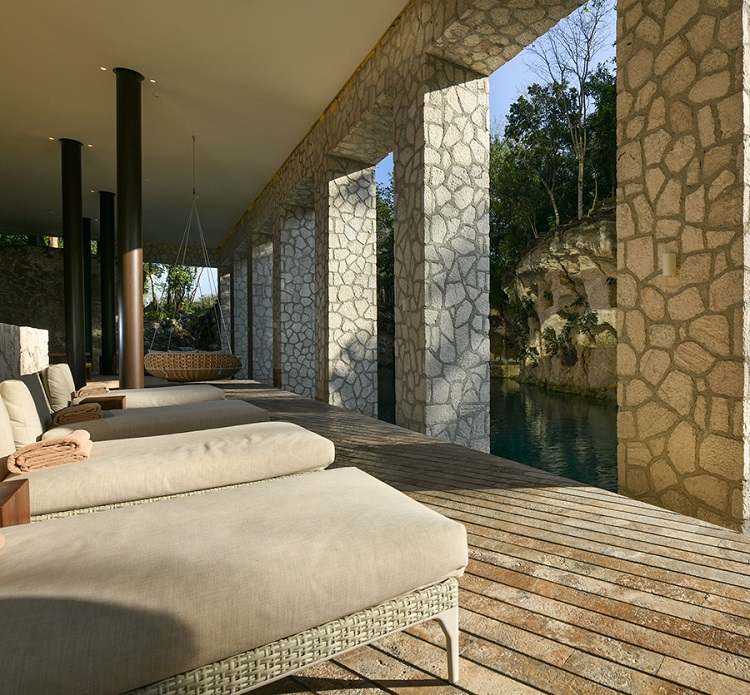 You can be as adventurous or relaxed as you like at Hotel Xcaret Mexico. Soak in the sun and swim in the Caribbean. Snap brilliantly colorful selfies in the resort's gorgeous gardens. Hit the town for some dynamic nightlife. Arrange for tours of the mysterious Mayan ruins or take a boat and explore remote beaches.
One jewel of this resort is Muluk Spa. This is an unparalleled place to get ready for the big day. The spa combines traditional and cutting edge treatments, creating a stimulating and rejuvenating experience for all the senses.
This spa experience blends Mayan and Ayurvedic principles, using the healing power of plants native to the area along with massages that stimulate vital energy. You can enjoy mud baths, a sauna, hydrotherapy, and more. Muluk Spa also refreshes the senses through teas and seasonal fruit, spice, and herb infusions.
4. Michelin Star Rated Cuisine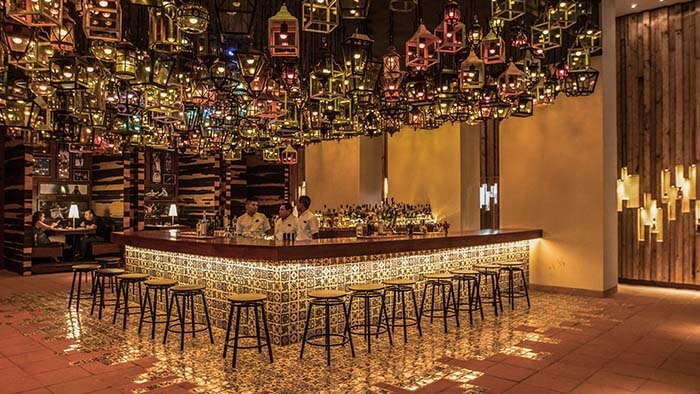 There are ten restaurants and eight bars at the resort. Mexico destination weddings often showcase Mexican gastronomy, and that is reflected here alongside a smattering of Asian and Mediterranean flavors.
It's worth your while to consider a meal at HA'. Chef Carlos Gaytan, the first chef from Mexico to have received a Michelin Star, has created a menu at this famed restaurant that blends traditional Mexican flavors with contemporary presentations. This restaurant also boasts an excellent private cellar of Mexican wines.
To recap:
Here are the reasons why your destination wedding at Hotel Xcaret Mexico is sure to be perfect …
Breathtaking Resort with lush, tropical scenery
Amazing Rooftop terrace on top of pyramid
Hydrotherapy infused spa treatments, with a special spa experience for the wedding party
Swim up suites with direct pool access
5-Star rated cuisine
A lifetime of sun-drenched memories
This resort combines luxury and pampering with one of the most stunning venues in the Caribbean. There are wedding packages available for any couple no matter how extravagant or minimalist they desire. By working with a specialist it is also possible to achieve the wedding of your dreams while staying in your budget. Are you ready to start planning your beautiful destination wedding today? Set up a profile with us so we can assist in you in creating the wedding of your dreams.