One of Mexico's most sought-after all-inclusive resorts also happens to be one of its most romantic…so lucky you! If you're planning a destination wedding in Mexico, the recently revamped El Dorado Seaside Suites has everything you need to blow your guests away and make your big day extra amazing. Of course, it's also an intimate and luxurious choice for more private getaways as well, such as honeymoons and anniversary celebrations. Whatever brings you to this Gourmet-Inclusive ® gem, we're sure you won't want to leave!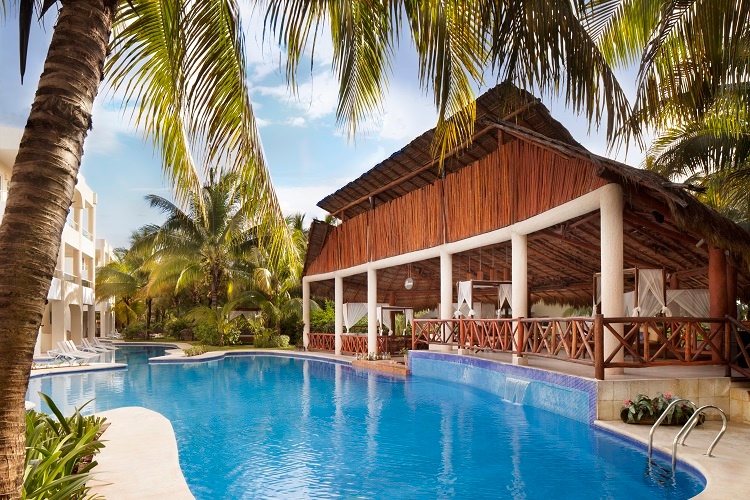 The ultra-modern, upscale resort is located right on the Caribbean Sea in the beautiful Riviera Maya, Mexico. While Cancun is just an hour up the beach (and Tulum's historic ruins are another half-hour in the opposite direction), the Mayan Riviera has more than enough turquoise water, powdery stretches of beach and world-class excursions to keep a couple (and their guests) entertained for weeks. The water right off the resort's beach is perfect for snorkeling, diving, sailing, or swimming…but that's not all.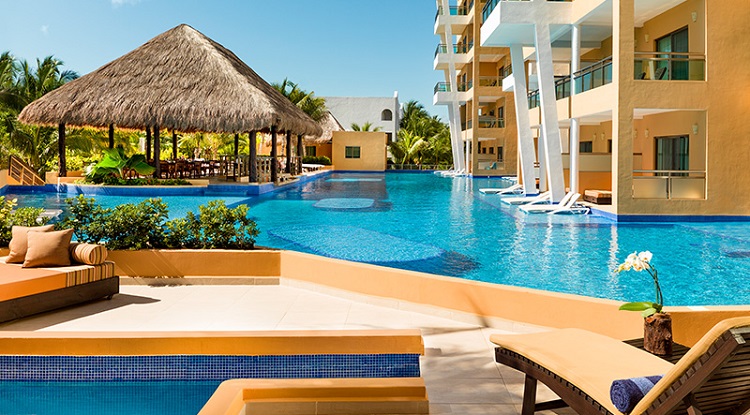 While Riviera Maya's picturesque beach is one of the many alluring factors of staying at this resort, the pools and spa actually give it a run for its money. When you're not relaxing on the powder-soft sand or floating in the crystal-clear Caribbean, you'll have your pick of four different freshwater pools. One has a Jacuzzi, two have a lazy river, three have swim-up bars, and some suites even have swim-up terraces, making it easy to stay in the refreshing water all day long.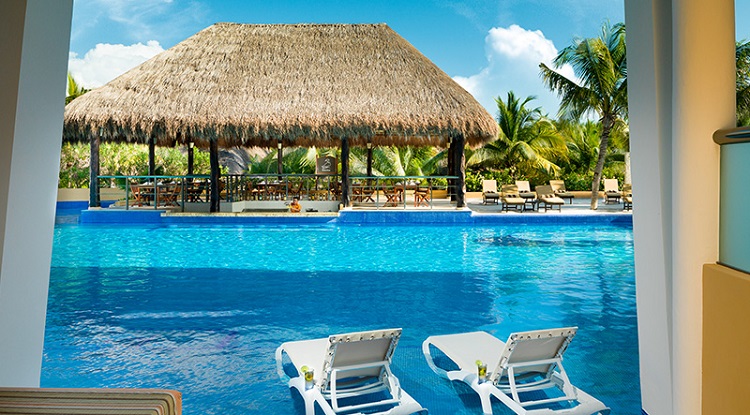 But there's more where that water come from! The resort's luxurious oceanfront rooms are also equipped with their own private Jacuzzi tubs.  All 192 suites are opulent beachfront rooms, and upstairs suites trade swim-up terraces for infinity pool balconies that seem to run right into the gorgeous sea below. Practical furniture choices, such as round sofas that swivel and plush king-sized beds, are also high-end pieces that were handpicked to create the perfect coastal contemporary vibes in this modern slice of paradise.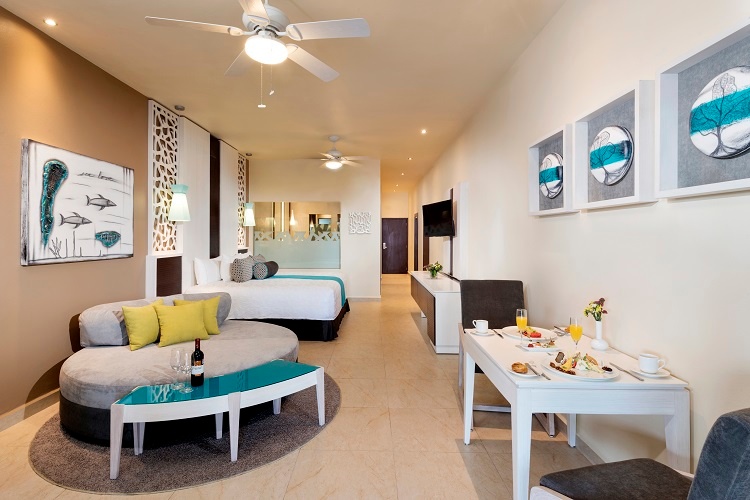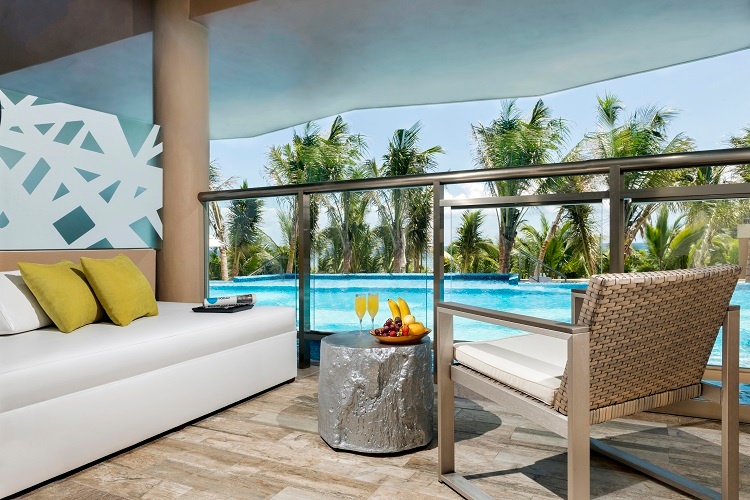 Of course, it wouldn't be an all-inclusive destination celebration without world-class dining options, and El Dorado Seaside Suites definitely raises the bar with sky-high restaurant standards. Officially classified as a Gourmet Inclusive® resort, it includes personalized chef services 24 hours a day and six different gourmet restaurants and dining stations. Indulge in innovative pasta dishes at Mia Casa, which recreates the look of an old Italian village, or enjoy a beach-side barbeque at Driftwood Gourmet right on the water. Swim-up oceanfront bars also serve cold beers, premium cocktails, fruit-infused water, and other fun and refreshing beverages to keep you cool in the hot sun.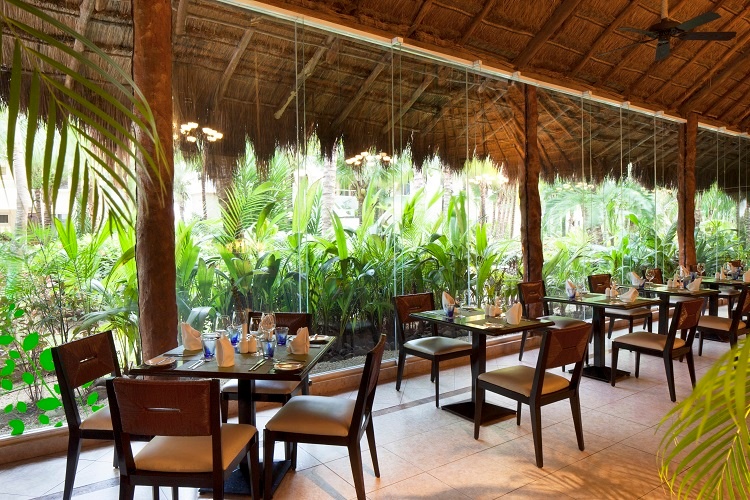 Whether you're planning a destination wedding or looking for a special way to commemorate your anniversary with a unique vow renewal, El Dorado Seaside Suites will take care of everything for you. Take your pick from a variety of Memorable Moments Wedding Collections, each with its own style and personality to match yours. Getting married in paradise has never been more enticing once you discover the amazing detail put into each package, and the venue in which you choose to exchange vows is guaranteed to have an even more incredible backdrop!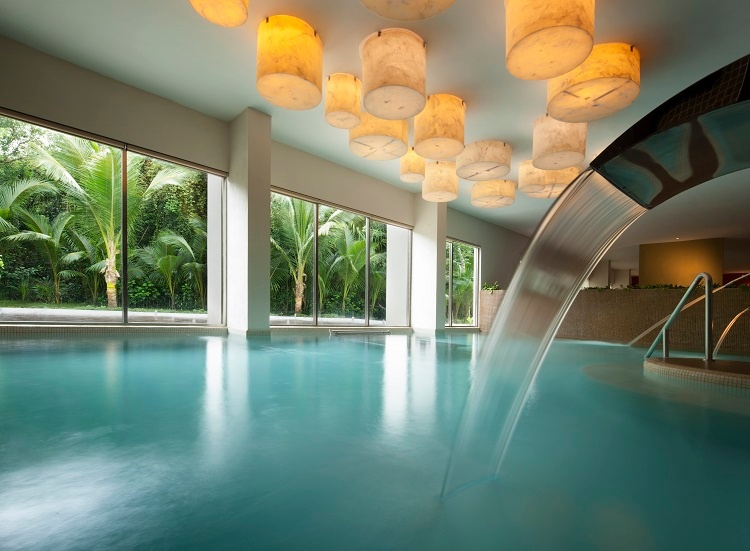 We welcome you to explore the charm of this adults-only oasis and enjoy the newlywed bliss that comes with saying "I do" at Karisma Hotels & Resorts.