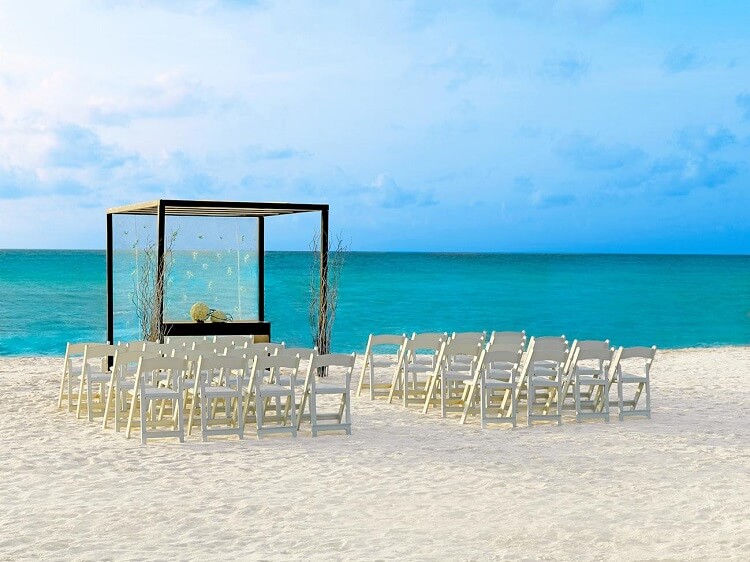 Sun Palace recently underwent a $40 million transformation. The adults-only all-inclusive luxury resort reopened with renovated rooms, new meetings spaces, a variety of new culinary options and completely redesigned lobby, among many other enhancements.
Couples who crave the ultimate in romance and luxury can look no further than booking their dream destination wedding at Sun Palace in Cancun, Mexico. Those exchanging vows at this newly-renovated, all-inclusive property will experience a new standard of couples-only bliss. So sit back and enjoy the ride as we take you on a journey to paradise!
A Sun Palace destination wedding will give you the following benefits throughout your stay:
Luxury accommodations
Gourmet dining & craft cocktails
Tranquil spa time
Fun in the sun at the beach or pool
Custom wedding packages for every style and budget
And so much more!
Ready to get started? Speak with a Certified Destination Wedding Specialist today to get a free quote and personalized planning services! >>
Custom Destination Wedding Packages in Cancun
The Sun Palace couples-only resort in Cancun, Mexico provides personalized services from the moment you step into the lobby. So it's no surprise their wedding packages can be customized to fit your exact vision! Planning a destination wedding at Sun Palace means less stress and more fun (even for your guests!). Each Palace Resorts wedding package comes with up to $30,000 in benefits – including free rooms, cocktail parties, receptions, and more.
Either choose from one of the six designer wedding inspirations, or create your theme entirely on your own – either way, the wedding planners at Sun Palace will ensure your big day is as unique as your love story! You'll then be able to customize the details with an array of wedding essentials, from the cake and bouquets to the table decor and entertainment options.
Let's dive deeper into what a Sun Palace destination wedding really looks like: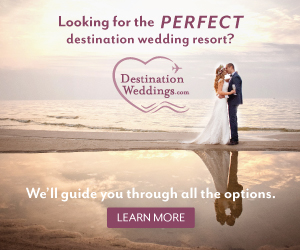 RELATED: Palace Resorts Weddings
Palace Resorts Wedding Inspirations
Starting with the Complimentary Collection, all Palace Resorts Wedding Inspirations come with the essentials needed to make your special day come to life. A gorgeous ceremony location equipped with an arch, chairs and simple decor and romantic extras to enjoy such as a sparkling wine toast, semi-private restaurant reservation and breakfast in bed the morning after are just the tip of the iceberg.
Other designer collections include Pure Paradise, Divine, Island Bliss, Tropical Sunset and Tropical Traditions, all brimming with upgraded decor still at an affordable price. All Palace Resorts wedding packages come with a Honeymoon Wishes registry and complimentary honeymoon package to cap off your first days at newlyweds with romantic touches.
Speak with a Specialist today to get started on building your perfect day at Sun Palace >>
Custom Wedding Essentials
Once you've chosen you're preferred decor, you can start customizing the essentials. Sun Palace offers personalized options for everything from your wedding cake to reception lighting. Multi-tiered cakes, cupcakes, dessert tables and more can be found in the Delights section. Next comes your floral selections – choose your bridal bouquet, bridesmaid bouquets and boutonniere style from beautiful options curated by the onsite wedding department. Corsages, hair accessories, centerpieces and ceremony arch decor can also be customized here.
Take your decor to the next level by choosing fun upgrades such as a bar structure, unique seating arrangements, tabletop accessories and much. The party comes to life when you browse through the entertainment options ranging from a Mariachi band to live performers. And don't forget the dance floor! Custom lighting and monograms can be purchased to really bring the night to life.
Finally, the best additions for last – spa and salon add-ons for you and your BFFs are an absolute must! Hair, make-up, massages and more can be found in this section, rounding out all the destination wedding essentials you could possibly think of.
Complimentary Benefits
As if planning a destination wedding at Sun Palace could get any easier (or more lavish), here comes the best part – all the free perks! Wedding groups starting at just 10 rooms will enjoy free rooms, private events, cocktail reception and more! Private group check-in is also available upon request and can be coordinated with your Specialist.
Religious & Cultural Offerings
At Palace Resorts, couples of all faith and beliefs are welcome. While symbolic destination weddings are oftentimes the most popular way to exchange vows in Mexico, couples can choose to have a religious ceremony as well. Sun Palace is equipped to perform Jewish ad interfaith ceremonies as well as Indian and South Asian celebrations. Nearby, Moon Palace Cancun has an onsite seaside chapel for Catholic ceremonies to take place.
Does this all sound like your kind of wedding? Don't waste any more time. Create a profile online and get paired with an expert Destination Wedding Specialist who can help you plan your big day in Mexico from start to finish!