If Costa Rica wedding venues aren't on the list for your dream destination ceremony, you need to add them. The variety of natural habitats in one location is unmatchable.
In this tropical climate, you can easily go for a classic beach wedding or venture out to have a jungle or waterfall wedding. In Costa Rica, the sky's the limit. Here's where and how to plan out your big day.
Beaches, Jungles and More: Which Venue Should You Choose?
Whether you're an outdoors junkie or require the ultimate selfie setting, Costa Rica is rich in jaw-dropping landscapes and biodiversity. From pristine beaches to lush jungles to exotic gardens to cloud forests, there's almost too many good spots to choose from when planning your perfect wedding location.
Of course, there can be only one, and so you have to make a hard choice: which spot best fits your dream wedding vision and the comfort of your guests? After all, you can't expect Grandma to go hiking into the depths of Costa Rican jungle for your big day. When planning a destination wedding, taking your guest list into consideration is very helpful when planning your dream location.
Click here for your free quote now! >>
On the Beach
The beach is a classic choice for a Costa Rican wedding, and for good reason. These aren't the beaches you grew up going to, with boardwalks and maybe a palm tree here and there. The beaches of Costa Rica are practically a world unto themselves.
Sure, the sand is white, the water is a dazzling blue – all as can be expected. But what really sets Costa Rican beaches apart is the fact they're surrounded by lush, tropical flora and even jungle – which means it's not unusual to see a monkey or two playing around in the trees while you lounge (or get married!) on the beach. That means you truly have a 360-degree view to take in – it's not just all about the sand and surf!
Here are some of our favorite beaches in Costa Rica for weddings:
Manual Antonio Beach: A seriously breathtaking landscape, the beaches of Manual Antonio exemplify everything you hope and dream for when planning a Costa Rican beach wedding. Surrounded by the Manual Antonio National Park, you'll find yourself in a veritable paradise. The tree-lined beaches are pristine. But the real magic of this location is that you also have rich jungle full of exotic animals (sloths, white-faced monkeys, and even the endangered squirrel monkey) to explore when you head inland. The astounding biodiversity of Manual Antonio makes it a great choice for nature lovers, thrill seekers, and of course, beach babes looking to relax on a near-perfect beach.
Flamingo Beach: Ok, so there aren't actual flamingos here. The name comes from the pinkish hue of the sand, which is a perfect complement to a gorgeous white wedding dress. Flamingo Beach provides beauty, tranquility, and luxury, thanks to the upscale development that dots it's cliffs. It's the perfect choice for a couple looking for a luxe vibe on their big day, but who still want to incorporate the natural beauty that only Mother Earth can provide.
Santa Teresa Beach: Somewhat off the beaten path, the beaches of Santa Teresa are worth the effort to get there. In fact, most visitors gush about having the beach all to themselves. In reality, the beaches get plenty of good daily use from locals and tourists alike, but there's simply enough room for everyone to hang a hammock and spread out. Once there, you'll find a buzzing little beach town with delightful hippie vibes coming from its cafes, bars, and shops. For the sporty couple looking to surf, the waves here never disappoint. In fact, Santa Teresa is a top surf spot in Costa Rica.
If you opt for a dreamy beach wedding, the easiest way to go is to work with your DestinationWeddings.com specialist and/or the wedding coordinator at your resort. They'll handle any required paperwork, so you can focus on more pressing matters – like getting those vows worded just right! They'll even help you fit your budget, based around your free quote! 
In a Garden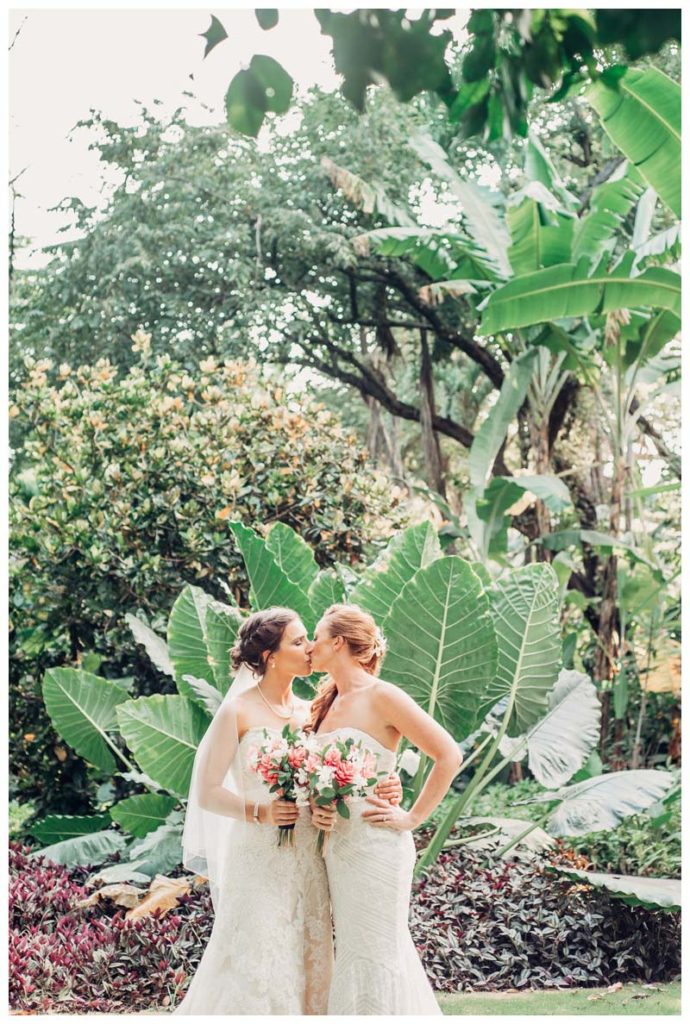 No matter where you are in Costa Rica, from the Caribbean to the Pacific coasts – which, by the way, are only 3 hours apart by car – you can count on flowers growing just about everywhere. Many resorts' grounds are literally covered in tropical gardens, making them a perfect wedding location. You can count on them being magnificently and meticulously landscaped, with mega natural appeal and beauty.
This is a fabulous, low-key way to have nature vibes without asking your guests to trek into forests. A garden wedding also means you can weave in more traditional aspects; for example, catered/served meals, a full bar, music and dancing, and of course, a gravity-defying, tiered cake (something we'd never recommend in a jungle wedding venue!)
Another bonus to having a garden wedding is that many Costa Rican resorts also offer pavilions, allowing you to have some cover should a quick rainfall suddenly appear. Having a resort garden wedding also cuts out additional travel to your ceremony location, since everything is handled on grounds. That's right – you'll only have to worry about getting from your room or villa to the garden, rather than coordinating transportation or hiking through the rainforest.
In the Jungle or Rainforest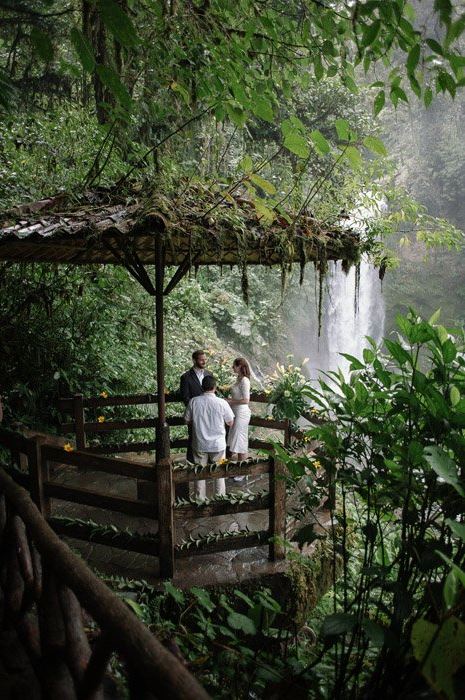 Itching for a wedding day full of thrills, lush greenery, and exotic animals — all accompanied by the natural symphony of bird calls? A jungle or rainforest wedding is right up your alley. Costa Rica is known for its commitment to sustainability and preserving their naturally stunning forests, which are home to a plethora of wildlife.
While a lot of people assume the jungle is the rainforest (and vice versa), it's important to understand the difference between the two landscapes. The jungle is much denser, with tree roots and vines practically covering everything — including the ground.
The rainforest, on the other hand, has more open ground as the sun only breaks through in a few spots, so the floor is primarily where animals are found and decomposition takes place. As such, the rainforest is all about what's up in the trees, which provide a rich canopy over those passing through. This canopy is also partly responsible for the moist, hot air of the rainforest — like how a greenhouse works.
Here are some of our favorite jungles and rainforests in which to wed in Costa Rica:
Corcovado National Park: The awe-inspiring rainforests of Corcovado National Park are the largest in Costa Rica, covering almost half of the Osa Peninsula, which is on the Pacific coast. During your time here, you can explore the thick, remote rainforests, then hit the pristine beaches afterwards for some serious R&R.
Tortuguero National Park: The "Amazon of Costa Rica," Tortugeuero National Park offers rich jungles full of canals and marshes. As you may have guessed by the name, the park is famous for its turtles, which can be see nesting on its beaches. However, there location is really There are no nearby villages and no roads. To get here, you need to travel by boat or plane. Which brings us to a really cool feature of this national park — its many waterways. Why not get married on a boat, while traversing the jungle with relative ease? It's unique, as well as a great way to experience the jungle without hauling your guests into it.
Traversing either location can be tough for some folks, especially elder guests. For this reason, this location is best suited for a small, adventurous group that doesn't mind doing a little trekking to get to a truly exotic wedding spot.
Brides, it's also important to be aware that your hair, makeup and dream dress are going to be exposed to the elements: humidity, potential rainfall, and a wet ground, particularly in the rainforest. Rather than trying to fight against nature, it's better to just go with it. Think rustic jungle chic. Wear shoes that can handle the mud. Or, if your heart is set on a pair of heels, change into them once you're on location.
Be mindful of guests by encouraging them ahead of time to really dress for the occasion. Khakis and trousers are a more comfortable choice than dresses and suits when traversing Costa Rican jungles.
If you're leaning towards a jungle or rainforest wedding, we know you've got an adventurous heart. Even still, we urge you to link up with a wedding coordinator to plan the details of your location. They'll arrange everything from transportation, to any legal/booking requirements, to ensuring your guests are looked after and comfortable. Save your jungle adventure for after the vows, when you and your newly minted partner can explore to your hearts' content.
By a Waterfall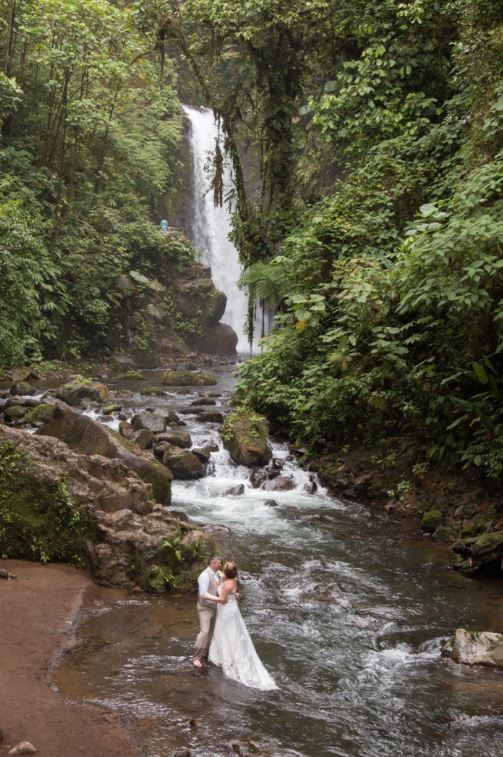 There's something magical about a waterfall — from the loud, rushing water to the gentle, cool mist it sprays into the air. Costa Rica's waterfalls are surrounded by thick greenery and colorful flowers, making them even more of a dreamscape. It's no wonder many brides and grooms opt to get married next to one — after all, what could be a better backdrop for saying, "I do"?
Luckily, there are waterfalls a'plenty in this eco-flourishing country. Here are a few to consider for your big day:
Guanacaste region: This area is chock full of striking waterfalls. A handful to consider include Rio Celeste Waterfall, Viento Fresco Water, Waterfall la Piedra del Indio, and Llanos de Cortez Waterfall.
Nauyaca Waterfalls: These falls are different than many others in Costa Rican because their actual drop isn't that big. In fact, the falls are broken up into two tiers: the first with a 148-foot drop, and the second tier at 66 feet. However, the big bonus here is that there are several natural pools you can swim in — something many of the bigger falls can't offer. Why not say your vows, then hop into the crystal-clear pools to soak up the natural spring water, cool off, and chill out!
Bijagual Waterfall: Located near the popular Jaco beach, this 590-foot waterfall provides a dramatic view. To get here, you'll have to do some hiking, but it's through an incredibly scenic forest. And hey, getting married at the end of a hike is a pretty lovely pay-off.
In the Cloud Forests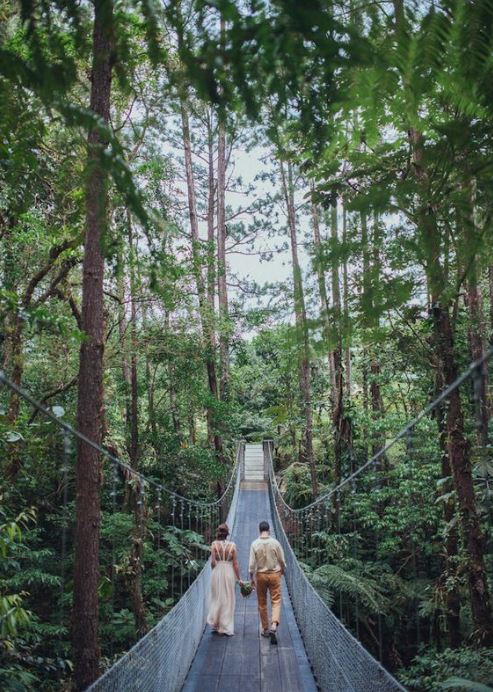 Yep, you can totally get married in a cloud forest while in Costa Rica. Talk about wedding picture envy. A cloud forest is a tropical forest with persistent low-laying clouds, giving everything a quiet covering of light fog. This occurs due to the higher elevation of cloud forests (as opposed to rainforests, which are at lower elevations).
The temperatures of cloud forests are much cooler, although they still have very high humidity due to all the moisture in the air. Getting married in a cloud forest is unlike any other location. Bonus: Many have their own waterfalls! Here are a few to check out:
Bajos del Toro Cloud Forest: Located in Juan Castro Blanco National Park, make sure to take time and visit the waterfalls here! Just be sure to do your homework ahead of time, as the entrance can be difficult to find.
Poas Cloud Forest: Talk about a bang for your buck. This cloud forest boasts waterfalls at La Paz, a volcano, and an extinct crater lake. Though you might not want to wed too close to Poas Volcano – as one of the five active volcanoes in Costa Rica, it can give off ash clouds and a sulfuric smell.
Monteverde Cloud Forest Reserve: This is a favorite for many! Monteverde is tranquil, offers numerous trails for different experience levels (note: expect an uphill trek), and is chock full of wildlife.
---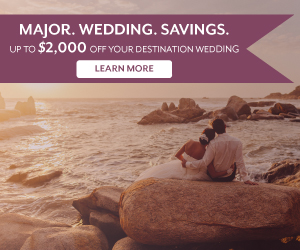 RELATED: What to Expect When Planning a Costa Rica Beach Wedding
---
Best Costa Rica Destination Wedding Resort Venues
At DestinationWeddings.com, we partner with some of the top resorts around the world to make your dream wedding a reality! Here are just a few of our fantastic partners in Costa Rica. If you're interested in learning more, create a profile so we can begin the process of pairing you with a Certified Destination Wedding Specialist to better help you plan your big day.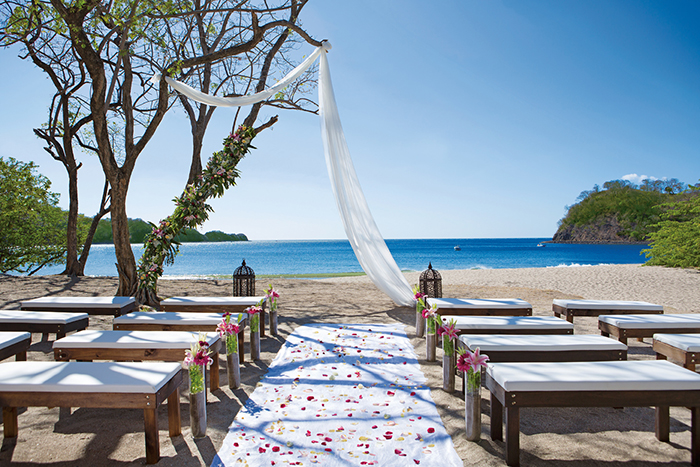 While enjoying your pre-wedding stay, you'll find delight in your private balcony or terrace with a hot tub and furnishings to keep you relaxed. You also have the convenience of your own mini bar and concierge service. Choose from a jungle mountain view, tropical view or ocean view and an option with swim out features.
This Unlimited Luxury resort caters to guests of all types for all occasions, but they have something even more special in store for those planning a Costa Rica beach wedding. The resort sits right on the beach, Playa El Jobo, embraced by tropics, jungle, and mountains. For your wedding, you can choose from three different symbolic ceremony Costa Rica beach wedding packages:
Dreams Wedding in Paradise
Dreams of Love
Dreams Ultimate
Prices range from $999 to $3599 and vary to include more guests, decorations, and accessories. The Dreams Ultimate package also includes photos and videos of the ceremony, live music, and couples spa treatments.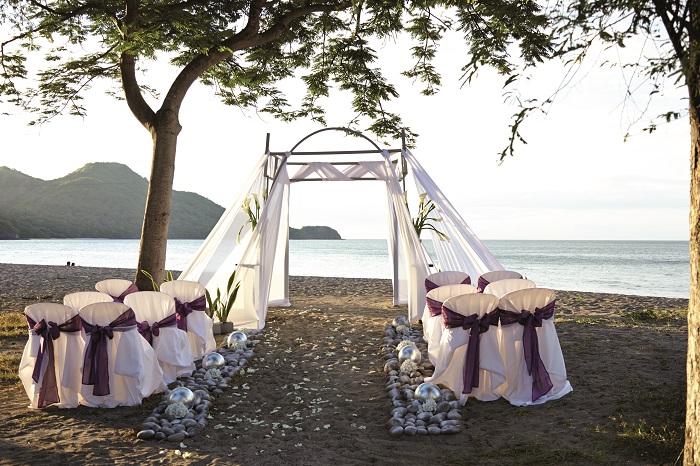 It labels itself as a palace category hotel – and at 6 stories high with 538 rooms, it's certainly the size of one! Tropical greenery surrounds the resort that's moments away from some of the most attractive amenities offered in a shared facility.
The El Poblado holds a conference center, discotheque, spa, casino, tennis court, and shops. If that's not enough, try three pools, indoor and outdoor sports, and more food and drinks than you can handle.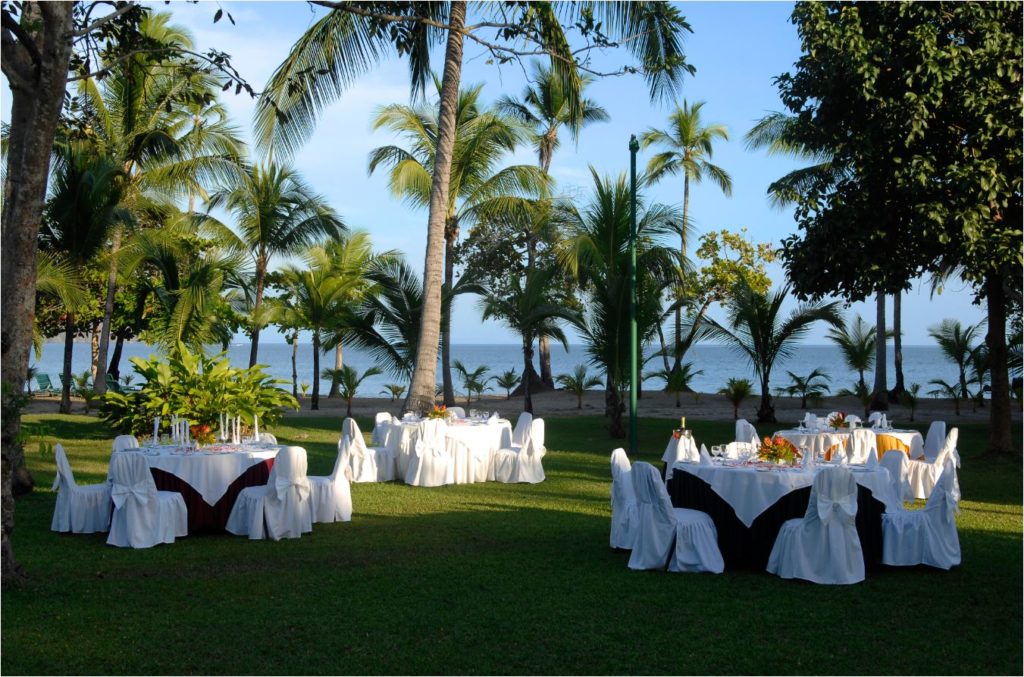 This unique, colonial-style resort sits near the Pacific Ocean facing the beautiful Tambor Beach.  Furnished terraces and balconies are available in all 402 rooms where you'll have stunning views of sparkling blue waters or tropical vegetation. Or you can step outside and get up close and personal with the beach!
Take a swim, shop for souvenirs or get pampered at the spa or salon. Enjoy an elegant dinner at one of their restaurants featuring local and international delicacies. When you're ready to enjoy a child-free night out, take advantage of their babysitting services.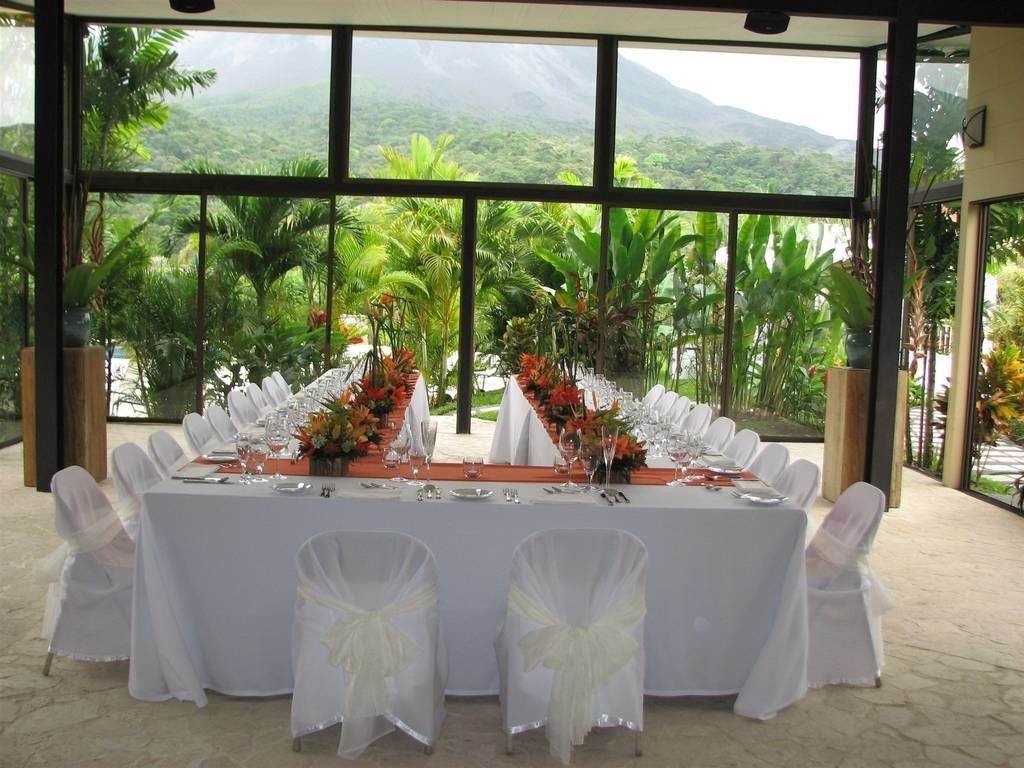 Spend the night and get married right next to a volcano at this resort that sits near Arenal Volcano National Park. The natural scenery of gardens, mountains, and streams needs no added adornment for your big day.
Most notable amenities include a hydro massage hot tub on the Juliet balcony overlooking panoramic views of volcanoes and mountains. And don't forget to indulge in classic meals from their award-winning chef! Arenal Kioro's spa is also anything but ordinary. Guests can relieve pre-wedding jitters in one of their 7 Titoku hot spring pools.
When looking for Costa Rica wedding venues, don't short change yourself. Whether beach or jungle ceremony is your dream, go for an all-inclusive destination resort dedicated to making it come true.
Are you ready for  a magical destination wedding in Costa Rica? Click here to get a free quote now! >>