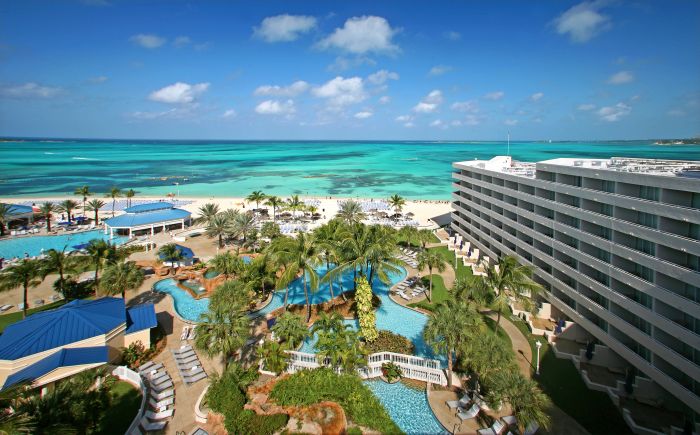 If you are searching for the perfect location for fanciful and romantic destination weddings in Nassau Beach, look no further than Melia Nassau Beach Resort. The Bahamas creates a magical destination for couples to escape to and indulge in all that the tropics have to offer. From romantic sunsets, endless frozen drinks, and the most incredible views you've ever seen,  you will be asking yourself why you didn't think of planning a destination wedding here before.
We love this resort for all it has to offer. Let's go through why destination weddings at Melia Nassau Beach Resort are like no other:
Beautiful Wedding Packages
Modern Accommodations
Fun Activities
Tasty Cuisine
and much more!
Wedding Packages & Romance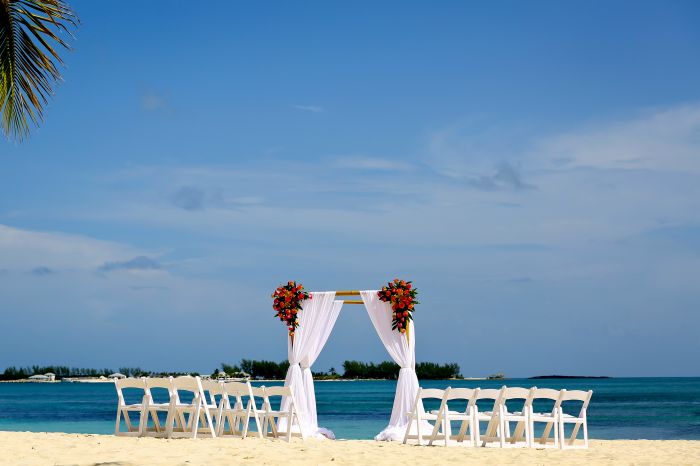 Romance for Two Package
This package is ideal for the couple that wants to get away from it all and enjoy an intimate wedding for two. A Romance by Melia Specialist will be on hand to curate a flawless exchange of vows at a premium wedding site, provide a beautiful bouquet and boutonniere, a photographer for the ceremony, and arrange a romantic dinner for two at one of the resort's exclusive restaurants. Upon arrival in your suite, you will be greeted with wine and chocolate. The morning after the ceremony, newlyweds are treated to a late check out so you can relax and enjoy your complimentary breakfast in bed.
Melia Romance Package
If you are looking for a package to include a close-knit circle of friends and family, this package has it all. With all of the same benefits of the Romance for Two Package Symbolic Weddings or Renewal of Vows, this package for up to 12 in-house guests also includes a violin soloist during the ceremony, a sparkling wine toast, a gorgeous location for your ceremony, and reservations at one of the resort's premier restaurants.
Tides Romance Package
For wedding parties of up to 24 guests, this package offers a few upgrades from the previous two. After the ceremony, you and your guests will be treated to a one-hour cocktail and hors d'oeuvres reception, and the newlyweds will have an exclusive romantic turndown service on their wedding night.
Tropical Fairy Tale Romance Package
Also ideal for wedding parties of up to 24 guests, this package kicks the romance up a notch with a "Tropical Fairy Tale" theme. Upgraded bouquet and boutonnieres, magical ceremony set-up in an exclusive location, a private three-course or buffet dinner, and romantic turndown service to include champagne and chocolate-covered strawberries on your wedding night.
Build Your 'Perfect Romance'
Keeping in mind that no one could design the exact Bahama wedding packages about which you have fantasized, weddings at Melia Nassau Beach Resort also come with a build your own option. The possibilities are seemingly endless, with everything from an on-site videographer and various decor to musicians and DJ and premier cocktail hours and dinner receptions the wedding of your dreams is just a few decisions away!
A Certified Destination Wedding Specialist will able to help you narrow down all of these options to find the perfect balance of romance and fun, creating lifetime memories for you and your guests.
---

RELATED: How to Choose the Ideal Wedding Destination
---
Accommodations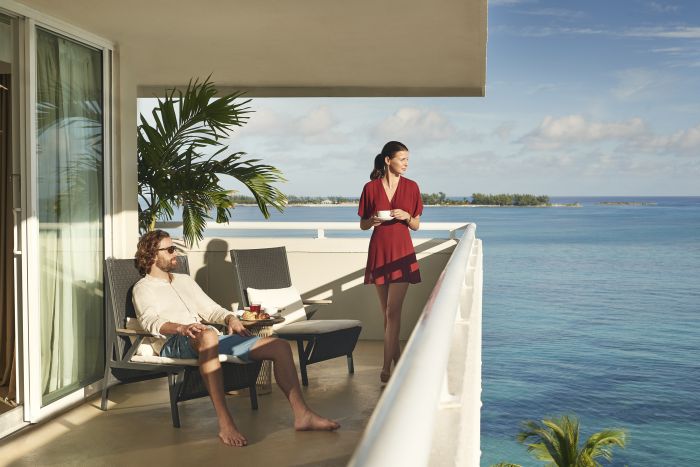 In addition to an exemplary collection of Bahama wedding packages, Melia Nassau Beach Resort delivers exceptional accommodations on every level. Stunning views of the ocean, pools, and gardens are available from every room, while The Level suites are designed with decor and amenities for the most discerning travelers. The Level guests enjoy additional benefits like exclusive beach access, private breakfast lounge, top-shelf liquor and hors d'oeuvres throughout the resort, and preferential dinner reservations. However, whichever accommodation type suits your needs, you will be treated to the absolute in luxury and comfort.
Activities & Amenities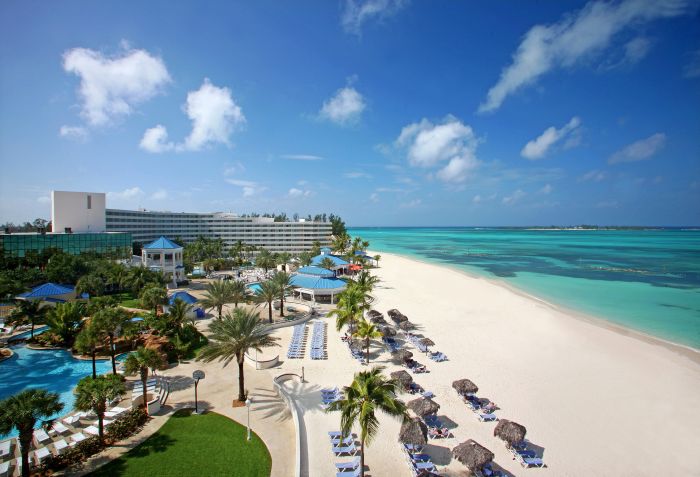 Weddings at Melia Nassau Beach Resort are more than just a ceremony and reception. The resort appreciates that your guests have traveled a distance to celebrate with you, and their all-inclusive packages will have your loved ones indulging in a once-in-a-lifetime getaway. Excursions to nearby Balmoral Island with VIP Beachside access, craft and fitness classes, non-motorized water sports, pool parties, theme night parties, and karaoke are only a few of the fun activities that will keep your guests entertained. Also, if there are children included in your plans, the  Kids Club will keep them entertained and occupied while the adults enjoy some adult-only fun.
Bars & Restaurants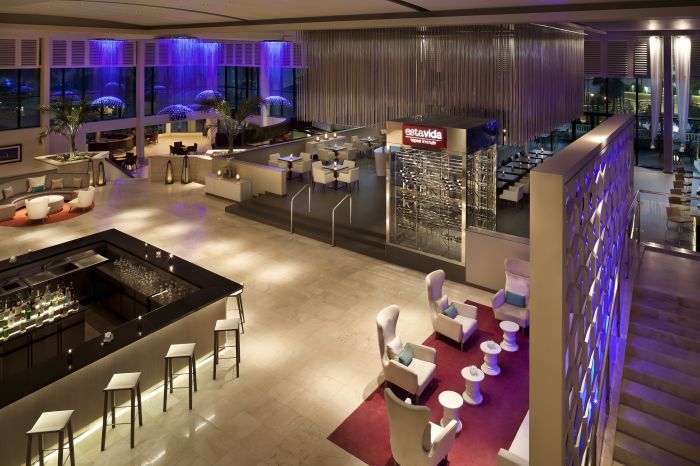 The dining at Melia Nassau Beach Resort is second to none. Seven distinct restaurants deliver the variety that will satisfy any crowd. Black Angus, a classic and contemporary steakhouse, offers composed plates of prime cuts of beef, local seafood specialties, with a Caribbean flair. Guests also enjoy the elevated Mexican cuisine served up at Cilantro, with enticing dishes like Porkloin with Tequila Sauce and Grouper with Green Ceviche. For outside of the box experience, you can tempt your tastebuds with the ultra-creative Asian-Peruvian fusion at Nikkei, and the Spanish influenced tapas at Estavida pairs light bites with delightful cocktails like Apricot Sangria and Gin Peel Tonics. For diners looking for a more casual atmosphere, Aqua serves up rustic Italian classics and The Marketplace and O'Grille offer dining al fresco.
To Recap
The destination wedding packages offered by this one of a kind Cable Beach resort deliver romance, affordability, and adventure for both the happy couple and their guests.
Whether you are planning a getaway elopement for two or a full-on party for 24, you will need a  Certified Destination Wedding Specialists to walk you through every step of the planning and booking process. This will ensure that your planning process will be stress-free and super fun!
Are you ready for your FREE consultation? Click here to get started >>>