Choosing your dream wedding venue doesn't have to be stressful! A Destination Wedding at Royalton Riviera Cancun Resort & Spa will transport you and your guests to a dream-like oasis. For example, Royalton's signature All-In Luxury® inclusions will ensure you get the best of world-class amenities and services during your stay. When you book your destination wedding at Royalton Riviera Cancun Resort & Spa, you'll be delighted by:
Customizable wedding packages

Unlimited reservation-free dining

Upscale accommodations + premium handcrafted DreamBed™
24-hour concierge service + room service
Weekly themed pool & beach parties
And more!
Follow along and learn why destination weddings at Royalton Riviera Cancun Resort & Spa are one-of-a-kind!
Customization with Royalton Riviera Cancun Resort & Spa
Beachfront vows followed by a delicious dinner in tropical elegance are the standard at Royalton Riviera Cancun Resort & Spa. In addition, professional wedding concierges on site will help take the worry out of planning. Most importantly, a variety of wedding packages are available during the planning process to fit into any style and budget! 
The complimentary Luxury Wedding package includes an onsite wedding coordinator, VIP welcome & late checkout for bride and groom, in addition to 'Getting Ready' refreshments for the bride and groom on the wedding day. The ceremony location, dinner, wedding cake, and sparkling wine toast are all included as well. Everyone in the wedding party will also receive a 10% spa discount!
What's more, the dreamy beach, romantic ocean view gazebo, or the luxurious sky terrace ($) are just some of the options available as you begin to envision the perfect backdrop from which to say "I Do".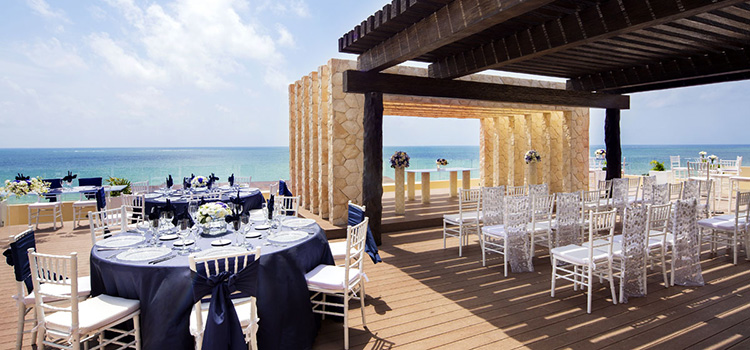 Add-on experiences available at Royalton Riviera Cancun Resort & Spa can easily be combined with any wedding package. Here's how you can customize your special celebration:
Royalton Welcome Party Experience
Delight your guests with a welcome celebration that includes an open bar to serve beer, wine, and a signature cocktail of your choice. A microphone setup is available to thank guests and kick off the week's festivities.
Royalton Signature Mexican Experience
Your guests will enjoy a one-hour private cocktail party featuring 3 Mexican hors d'oeuvres and 2 traditional cocktails. The live Mariachi band performance is sure to delight! Guests will also enjoy a Mexican-infused dinner menu in a private location with an open bar (3 hours). Tequila tasting rounds out the entire experience!
Luxury Accommodations
Royalton Riviera Cancun is comprised of 3 distinct sections, offering plenty of options unique to your guest's needs. For example, guests can choose from the Resort or Diamond Club™ sections or even indulge in an adults-only experience at Hideaway at Royalton Riviera Cancun Resort & Spa. Additionally, Hideaway guests will enjoy access to all of Royalton Riviera Cancun's restaurants, bars, activities, and health and wellness facilities. 
Exclusive Diamond Club™ amenities are certainly worth exploring when selecting your accommodation. Diamond Club™ guests at Royalton Riviera Cancun Resort & Spa will enjoy the following upgrades:
Preferred room locations

Private pool

Butler service

Exclusive Diamond Club™ Lounge access

Upgraded room service menu & pillow menu

Upgraded robes & slippers

Hydrotherapy for 1 hour per day

10% discount on spa treatments 

And more!
Have some fun!
A refreshment is never far out of reach with access to 13 on-site themed bars. What can be more enjoyable than relaxing with your favorite cocktail at the swim-up pool bar? Or spend your days at the enormous Splash Park with crystal clear pools, splash pads, and waterslides. 
Cancun is known for its incredible nightlife experiences and unforgettable excursions. Endless underwater activities such as snorkeling, diving, or swimming with dolphins will ensure an adventurous stay ($). At Royalton Riviera Cancun Resort & Spa you and your wedding guests will be close to all the action.
There are plenty of ways to relax during your stay as well. For example, set aside time to indulge in renewing treatments at The Royal Spa. The beauty center also offers luxurious manicure, pedicure, makeup, and hairstyling services. 
Start Planning Your Royalton Riviera Cancun Resort & Spa Wedding Today
Your destination wedding is a once-in-a-lifetime experience that you and your guests will look back on for years to come. Royalton Riviera Cancun Resort & Spa's All-In Luxury® inclusions will ensure you can make the most of your all-inclusive getaway and capture incredible memories with the ones you love. 
You'll never regret saying "I do" during an all-inclusive destination wedding! Create a profile today and receive a FREE consultation.