Are you trying to stick to a tight budget when arranging travel for your dream destination wedding? Don't worry, many couples are in the same boat! Luckily nowadays, there are so many ways to make your special celebration come to life without breaking the bank. Not only are all-inclusives a great place to start, but many resorts offer budget-friendly accommodations and amenities to make your stay affordable yet still unforgettable. Better yet, look out for their exclusive deals to help cut down your overall expenses. Here are just a few affordable, all-inclusive wedding resorts to get you started:
BlueBay Grand Esmeralda – Riviera Maya, Mexico
An upscale resort located in Riviera Maya, Mexico, BlueBay Grand Esmeralda boasts an all-inclusive setup that offers plenty of bang for the buck. The resort has a unique eco-friendly emphasis that appeals greatly to environmentally-conscious travelers. Sample the gourmet Mexican, Italian, and French meals available at the BlueBay Grand Esmeralda's numerous restaurants and burn off those extra calories at the resort's swimming pools, tennis courts, volleyball court, and golf course.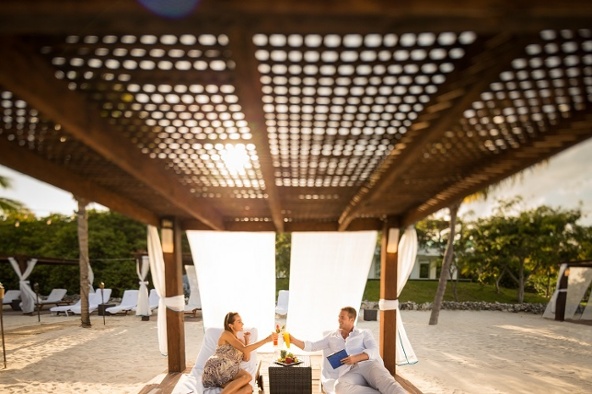 Book your destination wedding at BlueBay Grand Esmeralda >>
Majestic Colonial Punta Cana – Punta Cana, Dominican Republic
Arena Gorda's Majestic Colonial Punta Cana offers a five-star resort experience on a three-star budget. You'll invariably spend the majority of your time at the poolside bar, but if you somehow manage to extract yourself from the sun's heat, be sure to hit up Discoteco Coco's. And don't stop there, with six restaurants and 11 bars on property, your night is sure to heat up after indulging in the ultimate gourmet cuisine experience.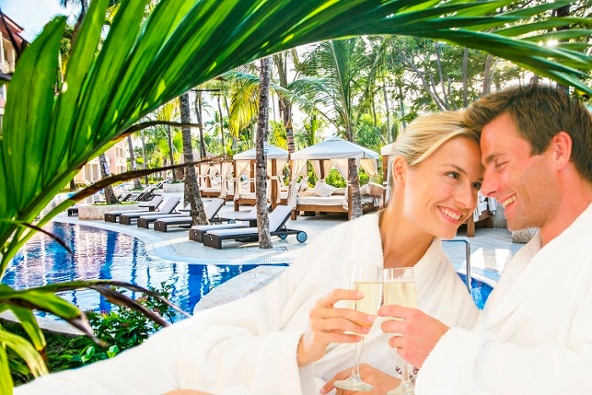 Book your wedding at Majestic Colonial Punta Cana >>
Riu Vallarta – Riviera Nayarit, Mexico
A contemporary resort with hints of Art Deco style throughout, Riu Vallarta is the ultimate destination for chic travelers who demand the same in its surroundings.  The resort's elegant decor gives it a luxury feel, still while showing off an affordable ambience. Riu Vallarta offers the ultimate in relaxation and pampering at the Renova Spa, as well as countless gastronomical opportunities at its many gourmet restaurants.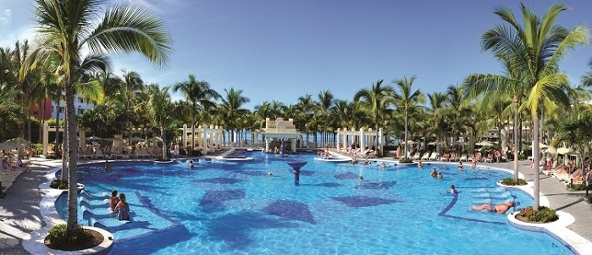 Book your wedding at Riu Vallarta >>
Grand Memories Splash – Punta Cana, Dominican Republic
Allow your family travel in style at Memories Splash Punta Cana. One of Mexico's most affordable kid-friendly resorts, this all-inclusive gem is a prime destination for family vacations and reunions. The resort's expansive water park features several exciting water slides, including a multi-lane slide that allows kids to race their siblings and best friends. The water park also has a wave pool and multiple splash pads. Could it get any better?!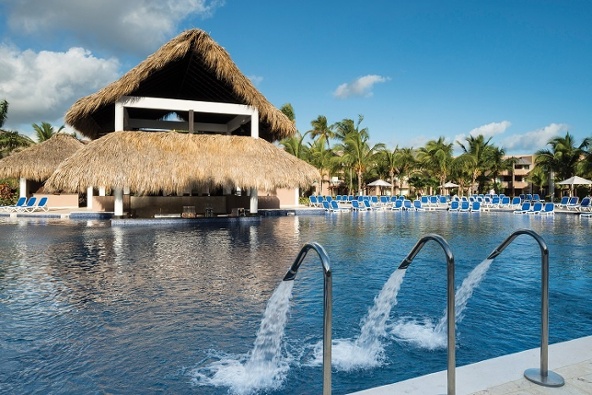 Book your wedding at Grand Memories Splash >>
Whether you're in the midst of planning a budget-friendly honeymoon or a romantic destination wedding, you'll have no trouble finding a resort that lets you and your loved ones live it up without blowing your savings. Discover the delights of all-inclusive vacationing and get ready for the adventure of a lifetime!