There are many reasons we're celebrating an amazing 2014, and we'd like to acknowledge some of our favorite destination wedding trends from this past year, along with giving you the insider scoop on our couples; where they tied the knot, where they honeymooned and more!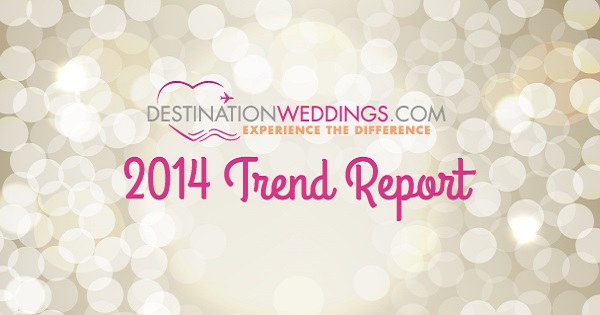 2014 was the year of the barefoot sandal; the "not your average shoe" that gave beach wedding brides the ability to really put their toes in the sand. And what about those plunging necklines and open backs that graced the aisles this year? We absolutely loved seeing mainstream bridal fashion trends make their way into the destination wedding space.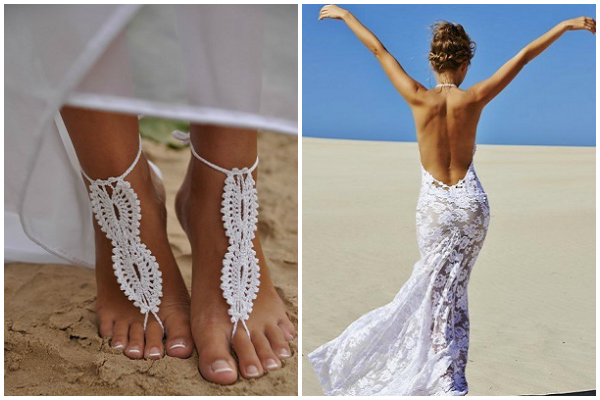 Then there were the wedding details, where we saw decorative lanterns, rustic tree stumps and peacock feathers make their mark. Not only that, but this was the year we saw personalized touches take over! From passport invitations to seating cards disguised as maps, seashells and even luggage tags, we really saw our couples' creativity take charge. And who could overlook the rise of fabulous wedding welcome bags? We watched couples put a twist on a simple concept and greet their guests with thoughtful trinkets, customized goodies and other destination wedding must-haves. From personalized sunscreen, towels and water bottles to local snacks and recovery kits, the bar was definitely raised!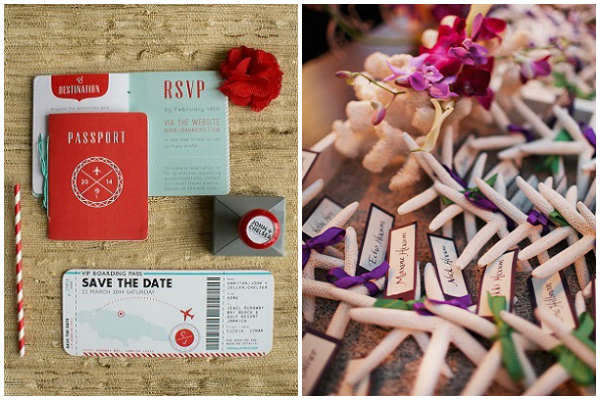 Passport Invitations / Starfish Seating Cards
Lastly, we can't forget to mention the unique and extraordinary photography we saw this year. Eccentric photo-shoots took center stage as we saw our wedding couples ride horses, go underwater and trash-the-dress in new, mind blowing ways. While these photos definitely caught our eye by straying far from traditional, we were blown away by the photography in general! 2014 really kicked it up a notch when it came to capturing special moments.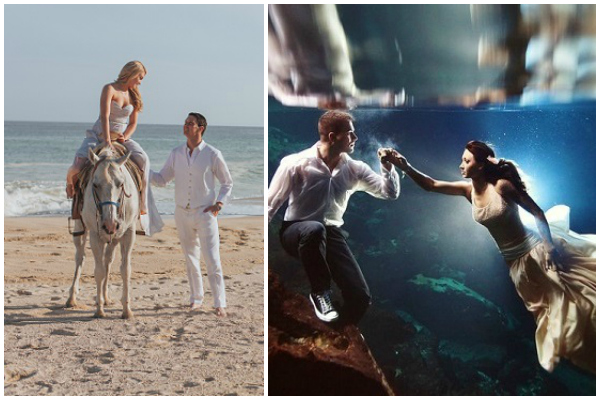 Bride on Horseback / Underwater Trash the Dress
It's not all in the little details! Our destination wedding couples made big decisions when it came to picking their ceremony date, wedding location, honeymoon spot and more.  Here's an inside look at 2014:
Most popular month to get married: May – followed by June and July
Average number of guests: 26 (an increase of 10% over last year!)
Average length of stay:
         4 nights for guests
         7 nights for the wedding couple
Most popular wedding destination: Riviera Maya, Mexico
Five most popular countries for a destination wedding:
      Mexico
      Jamaica
      Dominican Republic
      Costa Rica
      Hawaii
Emerging hotspots for destinations weddings:
      Puerto Rico
      St. Lucia
      Grenada
Most popular country for a honeymoon: Hawaii
Emerging hotspots for honeymoons:
      The Islands of Tahiti
      Fiji
      Aruba
We're excited to see what the New Year brings. Stay tuned for our 2015 predictions!