In honor of Father's day this upcoming weekend, we did a bit of research on the top song choices for father daughter dances. Choosing music for your wedding, whether it be the music you walk down the aisle to, your first dance song or the father daughter dance, can be daunting. There are countless songs to choose from! We hope this list helps you narrow down your search. Here are the top 10 most popular songs for father daughter dances:
1. Daughters ~ John Mayer
2. My Girl ~ Temptations
3. Wind Beneath my Wings ~ Bette Midler
4. My Wish ~ Rascal Flatts
5. Father & Daughter ~ Paul Simon
6. Because you Loved me ~ Celine Dion
7. Butterfly Kisses ~ Bob Carlisle
8. Stealing Cinderella ~ Chuck Wicks
9. My Little Girl ~ Tim McGraw
10. Through the Years ~ Kenny Rogers
Looks like the country songs have it! What song are you using for your dance with dad? Anyone find a more current song to dance to? Add your suggestions to the comments below.
For an extensive list of all wedding songs we highly recommend visiting the songs tab on WeddingWire.com.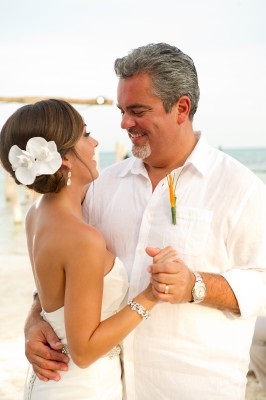 Thanks to Lezlie Partin for sharing photos of her El Dorado Maroma wedding.*
Photographer: Lyncca Harvey Photography
* More photos of real destination weddings in our photo gallery.