Traditional wedding registries were forever filled with housewares, linens and one too many dish towels. But, modern brides know, you only need so many toasters! Today, your destination wedding registry can be filled with anything that will help build your new life together or let you enjoy your newlywed days a little more. And, if there isn't a toaster in sight, that's totally okay!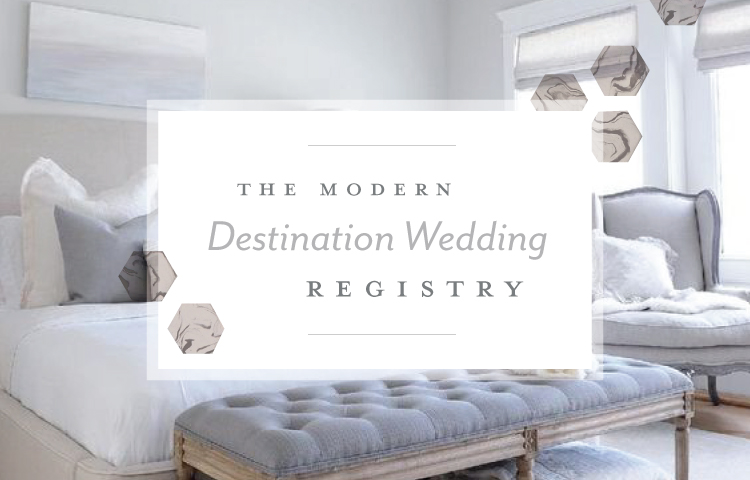 Building a Modern Destination Wedding Registry
Following the (Old-School) Rules
While the new rules for wedding registries allow for plenty of flexibility in registering for what you really want, there are some old-school etiquette rules that still apply. You should always register for items across a wide variety of price ranges, so guests on every budget can feel comfortable contributing.
Select Items That Fit Your Lifestyle
Shove that checklist of fine china and sets of bath towels aside! Modern wedding registries should reflect your personality and lifestyle and feature items that you truly need or want. Foodies may wish to request kitchen gadgets and cookware. Outdoor lovers and adventure seekers can add camping equipment or snorkeling gear. And, as a travel-lover, you are sure to want new luggage. Online registries, such as Zola, allow you to register for absolutely anything your heart desires.
Crowdfund Your Dream
You could argue that it's still a faux pas to ask for cash directly, but, asking guests to contribute toward a large purchase is totally acceptable. In fact, many people love the idea of giving towards one of life's largest purchases, rather than giving a trinket or basic day-to-day item. Sites like Feather The Nest allow wedding guests to contribute toward the down payment of your new home-sweet-home.
Add Even More Love to Your Honeymoon
A hot-stone massage? An evening of fine dining? A sight-seeing tour? If you value experiences over items, registering for portions of your honeymoon is the perfect way to add extra touches of adventure or luxury. Honeyfund let's you register for everything from resort nights to airline miles and excursions.
Gifts That Give Back
Make an impact with a gift to a cause that is near and dear to your heart. The I Do Foundation makes it easy to register for charitable donations, or you could simply ask guests to make a donation to an organization in honor of your nuptials.
For more wedding tips & inspiration, be sure to browse through our latest edition of Get Married Away or Pinterest page!