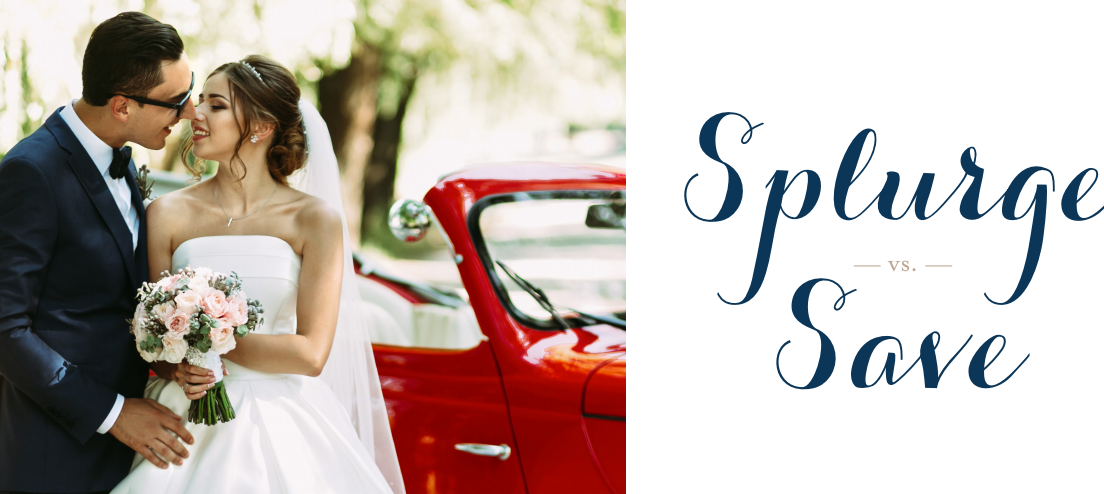 Weddings need not break the bank, especially if you're jetting off to your version of paradise to say "I do!" It's all about knowing when to save and when to splurge. So, if you're struggling to set a budget on certain details and vendors, keep these considerations in mind…

Airfare 
the cheaper you can purchase your airfare, the better. Those few hours of luxury you sacrifice on the plane will result in significant savings, which can be used to splurge on something more meaningful throughout your stay.
Savings tip: Book at the right time. Look for discounts during the week, and if possible, try to accrue airline miles as you use your credit card for wedding essentials. Besides, there's always a chance for a lucky, last-minute upgrade to first-class for the wedding couple!
Stationary 
Many couples are choosing to send e-save-the-dates as well as invitations to their guests rather than spending half of their budget on paper and postage. Being environmentally friendly is a plus, too!
Savings tip: Your digital wedding website can hold all of the important information you'd be sending via snail mail, and has unlimited space for as many details as you need to include!
Wedding Party Gifts
When it comes to showing gratitude towards your bridesmaids and groomsmen, it's the thought that counts. It's important that these gifts are either useful or hold some sentimental value, but there's no need to break the bank for a special memento.
Savings tip: Try your hand at a fun DIY project (search Pinterest for thousands of unique ideas!). This will add an extra personal touch to your gift, all while saving your budget a bit.
Ceremony Décor 
Remember, you're getting married surrounded by a beautiful landscape in an exotic locale; a lot of times with destination weddings, the natural elements speak for themselves! Cut back on extravagant decorations and keep it simple.
Savings tip: If you can't help yourself by fluffing up your ceremony site a little bit, stick with locally-sourced décor, such as wildflowers native to your locale.

Resort
You and your guests will make memories to last a lifetime at your wedding resort, so it's worth your while to splurge on a high-quality venue with excellent ratings and reviews.
Planning tip: Take advantage of working with one of our Certified Destination Wedding Specialists, who have the expertise of having traveled to several of the resorts you may be choosing from. Don't forget to look out for our exclusive offers and savings that you won't find anywhere else!
Room Upgrade/Honeymoon Suite
For some couples, adding a bit of royal treatment to their stay is money well spent, and we'd have to agree. If your idea of romance and relaxation includes a top-shelf mini bar and in-room Jacuzzi, a nicer suite is definitely worthwhile.
Planning tip: check in with your wedding planner on what honeymoon packages are available at the resort. Chances are, there's an upgrade or two that you don't want to miss!
Photography
This one may seem obvious, but we would have to recommend making your photographer a top priority within your budget. Aside from the everlasting memories, the photos you take home top from your big day will be the next best thing to remember the magic. Make sure your photos capture your love (and beautiful scenery!) to look back on forever.
Planning tip: get a hold of the resort's preferred vendor list to look at what photographers are used to shooting at this resort. Or, go the extra mile and fly in your favorite photographer from the states. We're pretty sure they'll appreciate the paid trip to paradise so much, that you'll be sure to leave with an amazing photo shoot experience!
Excursions
If you crave adventure, you'll definitely want to spring for whatever exciting expeditions are available around you. The memories you make during these activities will last a lifetime, and in some ways, be priceless.
Planning tip: be sure to plan a group excursion for your friends and family to enjoy with you, but also book a couple's excursion for some alone time and newlywed bliss!
For more visual inspiration, browse our latest issue of Get Married Away or our Pinterest !