Couple: Rachel & Aaron
Wedding Date: 11/8/14
Resort Name & Destination: RIU Palace, Costa Rica
Number of Guests: 23
The (brief) story of how you met/fell in love:
Aaron and I met at a Lodge right outside of Yosemite National Park in California.  I had been working there for a year already as the Tavern Manager when Aaron walked into the bar and I was introduced to the new Executive Chef.  It was love at first sight. We began working closely together running the restaurant of a very busy hotel and within two months began dating.  The three years following were filled with hiking, camping, finding new swimming holes to jump in, hot springs and trips to the surrounding cities.  We left California to come back to my hometown, and now we have a restaurant of our own!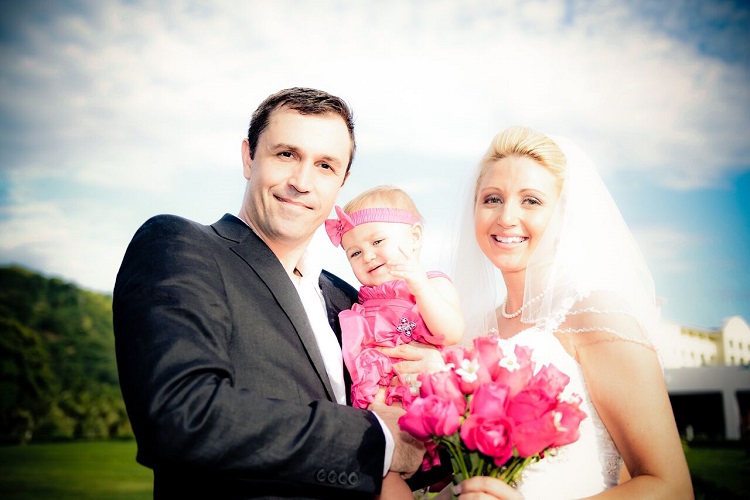 The destination wedding decision: something you've always wanted or came to love?
Aaron and I LOVE traveling.  Together we have been to almost every state in the US and numerous countries.  My family is from the East Coast and Aaron's family is from the Mid West, so we figured it would only be fair if we had our wedding in neither of our hometowns.  Plus, it gave us another reason to take a vacation and go see a new place!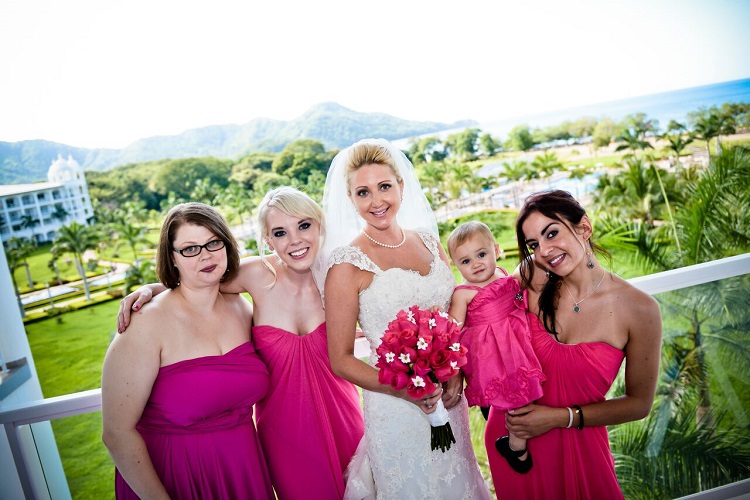 What made you choose your resort/destination?
We chose Costa Rica because it was a place that we had not been to yet.   Also, when pricing different places and hotels, Costa Rica was reasonably priced and had comparable traveling times for both of our families. It was perfect!
How did you personalize your wedding and ceremony?
The wedding coordinator at the hotel had a ton of options for us to choose from.  We matched everything to our wedding colors.  They even had light covers in pink! We custom built an amazing dinner menu that blew our guests away and hand selected our entire play list!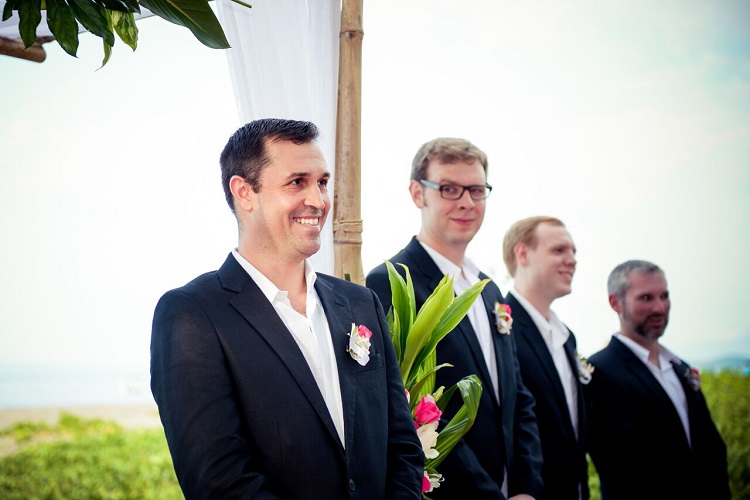 The funniest or most unusual moment was when….
At the end of the ceremony, everyone jumped in the pool in his or her nice outfits and we took over the pool at 11pm at night!
The most memorable moment was when….
The actual ceremony itself!  It was so perfect and beautiful, and we had everyone there that we love!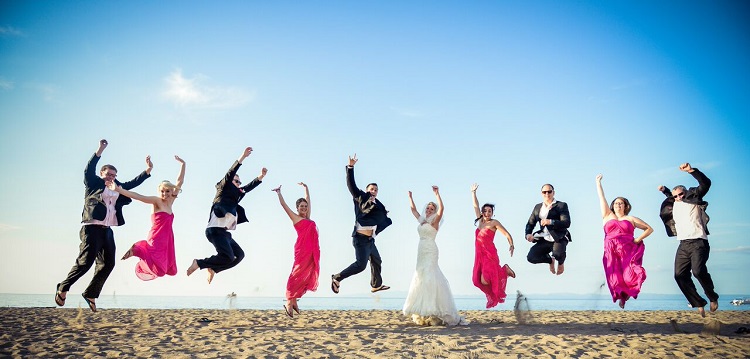 Three words that sum up your destination wedding experience are:
Unforgettable, Legendary, Effortless.
Besides the wedding itself, what was your favorite part of your trip? Did you do any activities with your guests?
We took an adventure excursion the day before the wedding with 14 of us.  We went zip lining, horseback riding, repelling, rock climbing, white water rafting and soaked in mud baths and natural hot springs.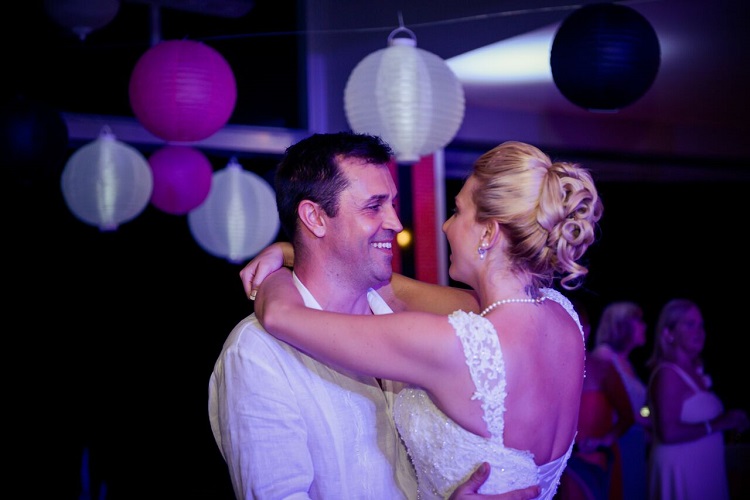 If you could travel anywhere for your one-year anniversary, it would be:
Those floating bungalows in Fiji!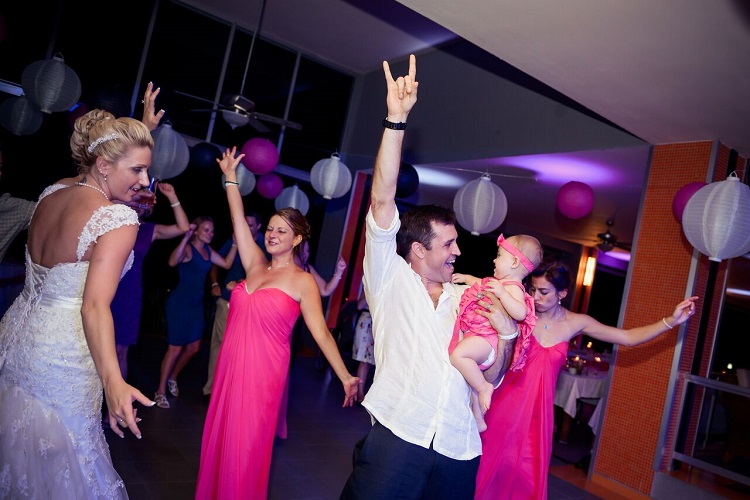 Your biggest piece of advice to couples planning a destination wedding would be:
Definitely make a very thorough to do list.  Make sure you have done your research on everything, even down to the temperature of the sand!  Look on Pinterest for photo inspiration, gift bag ideas and decorations.  Lastly, leave some wiggle room in the budget!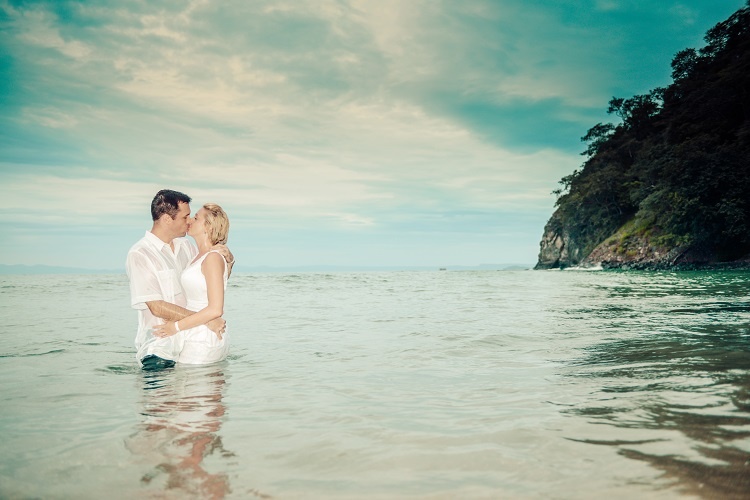 Photography by Wedding Day Story