Couple: Grace & Travis
Resort Name & Destination: Rui Palace Paradise Island, Bahamas
Number of Guests: 24
Photography by: SNL Photography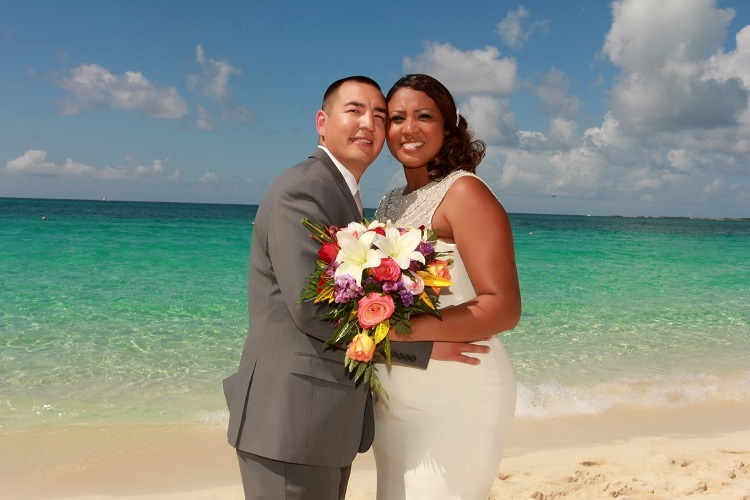 The (brief) story of how you met/fell in love:
Travis and I met one evening at a local sports bar in Anchorage, through a mutual friend who worked there. It was in the fall of October 2010. We had an eventful evening of laughing, dancing, and cheering's to new friendships. We enjoyed each other's company so we exchanged numbers. Later that week we hung out again and we have never stopped since!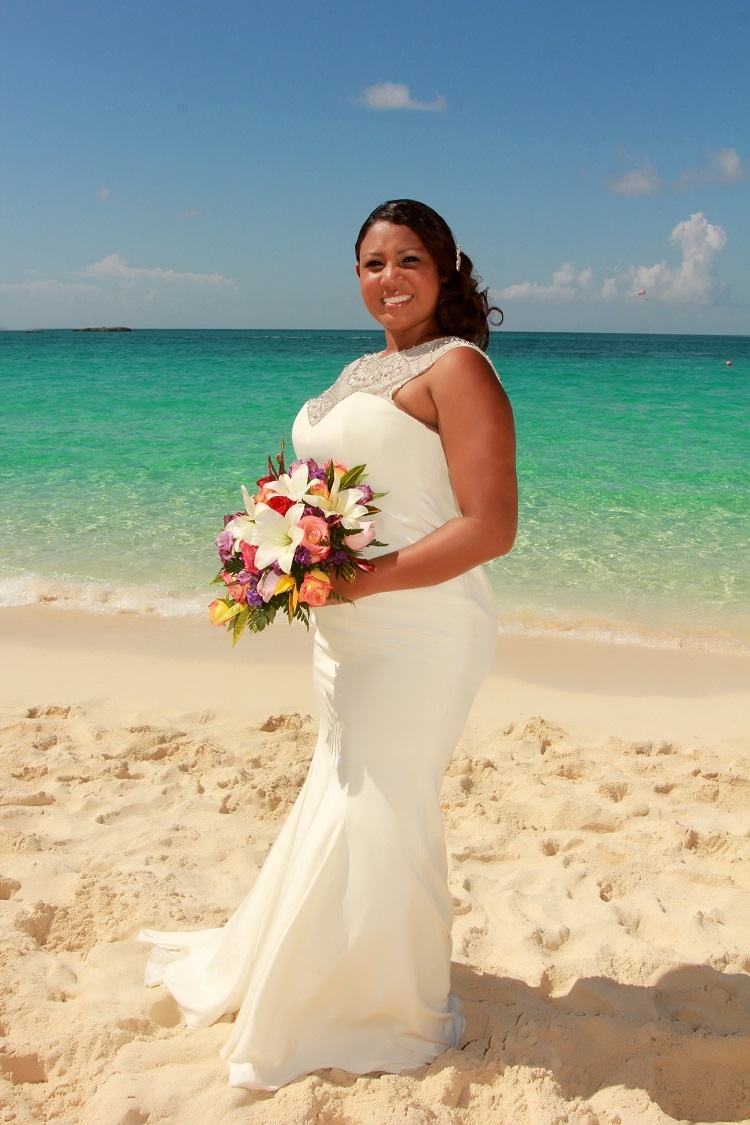 The destination wedding decision: something you've always wanted or came to love?
Since I was a young girl it had always a dream of mine to get married on the white sandy beaches of the Bahamas. A friend referred us to DestinationWeddings.com and everything just clicked from there!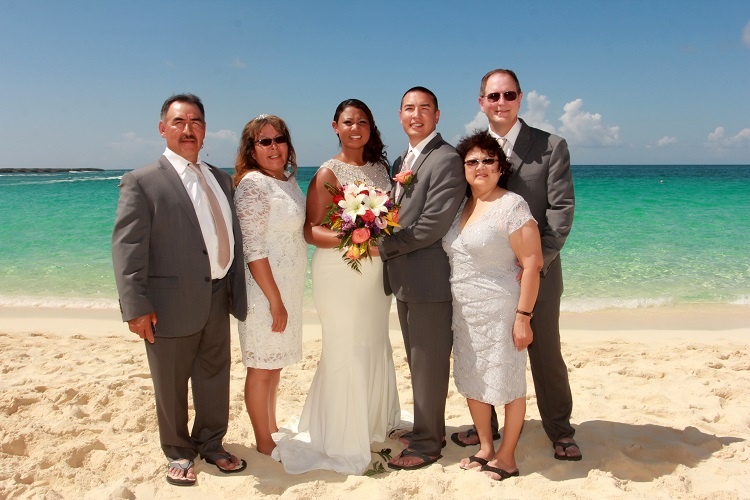 What made you choose your resort/destination?
After reviewing a couple of options on Paradise Island, our Wedding Specialist informed us about this all-inclusive hotel. We both never stayed at an all-inclusive before so we were a little hesitant but the place turned out to be perfect for us and our guests. We didn't have to leave if we didn't want too; the resort had everything on site.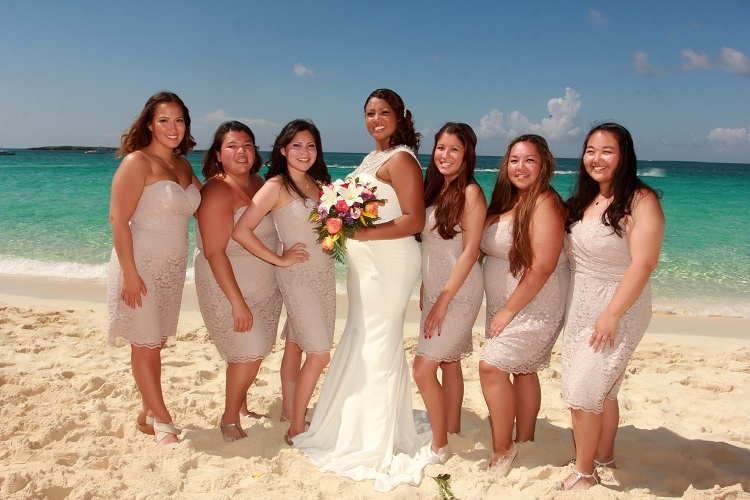 How did you personalize your wedding and ceremony?
We choose my Grandmother's birthday to celebrate our marriage. Regrettably, due to medical conditions, she was unable to travel the long distance from Alaska to the Bahamas with us. Our vision for the wedding was to reflect the essence of her: elegant, classy, bright and traditional.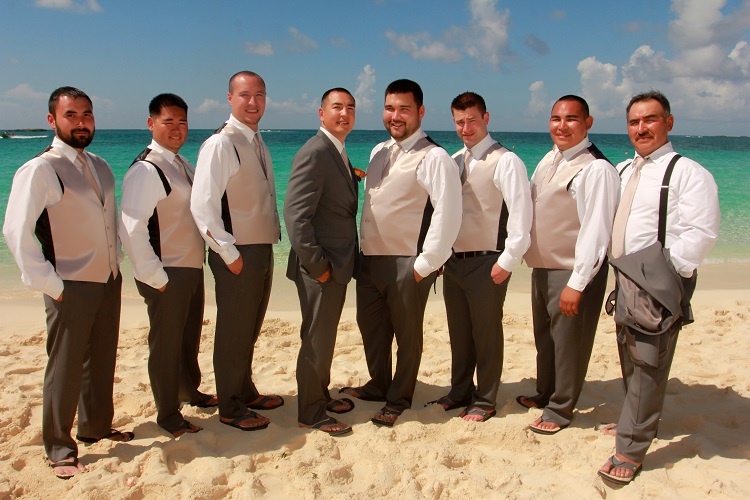 The funniest or most unusual moment was when….
It was an incredibly hot sunny day. 90 degrees; probably one of the hottest days since we had been there! Unfortunately for us and our guests, we were all dressed and suited up for the big day. We, Alaskans were extremely hot; sweat drops pouring down our flushed faces, most guests forgot their fans from their guest bag. Luckily, no one fainted and after a while we didn't even seem to notice.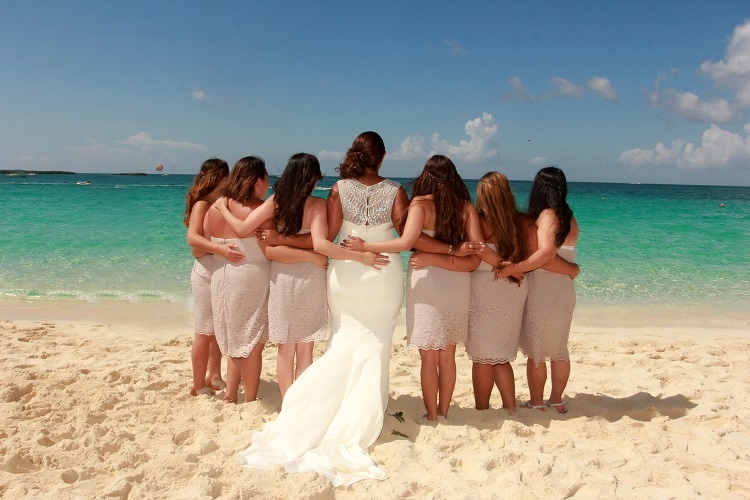 The most memorable moment was when….
Travis greeting my Dad and I as we walked down the aisle with tears in his eyes and a smile on his face. I cannot explain the feeling it gave me other than pure love and bliss.
Three words that sum up your destination wedding experience are:
Love, family and priceless.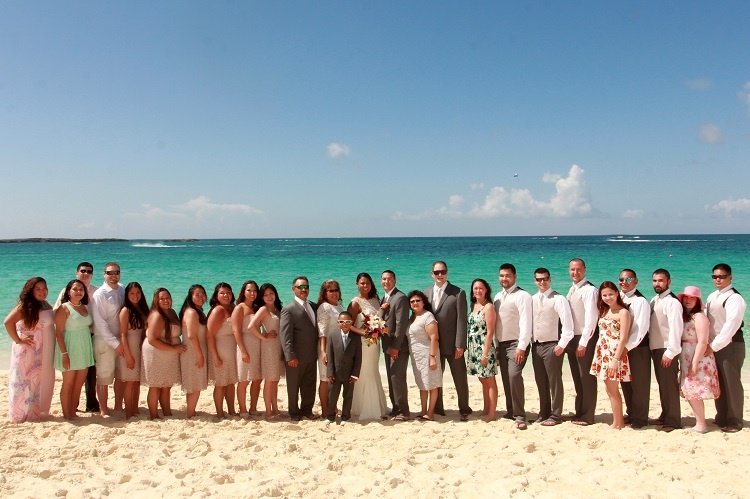 Besides the wedding itself, what was your favorite part of your trip? Did you do any activities with your guests?
We would have to say just being there on the beautiful island with the people we love. No worries, hakuna matata! Some activities our guests and us enjoyed were a full day excursion to Sandy Toes Beach located on Rose Island, the Atlantis water park, Stuart Cove's diving and shark adventures, snorkeling, jet-skiing, shopping at local markets and experiencing local food.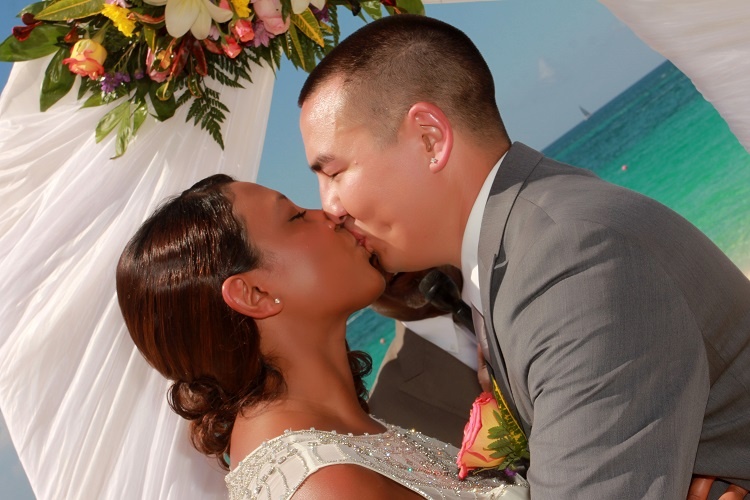 If you could travel anywhere for your one-year anniversary, it would be:
We are thinking to return to Australia to tour together as husband and wife. We both have been there once in our adolescent years and always hoped to go back. It would be a dream come true to go together!
Your biggest piece of advice to couples planning a destination wedding would be:
It's your moment in time, relax and enjoy it and let the Wedding Specialist handle the rest!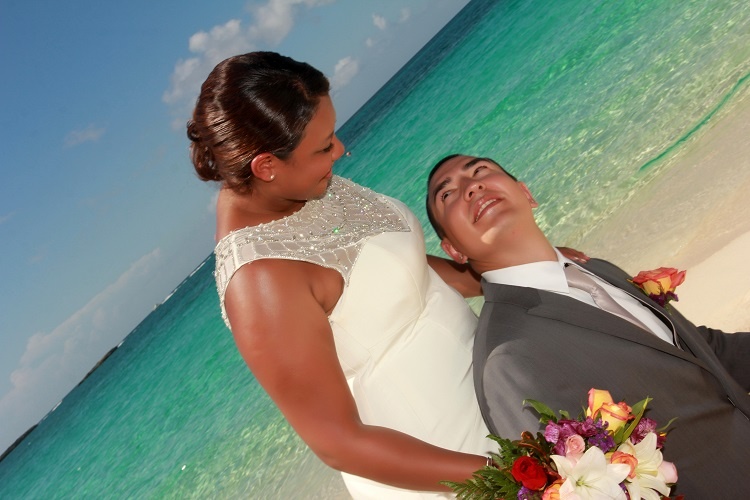 For more of Grace & Travis' big day in the Bahamas, browse our latest issue of Get Married Away!