This is a featured guest blog post.
Just when you thought the planning was done, there's one more detail to cover before you say your vows. Believe it or not, packing for your destination wedding can make or break your upcoming nuptials. Take a little time to plan and organize, and you'll enjoy stress-free travels to paradise. Set yourself up for the trip of a lifetime with these no-fail tips for a worry-free trip to the alter.
Carry On
Under no circumstances should you treat your wedding gown as checked luggage. It may be awkward to carry, maybe even heavy and bulky, but don't leave the fate of your wedding day attire in the hands of TSA. Let the bridal boutique or seamstress know you're having a destination wedding. Some boutiques may offer shipping to your destination, however, proper steaming will be necessary upon arrival as the dress will be folded and fit to ship.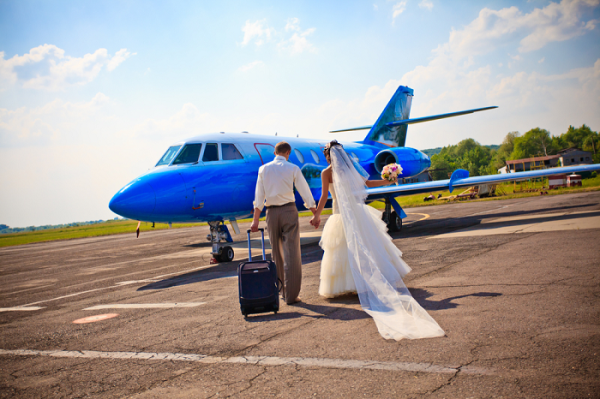 The most recommended method is to have the salon professionally store your dress in a garment bag for you to carry on. Although most airlines do not guarantee safe stowing of personal items, you'll likely have kind flight attendants happy to help you find safe storage for your gown. Ensure your hotel or venue provide a steamer, or pack a travel steamer, to freshen your dress and touch it up when you arrive to your destination. If your wedding party (and husband-to-be) plans on traveling with their tuxedos and dresses, advise them to also carry on their outfits to avoid potential lost baggage wedding party disasters.
Checked Luggage
Fun vacation-worthy gear and garb: Avoid over-packing by making an itinerary-based wardrobe checklist that includes necessary attire for you and your groom. For example, if day one in paradise is a day at the beach followed by luau-style welcome dinner, you'll want to pack your bikini and his swim shorts for the day time, then set out your coordinating outfits for the evening dinner. This means all garments and accessories necessary for a complete ensemble including shoes, socks, belts, handbag, etc., for each event.
Beach garb: One thing you can never have too many of on a beach vacation is bathing suits. From flirty and frilly bikinis to sultry monokinis, sites like YumDrop boast a variety of chic suits to show off that bridal bod you've worked hard on. Toss in a cute hat, sun glasses, a cover up and you're all set for post-wedding fun in the sun.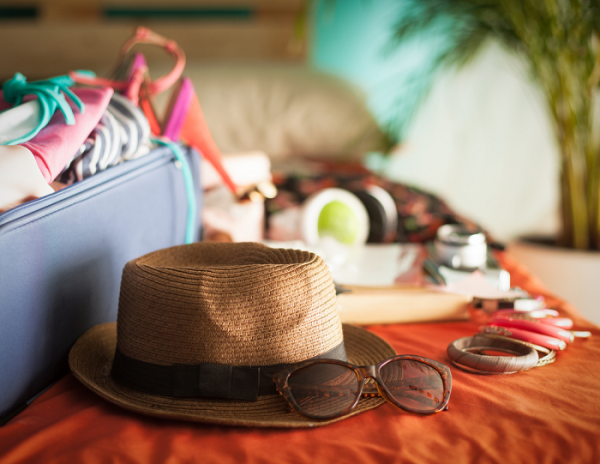 Stay connected: This is especially important if you're arriving a few days before the wedding. You'll be in constant contact with planners, coordinators and arriving guests. Make a list of gadgets you'll need to stay connected as well as make memories. Your phone, tablet and chargers are musts, but don't forget memory makers like your digital camera or GoPro.
Toiletries: Avoid overspending on unnecessary items and pack tons of sunscreen, lotion, aloe vera and other tourist essentials. Save a few extra dollars for beach cocktails and romantic dinners with your hubby.
Send Ahead
Decorations, party favors, welcome bags and anything and everything decor related should be shipped in advance. Ask your wedding specialist to assist you with connecting to on-site staff who can be in charge of ensuring your items don't get misplaced. Avoid the stress of shipping heavy decor by choosing a venue that is so full of natural beauty it won't take much to spruce it up.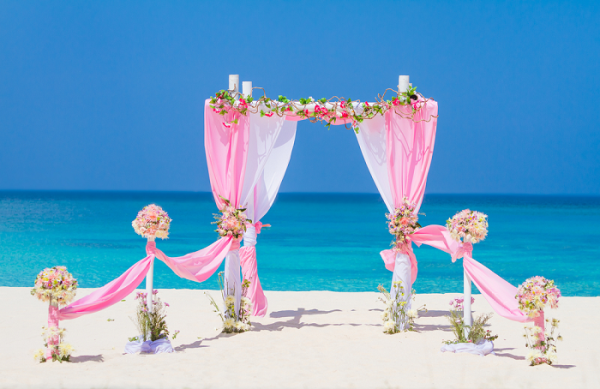 If you're short on time or resources for gathering and distributing hotel welcome bags, opt for welcome card kits offered by Envelopments.com. The kits can be shipped internationally, are ready to distribute and provide a less bulky option for easy packing after the wedding.