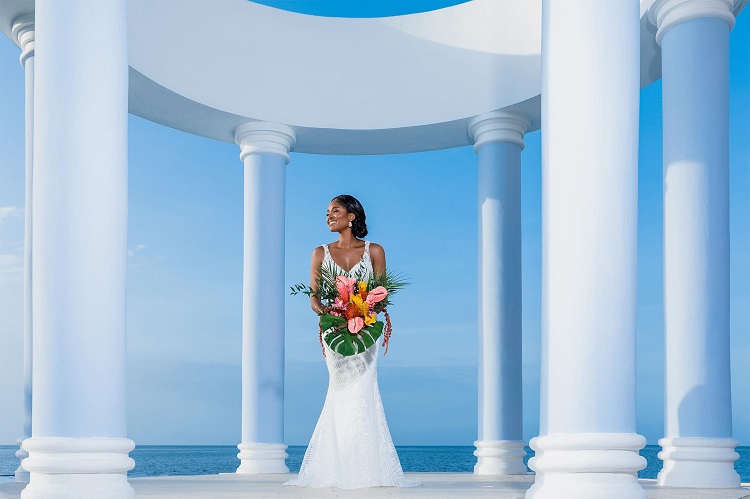 Picture a romantic serenity with crystalline waters and the best Caribbean Sea views for your destination wedding in Jamaica! Say your I dos in the heart of Montego Bay, at one of Iberostar Hotels & Resorts' luxurious properties. Whether you're looking for an adults-only escape with idyllic scenery or an unforgettable family-friendly celebration, let these top all-inclusive resorts give you everything and more for a  wedding in paradise. 
Iberostar Grand Rose Hall
Feel ultimate tranquility and relaxation at Iberostar Grand Rose Hall's adults-only oasis before your magical day. Let you and your guests be showered with lavish amenities, delicious cuisine, and a soothing spa to unwind before you exchange your vows. 
Adults Only Wedding Activities & Amenities
Step into luxury when you arrive at your beachfront suite and have the best views of the Caribbean Sea just steps away from your room. Spoil your guests with plenty of room options from a swim-out suite to rooms with ocean and garden views, each one equipped with concierge services, a bathrobe and slippers, 24-hour room service and more. 
Let their designated butler service cater to your every need 24-hours a day before you walk down the aisle and be spoiled with an aromatherapy essence, minibar service, customized pillow, and luggage assistance. They can even draw you a relaxing bath after a day's worth of activities.  
Begin your wedding festivities with your loved ones by enjoying one of their delicious a la carte restaurants for your welcome dinner. Choose from five unique options or opt for a buffet set-up to satisfy everyone's cravings! From surf and turf to Jamaican favorites, indulge in impeccable meals every night during your stay. 
It's not a destination wedding celebration if a toast to the happy couple isn't involved! With over 70 different options of wine, including 15 home wines from Spain, Chile, and Argentina, your wedding party can cheers to you both with the very best wine in Jamaica. 
Don't leave paradise without a trip to SPA Sensations to help you feel rejuvenated before you exchange your vows. Grab your wedding party for relaxing treatments on the beach or let the spa treatments come to you in your private suite. 
Iberostar Rose Hall Beach
Family-friendly activities and breathtaking views meet 5-star luxury at Iberostar Rose Hall Beach. Invite your younger loved ones to experience the best of Jamaica with exciting events for all ages, while you grab your wedding party to sit back, relax and enjoy rejuvenating spa treatments and endless group activities. 
All Ages Wedding Activities & Amenities
If you're having a family-friendly destination wedding, Iberostar Rose Hall Beach has you covered. Star Camp is for children ages 4-17, where each age group will have a special place with plenty of activities for them to enjoy, including MasterChef, capture the flag, tag, LipSync Star and more. 
Children can dive into their own pool and park where they can play water games and mingle with other kids, or phone in the on-site babysitting service to watch the kiddos while the adults  enjoy their own time together!
With plenty of entertainment for the younger guests, it's only fair for the adults to enjoy quality time with the future newlyweds! Start off the day exploring all the lively group activities like live music, professional shows and then lounge by one of the two swimming pools with your favorite cocktail in hand. 
As night approaches, show off your best dance moves at their nightclub, or hit the gameroom and leave with a little prize from your time in Jamaica!
For the more adventurous guests (or even couples), take a plunge into the sea and explore abundant sea life at the Dressel Divers diving center. Rent equipment or do a PADI course and discover what lies underneath the crystalline Caribbean waters.
Escape all the pre-wedding preparations with your partner-to-be and melt all your stress away at Spa Sensations. Get a rejuvenating couple's massage on the beach or discover the hydromassage pool, sauna, and thalassotherapy pool in the hydrotherapy area. For a little extra pampering, head over to the beauty salon for a new hairdo and freshly painted manicure to look and feel your best before you say I do. 
Iberostar Selection Rose Hall Suites
Beachfront views, a tropical oasis and 5-star luxury service awaits at Iberostar Selection Rose Hall Suites! Guests of all ages can expect a new way to vacation in the Caribbean with plenty of day & night entertainment, water activities, and sports facilities. 
All Ages Wedding Activities & Amenities
To ensure family-friendly fun, explore endless activities led by Star Friends entertainment team. Make memories with your loved ones by testing your artist skills with a painting workshop, or bring home a souvenir of your creations at the tie-dye workshop. For night time entertainment, adults and kids will be amazed by the professional shows hosted like juggling, magic and live music. 
Lounge by the pool with your wedding party knowing that all the younger guests are taken care of at Star Camp, an activity program for children to socialize and participate in activities. Kiddos can plunge into AquaFun, a designed swimming pool and playground, and ride down all types of water slides, show off their swimming skills and play water games with their brand new friends. 
Adults can enjoy some free time all to themselves and enjoy all the celebrations planned with the future newlyweds by requesting a babysitting service at the resort. Leave all your worries behind knowing your kids are safe and sound, while you enjoy the pre-wedding celebrations by catching a gourmet meal at one of their delicious restaurants, or spending quality time on the white-sandy beach before the big day. 
For those looking to stay active during their stay, invite your guest list to put their skills to the test at one of the sports facilities on-site. Grab your racket and compete to be the tennis champion or head to the beach and serve up some friendly competition during beach volleyball. Don't forget to bend the rules a bit so the future partners-to-be are the winners! Head down to the golf course and putt away at their 18-hole course and leave Jamaica with an outstanding champ! 
Jamaica Destination Wedding Inspiration
Your wedding in Jamaica will be unforgettable, but most importantly, it will only be unique to YOU. Iberostar Hotels & Resorts guarantees that no two weddings will ever be the same, so let your imagination run wild and customize your dream celebration just how you envision it. For some inspiration, explore past themes from their beautiful destination weddings: 
Nature of Love: Sustainable, yet timeless. For couples looking for a "green" wedding, picture a circular arch with greenery running down the center and down the aisle along with classic wooden tables. 
Boho Chic: Tie the knot in the middle of the jungle with bohemian inspired designs, a lush tropical background, and macrame chandeliers. 
Art of Love: With the ocean as your backdrop, have stunning pink and white florals, rose shaped napkins, and touches on gold in the flatware, vases, and wedding cake for an extra touch of glamor. 
The Knotical: A true ocean to table experience. Envision deep blue linens draped over wooden tables surrounded by the crystalline ocean with sea glass charger and oyster shells along the runner.
Colorfest: Create an electric vibe with pops of color from the arch to the color-blocked rows of butterfly chairs. Add more shades of the prism with the florals, tables, and the spray-palmed arch. 
Sugar & Citrus: Tropics and pops of grapefruit color make for a vibrant but sweet destination wedding. Pair citrus-inspired florals with lounge seating, coconut cocktails, and sea blues for a perfect tropical setting.
Sunset and Spices: Imagine deep burgundies, gold and touches of blue from the ocean backdrop for your magical day. Have wooden chairs, woven chandeliers, and palm tree linens draping over the tables to tie it all together. 
Planning a Destination Wedding in Jamaica
Whether you are looking for family-friendly options to say I do or an adults only oasis, discover these three luxurious resorts for your destination wedding in Montego Bay, all with breathtaking views of the Caribbean, lavish amenities, and activities for everyone to enjoy. Get inspired planning your big day with plenty of options to design the wedding of your dreams in paradise. 
Contact one of our Certified Destination Wedding Specialists TODAY to start planning your dream wedding in Jamaica.