Stay at the Grand Palladium Colonial Resort and Spa and find yourself walking in the footsteps of the Mayan people! The historic ruins of Tulum National Park are roughly a half-hour drive away, perfect for your hiking hankering. The Riviera Maya Golf Club is even closer, a mere 15 minute drive from the Grand Palladium resort complex. If you're not a golf fan, you could always simply stay at the property! The white sand beach kissed by warm, blue Caribbean waters is irresistible.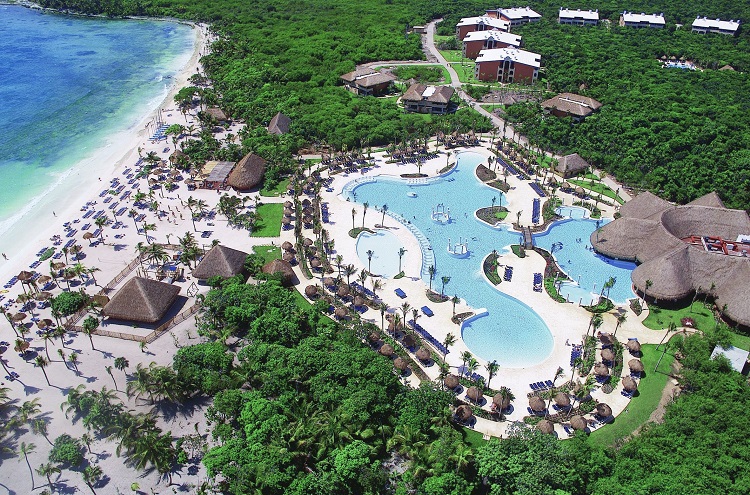 Resort Amenities and Activities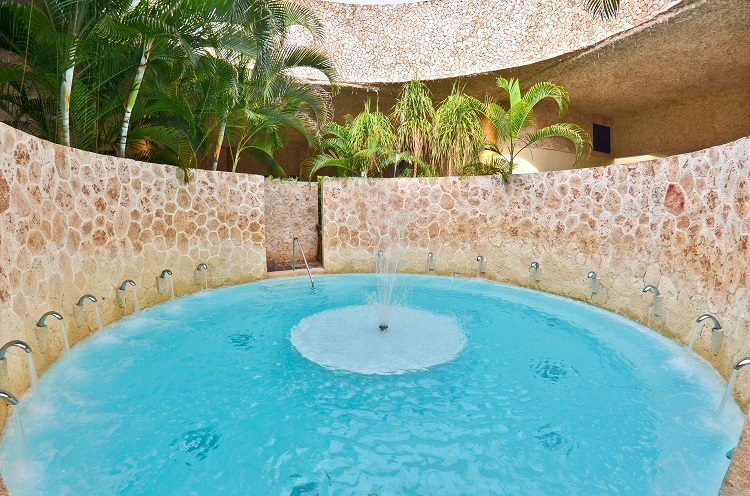 The Grand Palladium Colonial Resort and Spa is part of a multi-property complex. Guests of this all-inclusive resort may enjoy restaurants and facilities throughout the property, usually without charge! Take a walk through the pathways that will lead you throughout the grounds (or to the beach!), or enjoy the lush greenery around you! Don't feel like walking? No problem! There's free internal train service that's also available. Be sure to stop at Zentropía, a full service spa where you can enjoy a couple's massage in an exotic setting, or relax in a Jacuzzi. This feature does require additional fees for some services, but it's definitely worth the splurge!
Accommodations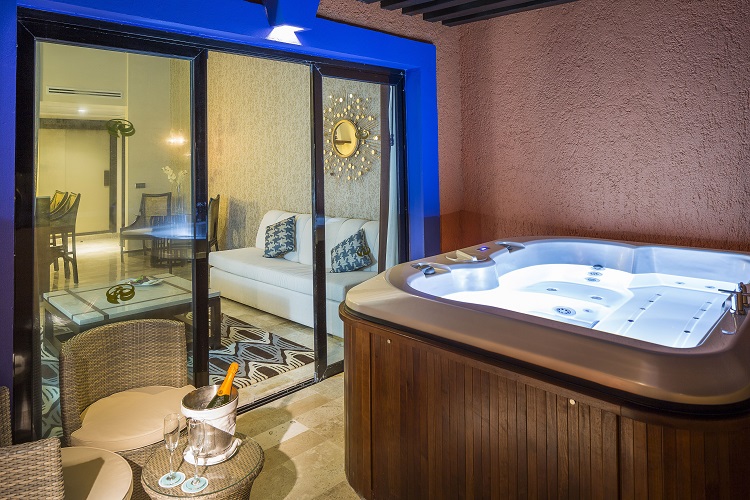 Bold colors contrasting with light earth tones fill the rooms and suites, and will leave you in utter luxury. Most Deluxe rooms are in the hub of the property, so you'll be at the center of attention your entire stay! If you choose to stay at the Junior Suites, you'll be closer to the beach and pools. How convenient! For the big romantics, the Mayan Suites are just for you. Found within steps of the sea or the main pool, these suites are actually individual cabins with thatched roofs and private entrances. Relax on a hammock, or enjoy the outdoor shower on your secluded terrace! We're jealous of you already!
Restaurants and Bars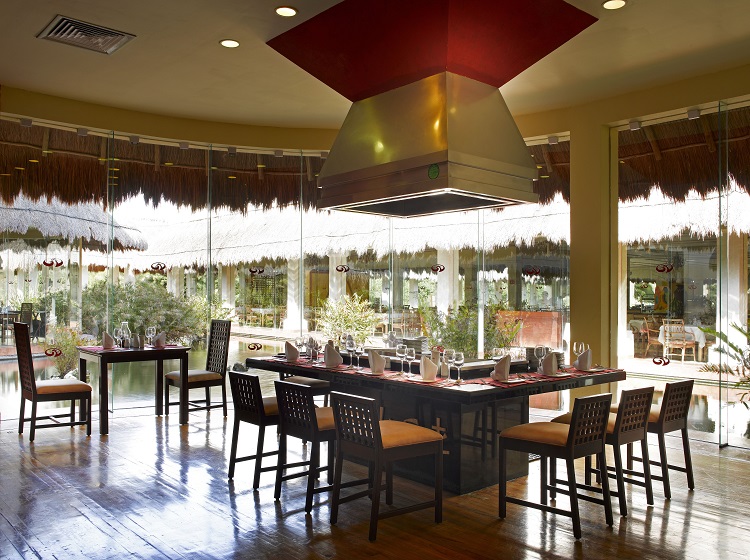 The Grand Palladium Colonial Resort has options for any taste. Sample foods from around the globe without ever leaving your resort! If you have an urge for the traditional Spanish cuisine, look no further than La Lola. Have an Asian craving? Stop by at the Chang Thai restaurant! Go Japanese at the Sumptori Restaurant, where food is cooked at your table, teppanyaki style! Whatever you're desiring, Grand Palladium is sure to provide.
Wondering about the bars? Lucky for you, they're just as varied! Visit Hemingway's for a quiet, leisurely drink, or head for Sport Bar for some big screen viewing and a game of pool!
Weddings and All Things Romantic
All couples are welcome to tie the knot at this resort! Choose a romantic gazebo with eye-popping views of the Caribbean Sea, or perhaps on a private terrace within a tropical garden! Weddings by Palladium offers the services of a wedding planner and an assortment of packages, like their  Pure Paradise package (one of their specialties). Stand under a wedding arbor within steps of the ocean while saying "I do"!
If your dream wedding includes spa treatment, beach days, and elegance, then the Grand Palladium Colonial Resort & Spa is for you!  Dive into comfort and experience your oasis today – you deserve it! For more destination wedding inspiration, visit our Pinterest page!