Nothing is more romantic than planning a destination wedding in Mexico, and Azul Beach Resort The Fives Playa Del Carmen in Riviera Maya delivers more romance. Nestled 30 minutes south of Cancun, this paradisaical playground is ideal for soon-to-be-marrieds, honeymooners, and any couple looking to get away from it all! Azul Beach Resort The Fives Playa del Carmen awakens it's guests with pristine beaches, refreshing pools, exquisite cuisine, and sensual spa treatments.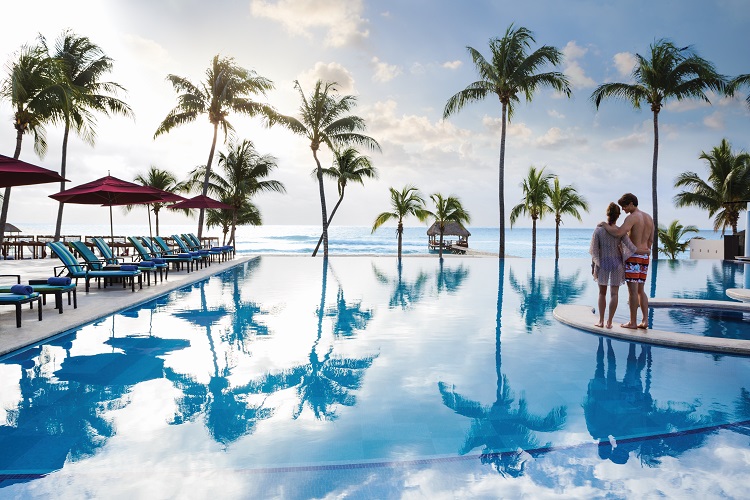 Activities & Amenities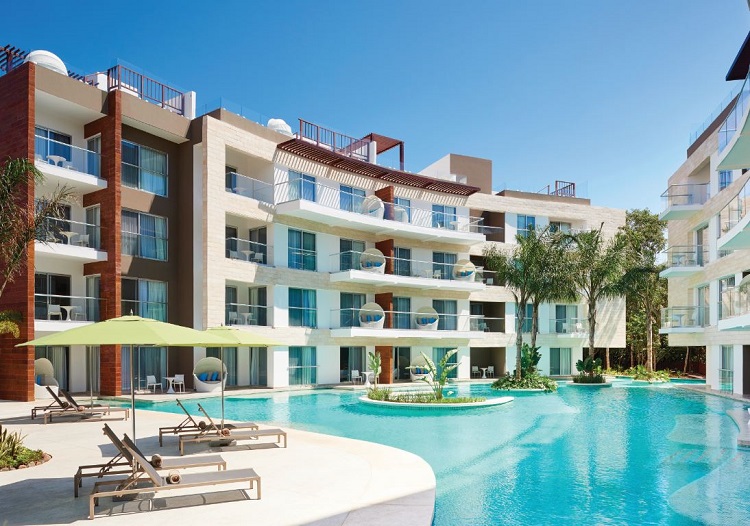 With five glistening swimming pools wind throughout the property, stress is never an issue! Looking for a way to get active? Aqua aerobics and yoga classes on the beach will keep you limber and moving at a relaxed pace. Be sure to splurge on a scuba diving adventure – trust us, it's worth it! When it's time to get your zen on, Vassa Spa offers serenity-inducing treatments including a Water Journey Ritual and a Wedding Ritual for the bride and groom to-be. Romantic couples' therapies include the spa's signature Moonlight Romantic Massage, which takes place in an open-air palapa on the beach. Why not start your day with a couples' sunrise massage and mimosas? Swoon!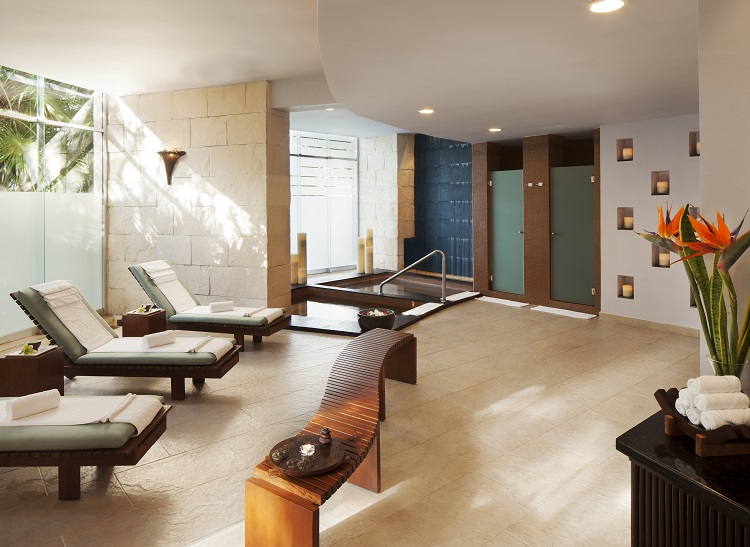 Accommodations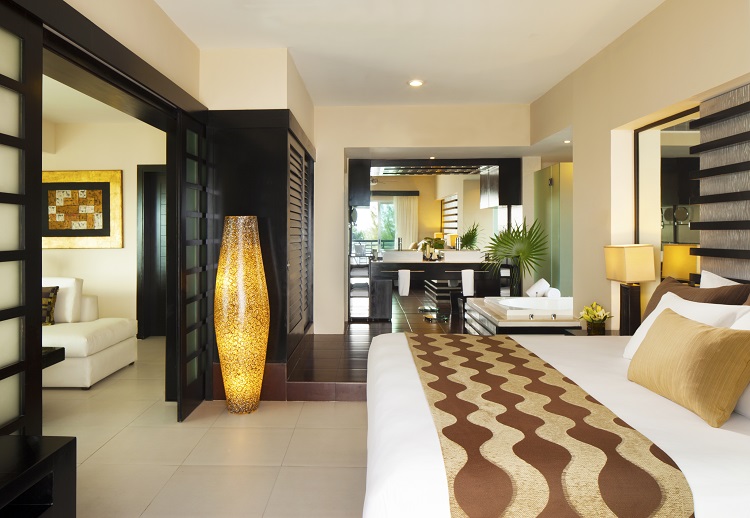 At this lush property, each suite has separate living and sleeping areas, marble finishes, rainfall showers, and private balconies. Treat yourself and stay at the One Bedroom Swim-Up Residence, which will let you start and finish off your day in the coolness of your own private pool area! Each room category can come in two and three bedroom options, as well. Bring as many guests as you'd like! Just be sure to delight in some aromatherapy and your pillow menus, a personal concierge, and 24-hour room service.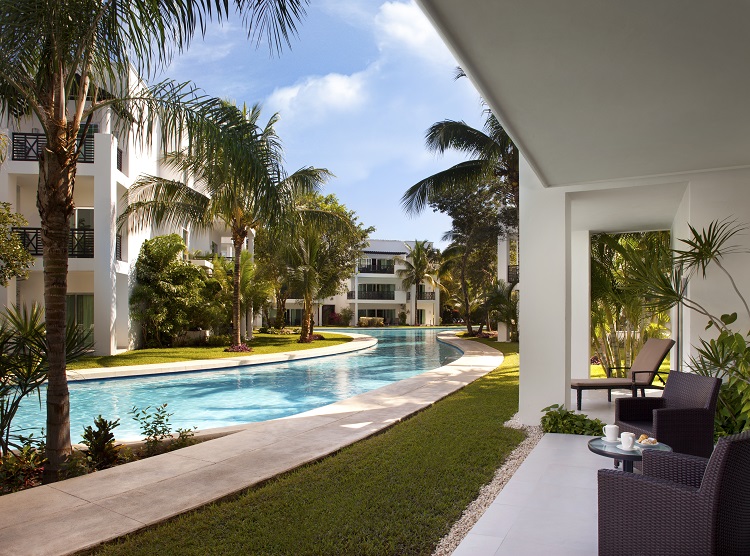 Dining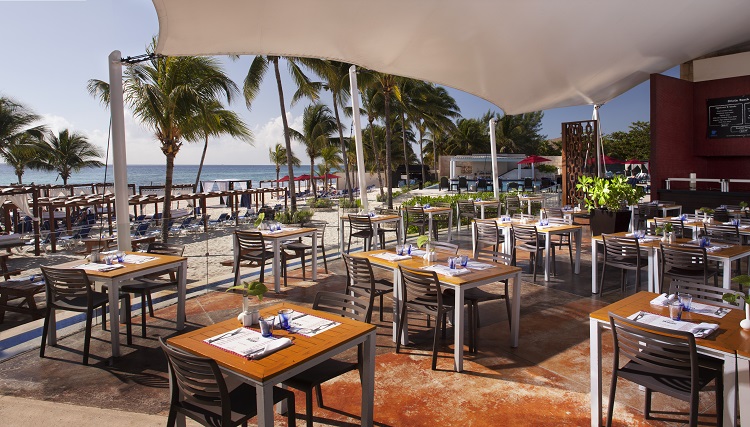 Foodies are in culinary heaven at Azul Beach The Fives Resort Playa del Carmen thanks to the 12 all-inclusive fine-dining options. Enjoy sumptuous Thai cuisine sitting beneath the 15-foot-tall golden Buddha statue, or treat your palate with steak tartare at the French bistro. You'll find an open-kitchen Italian restaurant, sizzling Latin American cuisine, and a sushi bar where Japanese chefs whip up artful and fresh seafood creations.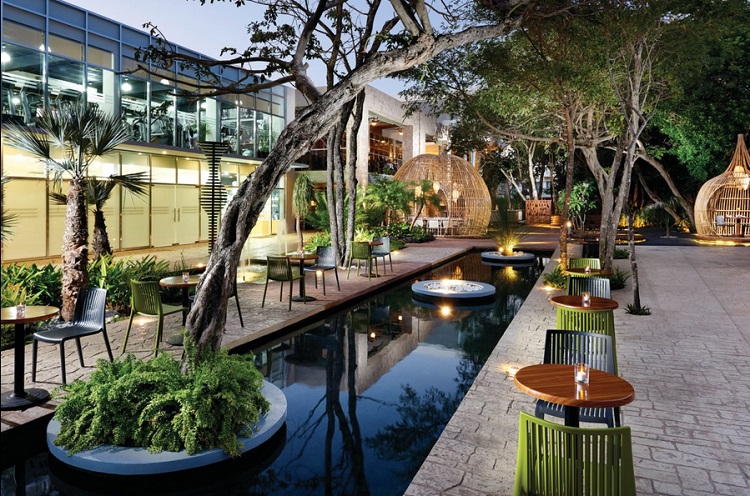 Ten trendy bars offer something for every adult beverage lover. During the day, swim up to the Breeze bar to grab your favorite cocktail without ever having to dry off! After hours, hit up Nineteen Ten, an authentic Mexican Cantina, for some of the best tequila and mezcal in Mexico. If gin's your thing, stroll over to the sophisticated Gin Bar and sip a handcrafted cocktail featuring the premium pour of your choice. Take a seat on the grand terrace and enjoy the view! A world-class wine bar atop The Fives Plaza overlooks the tropical forest, and strategically placed beach bars serving local beers keep whistles wet and the great times flowing. Whatever craving you have, Azul The Fives Beach Resort is sure to deliver!
Weddings & Romance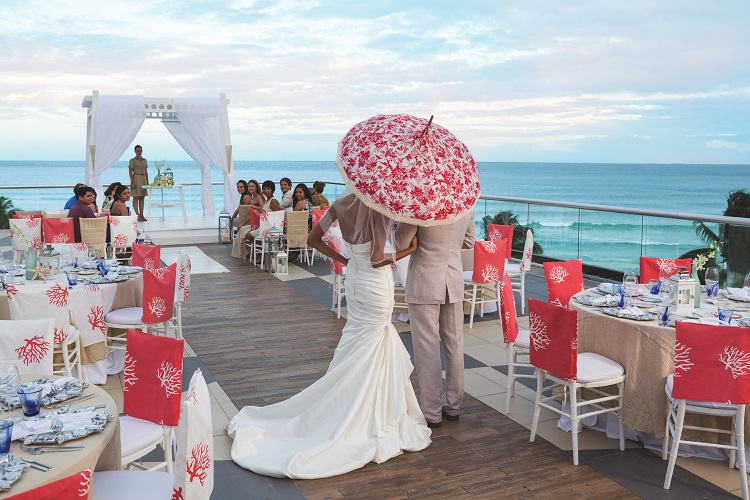 It's easy to discover the perfect setting for your vows when you're staying at this beautiful property. Choose from a huge selection of Mexico wedding and honeymoon packages that have spared no detail, with a ceremony held in the setting of your dreams.
Say your vows under an altar on the beach, in a tropical thatched-roof gazebo, or on a private rooftop terrace with a stunning 360-degree view. For the bride who wants to feel like royalty on her special day, the grand ballroom wedding provides an elegant indoor oasis for a most memorable walk down the aisle. No matter which of the Gourmet Inclusive Wedding Event packages you select, your all-inclusive destination wedding at Azul Beach Resort The Fives promises to be brimming with memories that will linger for a lifetime.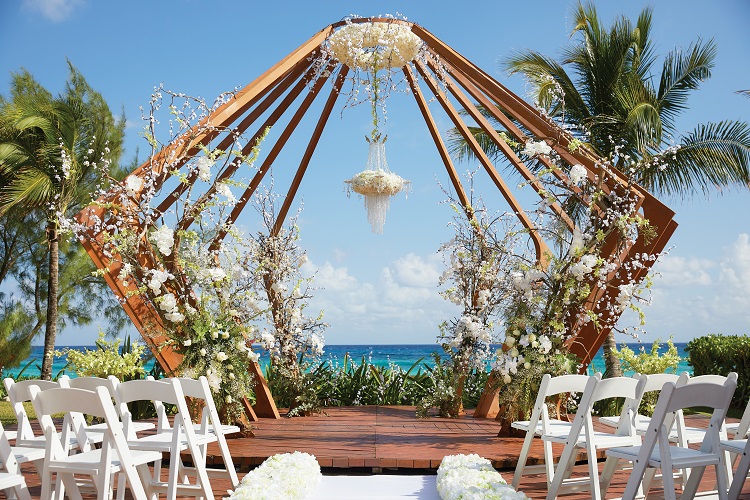 For more destination wedding inspiration, check out our website & Pinterest!