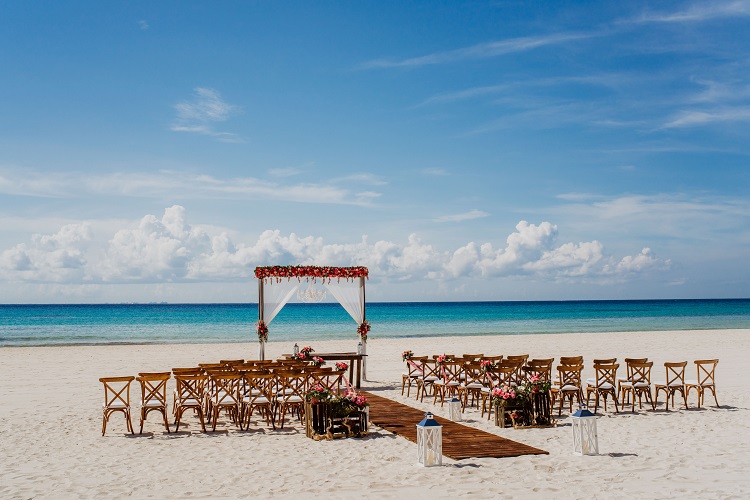 Sitting on one of the most beautiful beaches in the Riviera Maya, Mexico, you will not be disappointed planning your dream destination wedding at Sandos Playacar. This all-inclusive resort welcomes you to relax in all forms whether it's lounging by the pool, sipping a cocktail or playing mini golf with family and friends. Get ready to be swept off your feet with the luxurious amenities, family friendly activities, stunning venues and wedding packages that Sandos Playacar has to offer for your big day in paradise. 
Amenities and Activities for All Ages: 
Make memories and experience all the incredible amenities with your friends and family before and after your dream wedding. This resort has activities for all ages, so no one has to miss out on the fun. Guests with children are sure to be amazed with all the kid-friendly entertainment around the property, while the grown-ups can enjoy late night shows and cocktail bars, plus adult's only accommodations. Your entire guest list will be impressed!  
One of the newest additions to the property is their brand new water park that is located steps away from the white sandy beaches and has incredible ocean views. Grab your wedding party and their little ones for some pre-wedding fun and release your inner child by hitting the water slide a few times. 
If that wasn't enough to satisfy you or your kiddos, the kid's and teen clubs' will soon become every parent's best friend. 
The kid's club offers exciting supervised activities for ages 4-10 like arts and crafts, building sand castles and mingling with other kids, leaving your guests free to relax and available to help with any last minute wedding details. 
When it's time for the adults to enjoy their time in paradise, they can take in some late night entertainment and explore the bars while indulging in delicious cuisine. 
What's a destination wedding celebration without a specialty cocktail in hand? Toast to the soon-to-be-newlyweds at one (or more!) of the indoor or outdoor bars onsite. 
Take a dip in the pool and enjoy the turquoise tones of the Caribbean sea at their ocean-facing wet bar and cheers to being in a tropical oasis for the next few days. 
If staying dry on land is more your style, then bond with all your guests by cheersing and mingling at the chic lobby bar or head near the theater to the La Bambola bar to experience their live entertainment. 
Happening everyday of the week, your party can enjoy plenty of live tribute shows – think Gaga, Shakira and Michael Jackson, to rock concerts featuring crowd favorites like Led Zeppelin to cultural dance and music performances. 
Even if you and your partner are too tired from previous festivities, you can always catch a late night show or performance the very next day. 
Don't miss out on  a romantic dinner with gourmet cuisine at an array of restaurants with international flavors. We recommend you try them all, since they're all included in your package! 
With plenty of activities to help you spend time with friends and family and endless food and drink choices, the best amenity is here to help you unwind before the big day – the spa! 
Take away all your pre-wedding jitters at their luxurious Spa De Mar and prepare for all your stress to melt away before you say your "I dos."
Feel ultimate relaxation from various body and massage rituals, facials, and any additional thermal experiences for you and your partner. You'll leave the spa feeling pampered and rejuvenated before or after the big day. 
Riviera Maya Wedding Venues: 
Exchange your vows surrounded by gorgeous blue waters, tropical lush gardens, or an elegant terrace. Sandos Playacar has a variety of settings to fit your vision.
Your dream venue is right at your fingertips with plenty of excellent selections to choose from and suited for any style and guest list size. 
The Garden
Accommodating a guest list of up to 100 people, everyone will be in awe over the beautifully decorated garden with tropical plants (and you of course)! Add some finishing touches to your venue with some fun decor like tiki torches or string lights to tie it all together. The best part of this venue is the celebration doesn't have to stop when the sun goes down! Located just steps away from the resort disco, you and your guests can keep the celebration going  into the early morning. 
The Terrace
If a terrace is in your destination wedding vision, you're in luck because they have two identical ones on each side of the lobby. Only allowing up to 60 guests, you and your loved ones will enter a tropical oasis filled with gorgeous flowers and oversized palm trees adding to an already beautiful ambience. 
The Beach
Picture the crystalline ocean views and feel the powdered white sand between your toes at the most romantic beach wedding venue. No backdrop (or shoes!) are needed for this location, just let the beautiful blue waves speak for themselves when adding the final touches to your wedding experience.
There are plenty of wedding venues to inspire your dream destination wedding planning and better yet, Sandos Playacar has the ultimate wedding package to give you the experience of a lifetime.
Discover Riviera Maya Wedding Packages
Sea Bliss 
Let your wedding in paradise be stress free, magical and more with this destination wedding package that needs no introduction. 
From the basics to the necessities, allow personalized service from Sandos' wedding coordinators to make your big day unforgettable.  Your pre-wedding prep is already taken care of with a relaxing couple's massage and a makeup and hairstyle session, all in their luxurious Sandos Spa. 
Start your ceremony walking down a rose-petaled aisle with picture-perfect ocean views surrounded by 30 of your closest friends and family. 
Celebrate your new last name at the reception with a private cocktail in hand and a slice of your 3- tier custom made wedding cake in the other. Raise a glass to tying the knot at your private dinner reception and dance the night away to your favorite tunes courtesy of the fantastic DJ. 
Planning a Destination Wedding in Mexico 
With everything to make your big day as magical as possible, Sandos Playacar has one final token of appreciation for all their couples. Based on the number of guests booked, couples can save up to $2,000 on their wedding package. 
With all their amenities, packages, and gorgeous views, all that is missing is your and your partner's destination wedding at Sandos Playacar. Let them provide you with the most unforgettable wedding experience in Mexico. 
When you're ready to get started, contact our Certified Destination Wedding Specialists for a free quote and full-service destination wedding assistance.