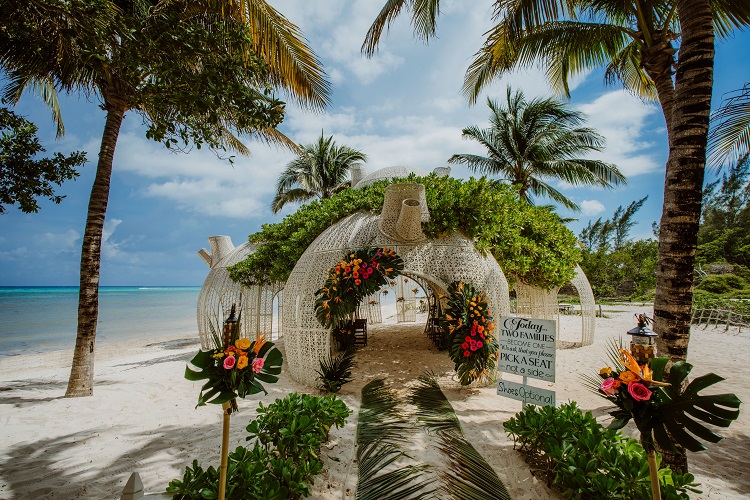 Imagine starting your love story surrounded by nature, crystal-clear waters, and ancient Mayan history in Mexico at Sandos Caracol Eco Resort! Discover all the hidden gems this fabulous resort has to offer and explore the magic of Riviera Maya, all during your romantic celebration. With their stunning wedding venues, family-fun environment, beautiful wedding packages, and the best waterpark in Mexico, you and your guests will experience pure bliss in paradise. 
All-Inclusive Wedding Packages
Seaside Bliss Wedding Package 
Elevate your special day with a wedding package that includes everything you need, from decor to spa services and more. Sandos Caracol Eco Resort is also proud to be affiliated with the IGLTA and welcomes LGBTQIA+ couples to share their love in Mexico. Their dedicated team of on-site wedding coordinators will bring your vision to life, all you have to do is sit back, relax and enjoy the magic of your wedding day. With the Seaside Bliss wedding package, you'll have all the wedding essentials you need and more, such as: 
Symbolic ceremony + ceremony setup 

3 medium-sized flower medallions 

Rose petals for the aisle during the ceremony '

Sound system and microphone during the ceremony

1 bouquet and 1 boutonniere, or 2 bouquets or 2 boutonniere 

Government beach permit 
For your dreamy reception, couples can receive the following: 
Private cocktail with open bar and appetizers (1 hour) 

Private dinner reception with open bar (3 hours) 

Basic setup and ambient lightning 

Sparkling wine for the wedding toast 

3 tier custom made wedding cake

3 centerpieces 

DJ, light, and sound during dinner (3 hours) 
Last but not least, couples can enjoy luxury benefits before and after their big day, such as steaming services for the wedding outfit, one make-up and hairstyle session, a relaxing couples massage, an upgrade to the next available room category, and complimentary honeymoon amenities! Not to mention, you can save up to $2000 on your wedding package!
Wedding Venues
Along with their stunning wedding package, discover their fabulous locations to say your I dos. Each one is designed with unique charm, so exchange your vows (or renew them!) at one of these three magical wedding venues: 
A beautifully decorated beach gazebo 

Their famous cenote

A spacious rooftop terrace overlooking the ocean
The best part is that their reception spaces can accommodate up to 100 people, so invite all your loved ones to celebrate your special day in Riviera Maya!
Family-Friendly Amenities
You and your guests will never get tired of being in paradise with the endless entertainment options at Sandos Caracol Eco Resort. With fun for all ages, everyone can enjoy the daily resort activities, aquapark, eco-adventures and more. 
Guests with children will discover a world of fun with the exciting entertainment options available at the kids' club! While you steal your loved ones away for some pre-wedding festivities, the younger guests can enjoy everything from video games to learning about local ecosystems, and arts and crafts. 
This Riviera Maya resort has something for older kids as well, from boogie boarding on the beach to thrilling waterslide adventures at the waterpark. Sip on your favorite cocktail and unwind in a comfortable chair while keeping an eye on your children from a distance. 
One of the newest highlights during your stay in paradise will be the biggest and best waterpark in Playa De Carmen! Designed for all ages, stop by with your wedding party – or even the kids –  to enjoy the dozens of waterslides. 
After a day of pre-wedding prep, spoil your partner with a trip to the relaxing Spa del Mar. Each treatment is inspired by ancient techniques and designed to make you feel renewed and refreshed before you walk down the aisle. 
We can all agree that the best part about being in a new destination is being able to try all the gourmet cuisine! Made for all tastes and moods, indulge on a culinary adventure with your guests and savor bites from across the globe. From their live cooking stations to traditional Mexican meals, your taste buds will thank you. 
Eco-Tours 
Get ready to invite your wedding party on a thrilling island adventure. Explore the resort's natural ecosystem with the All-Nature Experience, featuring daily activities that capture the magic of the lush environment. From snorkeling in the clear waters of a cenote to swimming though the mangrove forest, take your guests on an excursion they will never forget. The eco-activities include: 
Photo Safari: Witness the many bird species in Riviera Maya on a guided walking tour through the trees!

Bike Tour: Cycle through the jungle with your loved ones and discover the natural cenotes and lush greenery.

Eco Tour: For your nature enthusiast guests, learn about the secrets of the mangrove, the jungle, and the myths of the Mayan culture. 

Jade River Adventure: Dive into the clear waters of the river that runs between the roots of the mangrove forest. 

Kayak Tour: Row, row, row through the Caribbean waters and spot some of the underwater creatures!

Animal Keepers: Calling all animal lovers of all ages! Learn how to care for the rescued animals living in the Mini Farm.

Romantic Boat River: Steal your partner away for a special boat ride through the mangrove before your walk down the aisle. 

Cenote Explorers: Take the plunge into the underwater world of the crystal clear sinkhole. 

Plant a Tree: Create a fond memory with your loved ones and bond over planting a tree named after you!

Sensory Experience: Test your partner and trust them to walk you through the jungle path blindfolded. 
Planning a Destination Wedding in Mexico
Discover a tropical jungle oasis in Mexico at Sandos Caracol Eco Resort! From eco-tours and waterslides to rejuvenating spa treatments, there's endless entertainment for all ages. Enhance your special day with their stunning wedding packages, designed to provide everything you need and more for your magical celebration. 
Get a custom quote from one of our Certified Destination Wedding Specialists TODAY to start planning your dreamy wedding in Mexico.