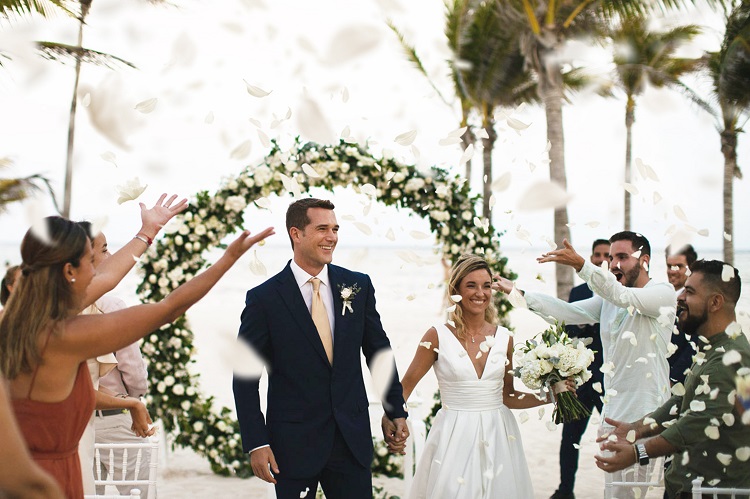 Located just north of Cancun on the beautiful Bahia de Mujeres beach, Riu Palace Costa Mujeres offers the most breathtaking setting imaginable for exchanging your vows. For couples picturing a dreamy destination wedding with beachfront views and picture-perfect backdrops, this Mexico resort has everything you need to craft an unforgettable celebration in paradise. Your destination wedding will be nothing short of magical, offering family-friendly amenities, theme parties, gourmet cuisine, and unique wedding packages at an affordable price.  
Indulgence Wedding Collection
Your search for the perfect wedding package in Mexico is over! Elevate your special day with Riu's  Indulgence Collection, where romantic extras, lively receptions and cocktail celebrations, wellness experiences and more come together seamlessly to make your big day special. 
Imagine saying "I do" surrounded by upgraded ivory-colored decor, along with a beautifully curated bouquet and matching boutonniere for you and your partner. Indulge in the tasty wedding cake and raise a sparkling wine toast with your guests to celebrate tying the knot!
You can enjoy even more quality time with your loved ones at the 4-hour private reception with a delicious, special menu, open bar with refreshing cocktails, and a charismatic DJ.
Feel and look your absolute best before you walk down the aisle with the array of pampering services at the beauty parlor. These services include a wedding day hairstyle, manicures and pedicures. Extend your pampering with a rejuvenating 50-minute couples' massage – the perfect way for you and your partner to leave the pre-wedding stress behind. 
Even when your celebration in paradise comes to an end, the romance is just starting! Your comfortable suite awaits, with lavish room decor and surprise gifts, plus enjoy wedding night turndown services with chocolate-covered fruit and sparkling wine. Wake up to the aroma of delicious meals with a lavish breakfast in bed and in the evening, share a romantic dinner with special setup and decor. As you say goodbye to Mexico, soak up the last moments in the sun with a late check out time. And when your one year anniversary arrives, return to paradise and enjoy a complimentary free night! 
Family-Friendly Amenities 
At Riu Palace Costa Mujeres, you can have a family-friendly destination wedding without worrying about lack of entertainment for all ages. 
Children are in for a treat with a range of activities that will keep them busy, including daily entertainment programs for children ages 4-12 at RiuLand and the exciting Splash Water World. Rest assured, younger guests will be in good hands while the adults have their own alone time in paradise! 
If that's not enough, scope out the best swimming pool on site (there's 5 to choose from!). While the kids enjoy splashing and diving in the deep end, adults can unwind on the relaxing sky terrace. 
Dining & Entertainment
Explore endless festivities and gourmet cuisine with your wedding party during your stay in Cancun.
Feel the warm sand beneath your feet as you step onto the private beach area. Shed pre-wedding jitters and take in the stunning ocean views from your lounge chair, shaded by umbrellas.
Following your day of relaxation on the beach, embark on a culinary experience like never before with the delicious cuisine suited for all taste buds. 
Surprise your partner on a romantic date night at one of the delightful restaurants, where you can indulge in gourmet options like Mexican, Japanese, or Italian. 
Involve your entire wedding group in a culinary adventure and discover the buffet offering American-style breakfasts and tasty show cooking stations. 
The gourmet cuisine is just the start of your wedding celebration, with plenty more in store!
Enjoy access to their neighboring all-inclusive resort, Riu Dunamar, for a night of showcasing your best dance moves at Pancha Disco, an exciting event for a lively evening with you and your guests! 
With access to Riu Dunamar, you and your loved ones can enjoy more than just Pancha Disco. Explore Splash Water World and ride down the thrilling water slides, or immerse yourself in the day-long festivities at one of RIU's famous pool parties, where you can dance, mingle, sip on your favorite cocktails, and watch the exciting shows and performances! 
With a day full of captivating events and activities, there is no better way to unwind with your partner than at their rejuvenating Renova Spa. 
Guaranteed to leave you feeling renewed and refreshed before your big day, each service is designed to restore, heal, nourish and provide ultimate relaxation. 
Let the highly trained and dedicated spa therapists pamper your mind, body and soul with body wraps, facials, couples' massages and more. 
Planning a Destination Wedding in Mexico 
Riu Palace Costa Mujeres promises that every detail of your destination wedding will be unforgettable for you and your loved ones. The breathtaking views, stunning wedding packages, all ages activities, delicious bites, and spa all come together to give you the ultimate celebration in Mexico 
Start planning your dream wedding with one of our Certified Destination Wedding Specialists for FREE today!