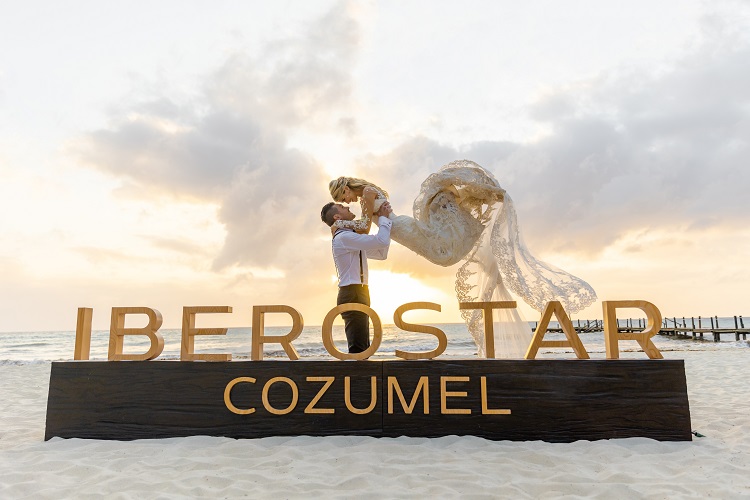 Dreaming of a Cozumel, Mexico destination wedding? If you're not already, you will be soon. This charming island is located off the shores of Playa del Carmen and has the perfect scenery for jaw-dropping wedding photos. Visitors can either fly into Cancun International Airport and take a ferry, or fly directly into Cozumel International Airport. 
Don't be fooled by the small size of the island; it packs a mighty punch with a variety of activities for everyone to enjoy, most notably scuba diving and snorkeling. Mesoamerican Reef is the second-largest reef in the world (next to the Great Barrier Reef), and home to beautiful coral and enchanting sea life. 
Cozumel all-inclusive resorts ensure you get everything you need out of your destination wedding celebration in Mexico. An island-paradise in and of itself, Iberostar Cozumel reigns supreme as one of the best destination wedding locations in Cozumel. 
Discover Iberostar Cozumel Destination Wedding Packages
If you've ever wanted to get close to nature while still having direct access to luxury, you can have the best of both worlds at Iberostar Cozumel. This romantic beach wedding resort is an all-inclusive gem, boasting nearly 300 bungalow-style rooms, three shimmering pools, eight restaurants/bars, a world-class spa and so much more. If there are children on your guest list, rest assured this is a family-friendly resort with an exclusive kids program to keep all ages entertained. 
When it comes to sustainability, this resort pulls out all the stops so you can have an eco-friendly destination wedding at your fingertips. Priding itself on being a single-use plastic free venue, Iberostar Cozumel is home to a coral nursery and practices responsible consumption of seafood. Their Wave of Change program is a responsible tourism initiative to improve the condition of all ecosystems. 
With their new concept: Weddings by Iberostar, as Imagined by You, couples can handcraft the perfect destination wedding exactly as they've dreamed it. Their promise is a day that is totally unique to you. They offer endless possibilities in terms of color schemes, decor, photo opps, floral arrangements, etc. Whether you're looking for a boho-chic vibe, black-tie affair or vibrant celebration of local culture, the professionals at Iberostar Cozumel can make your vision come to life. 
This beachfront resort has everything included for you and your guests to have an amazing time in Mexico. Your destination wedding week will be filled with unforgettable memories. Allow Iberostar Cozumel to treat you to a trip full of excitement and adventure. Here's a sample destination wedding itinerary: 
Day 1: Welcome party on the beach

Day 2: Exciting excursions of your choice 

Day 3: Rest and relaxation – whether it's by the pool or in the spa

Day 4: The big day! 

Day 5: Big farewell to your guests and begin your honeymoon stay
Start Planning Your Cozumel Destination Wedding
One thing you can count on from this Mexico destination wedding resort is that your happily ever after will be like no one else's. Instead of doing the hard work leading up to your nuptials, just relax and enjoy the stress-free planning process with the help of a Certified Destination Wedding Specialist.