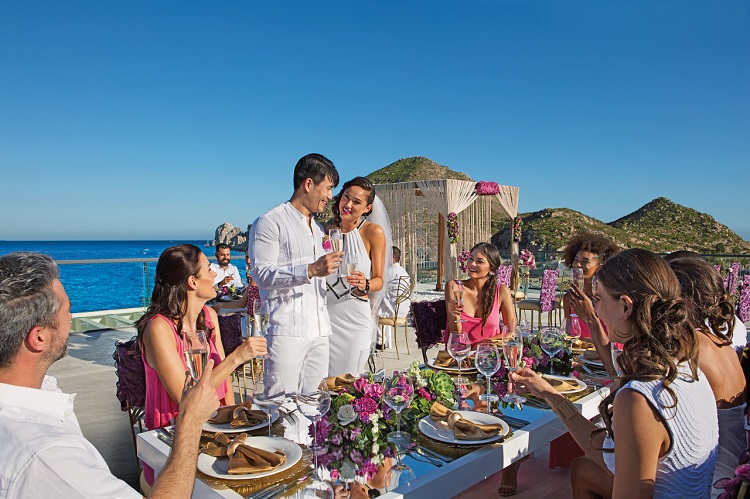 If you're looking to say your I dos in an adults-only Mexico paradise, we have the perfect place for you! Being an AAA Four-Diamond award-winning resort, Breathless Riviera Cancun Resort & Spa® takes luxury to a whole new level with its breathtaking Caribbean Sea views, plenty of stunning wedding packages and venues, exciting bachelor/bachelorette parties and more to make your week-long destination wedding celebration one you will never forget. 
Bachelor & Bachelorette Parties in Mexico:
No need to throw your bachelor/bachelorette party back in your hometown; this all inclusive resort has got you covered. Before you walk down the aisle, start your time in paradise celebrating with your wedding party! Discover two exciting bach packages filled with plenty of events and activities. 
The Last Fling Before The Ring Bachelorette Package:
Let the festivities begin with a bottle of sparkling bubbly upon arrival, along with a decorative bachelorette door banner on the partner-to-be's door! Make your way to the white sandy beaches where you will find a dedicated reserved section for you and your guests with chairs and comfortable palapas to lounge and soak up the sun.  Feel rejuvenated after your time in the spa with massages, a mani/pedi, and relaxing hydrotherapy treatments. Crown a winner for the Breathless bachelorette scavenger hunt and strike a pose for the camera with a wedding party photo-shoot. Finish off your night with a delicious gourmet dinner at the a la carte restaurant of your choice and indulge in tapas, dessert, and sparkling bubbly in the late night room party. 
Last Call Bachelor Package
Be greeted as soon as you step foot onsite with a bottle of tequila and a hilarious "Game Over" door banner. Test out your skills paddle boarding with your closest friends, then relax at your reserved section on the beach. Choose an a la carte restaurant of your choice for a group dinner with delicious cuisine – your tastebuds will thank you! Toast while you're in the bachelor room to almost tying the knot and snack on late night foods, while sipping beer from the cooler. Finish off your celebration with a reserved table and bottle service at the lively nightclub and don't forget to grab your personal cigar from the cigar roller! 
Bach Party Activities in Mexico
Grab your wedding party, it's time to explore all the on-site entertainment and interactive classes at this incredible resort. Let your only vacation worry be not attending every single event!  
Whether you are searching for a low-key night with your wedding party, or a high energy event, there is lively entertainment for everyone to enjoy. From music to interactive art, discover a line-up full of themed activities to kick start the wedding extravaganzas! 
Sweet Fridays: Did someone say pink-themed pool party? Put on your favorite bathing suit and mingle with your closest friends while sipping on the finest rosé. 
Live art exhibit: Plan a mini date night with your partner-to-be and head to the Wink Bar to experience live art pieces from talented artists and listen to sweet tunes. 
Splash Party: Cheers with a glass of champagne at the Xcelerate Pool and experience live music and extraordinary acrobatic dancers. 
The Elements Show: Watch in awe with your partner as performers light up the sky using UV lights in the Showstopper Theater. 
Neon Lights Night: Dance the night away with your loved ones surrounded by good beats, glow sticks and plenty of body paint. 
When in Rome: Party like the Romans and join in on a theme night you and your wedding party will never forget! 
Khaliji Night: Taste some Lebanese bites while watching belly dancer performances for an exciting Arabian inspired themed night! 
Mustache Party: Celebrate being in Mexico with your loved ones and enjoy a night filled with music, traditional decor, dancing, and of course – mustaches! 
After a couple of nights of exploring the exciting theme nights and events, try out a new skill with your partner! Plan an interactive date night before the big day, and test out your talents at a culinary class. Impress your partner with your best dance moves during the dance class or sip on samples of the finest tequila at an exclusive tasting.
Wedding Packages in Mexico
With nine stunning locations to exchange your vows, the possibilities are endless when it comes to choosing the perfect venue for your dream wedding! From an elegant gazebo to a lavish love terrace, let the on-site wedding coordinators bring your dream wedding to life, while you sit back and relax. To make your planning a little easier, browse the list of luxury wedding packages, each filled with gorgeous decor, romantic perks, and exclusive amenities.
Elope in Luxury
Be welcomed to paradise with delicious fresh fruit and sparkling wine upon arrival! Spend quality time with your partner during the romantic dinner for two the night of your special ceremony and experience a relaxing, complimentary hydrotherapy circuit treatment. Look your best with complete styling and makeup application before you walk down the aisle. After all your wedding festivities, wake up to a tasty breakfast in bed with mimosas and enjoy your last moments in Mexico haven before your late check-out time to return home.
First Comes Love
Have a beautiful symbolic ceremony to begin your happily ever after with your other half. Feel rejuvenated after a couples massage or enjoy 20% off other spa treatments at the incredible Relax Spa by Pevonia. The pampering doesn't stop there; let the on-site coordinators prepare and iron your wedding attire, making sure you look and feel your best before you say I do. While you make memories with all of your loved ones at the ceremony, be spoiled with a special turndown service to finish off a perfect night with your new spouse.
Lucky in Love 
Let your destination wedding in a tropical oasis be filled with lavish amenities that both you and your guests can enjoy. Celebrate with a private cocktail hour with gourmet hor d'oeuvres, then head to the private dinner reception to mix-and-mingle with all your loved ones. For some night-time entertainment, Afterdark awaits with a reserved section and bottle service for your wedding party. Shake off those pre-wedding jitters with a relaxing couples massage or enjoy other refreshing treatments at a discounted price. Watch the wedding of your dreams come to life as your on-site coordinators prepare the beautiful, natural floral centerpieces and bouquets for your big day. Reminisce on the special moments in paradise after you return home with 24 full color photos and a one-of-a-kind photo album.
Eat, Drink, and Be Married
A destination wedding full of romantic perks is waiting for you in this unique wedding package. Experience a magical private dinner on the beach for you and your partner and melt the stress away during the soothing couples massage. Elevate your stay and receive a complimentary room upgrade with a special turndown service the night of your big day. Share special moments with your closest loved ones during the private cocktail hour and have your guests cheer with the speciality drink designed by the couple themselves. Indulge in delicious cuisine with the private dinner reception and put on your dancing shoes for Afterdark to enjoy a reserved section and bottle service. View your wedding day in HD with a 30-minute video of the whole night and feel the love behind the 24 full color images in your wedding album.
Beyond Memorable 
You and your guests will be in awe at the luxurious and glamorous amenities and perks in this unique wedding package. Upon arrival, expect fresh fruit and sparkling bubbly for the couple and their parents, plus surprise your VIPswith complimentary access to the rejuvenating spa's hydrotherapy section! Your beach pergola or wedding gazebo will be beautifully draped, making the perfect backdrop for all your wedding pictures, along with a sweetheart table with upgraded linens and covered chairs for guests. After you exchange your vows, grab your favorite cocktail from the private bar, indulge in delicious cuisine at the buffett, and leave room for your favorite treat at the dessert station, don't forget to take a bite of your delicious wedding cake! The wedding day festivities don't end after you say I do; wake up to the smell of a delicious breakfast with mimosas right at your door and receive FREE anniversary nights to come back and celebrate your first year of marriage!
Planning a Destination Wedding in Mexico
With plenty of exciting adults-only amenities and events, unique wedding packages for all, and fun pre-wedding festivities, Breathless Riviera Cancun Resort & Spa® guarantees the best destination wedding experience for you and your guests. All that is missing is you and your partner!
Start planning your dream wedding with one of our Certified Destination Wedding Specialists for FREE today!