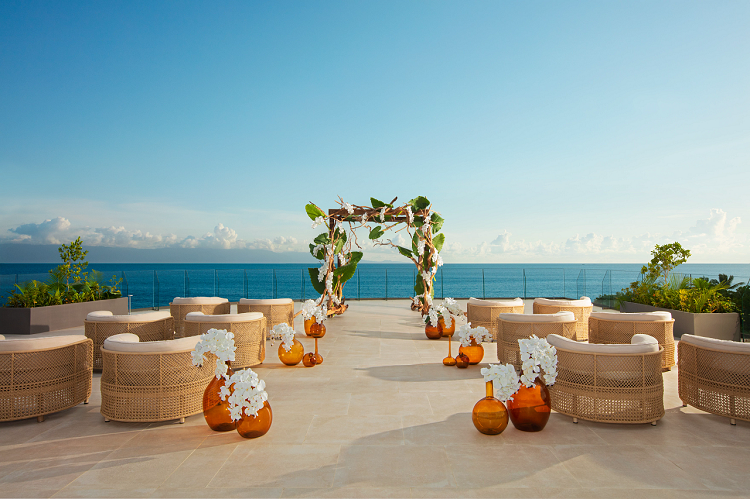 This post is sponsored by AMR™ Collection
At AMR™ Collection resorts, every detail is accounted for when turning wedding daydreams into reality. Our dedicated wedding planners are excited to help you bring your wedding plans to life. From Bachelor and Bachelorette parties to the moment you say, "I Do", enjoy tailored experiences created to meet your unique needs. A wedding at an AMR™ Collection resort is perfect if you are looking to escape everyday life and celebrate your special day in a luxury setting in some of the most coveted vacation destinations throughout Mexico, the Caribbean, and Central America. Regardless of how you want your event to look and feel, AMR™ Collection offers something for every taste and style.
AMR™ Collection has recently introduced new resorts into its portfolio of brands, expanding the possibilities for those looking to plan their dream destination wedding. The first being Secrets® Moxché Playa del Carmen, which opened on April 18, 2022. Secrets® Moxché Playa del Carmen is an adults-only resort that promises a high level of luxury in a sophisticated atmosphere. At Secrets® Moxché, you can experience a romantic getaway in a tropical oasis with Unlimited-Luxury® inclusions such as 24-hour room service, pool and beach wait service, and much more.
Just a month later came Dreams® Karibana Cartagena Golf & Spa Resort, which opened on May 15, 2022. Dreams® Karibana Cartagena Golf & Spa Resort, the first AMR™ Collection resort in South America, and the country of Colombia, welcomes adults and their families to a luxurious and family-friendly atmosphere where there is something for every age, interest, and passion. Located in Colombia, near the vibrant, historic city of Cartagena, and boasting Unlimited-Luxury® inclusions, Dreams® Karibana Cartagena Golf & Spa Resort is a unique and beautiful backdrop if you are looking to include children in your wedding plans.
For the best of both worlds, where all the needs of your multigenerational wedding can be met at once, look no further than Dreams® Bahia Mita Resort & Spa and Secrets® Bahia Mita Resort & Spa which opened its doors in late 2021. With free-flowing access to both resorts for Secrets guests, this is a perfect option to accommodate a variety of guests' needs under one roof making this an ideal location for multigenerational travel.

Regardless of which location you choose, AMR™ Collection resorts are committed to ensuring every detail of your day is planned to perfection. To learn more about the AMR™ Collection wedding resorts, click here.