While the wedding couple might be the star of the show, destination wedding guests are pretty darn special too. Attending a destination wedding comes with both financial and time commitments, so couples are going the extra mile to show guests their appreciation. Show your family and friends some love and make their trip worthwhile with these tips for improving the destination wedding guest experience.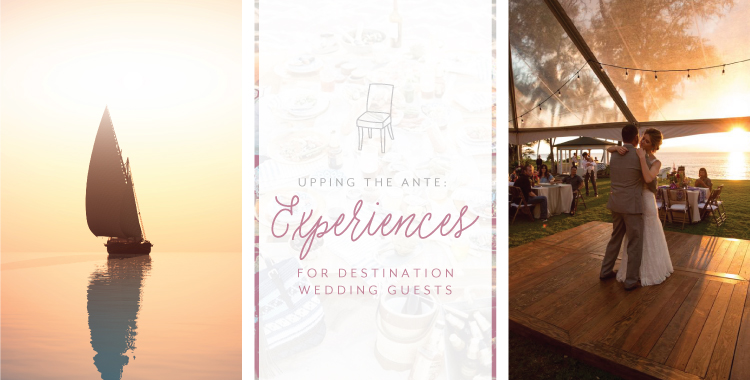 Destination Wedding Guest Welcome Bags
After a long journey, nothing is better than opening the door to a fabulous resort room and discovering a special surprise from the wedding couple. Fill bags with reusable water bottles, local treats, maps of the area and a schedule of events. Pop everything into a cute tote bag and sit back as you watch your guests bring them to the beach (and pool) all week long!
Welcome Event
Get the party started early with a welcome reception or cocktail party. Plan a low-key, relaxed event for the arrival evening to help guests get to know each other and to set the celebratory mood. Keep it light, fun and guest-focused by swapping speeches and toasts with beach games, bonfires and plenty of beverages.
Group Excursions
Help guests explore the area, and save them some of the hassle of planning by setting up a group excursion. A snorkeling trip, sunset catamaran cruise, wine tasting or spa day will turn a wedding trip into a lifelong memory. Make this an optional part of the wedding week and opt for something that will appeal to the majority of the group.
Personalized Favors
Everyone loves to get a little treat or take-home souvenir at a wedding, but favors get a big upgrade when they are personalized. No matter if your favor is a cookie or a candle, attach a little note, such as "Thanks for coming all the way from Seattle, Susan" to let guests know you appreciate them making a trip.
Their Favorite Tunes
Keep the dance floor hopping and guests grinning by letting them request their favorite song. On your RSVP cards, add a line for a song request and work it into the playlist.
Late Night Snacks
Even after an excellent meal, a night of dancing, drinks and happy memories can leave guests feeling a little ravenous. Bring our extra goodies several hours into the reception so that they don't interfere with the main meal and fuel the party into the wee hours.
For more destination wedding inspiration, visit our website or latest edition of Get Married Away!