For a postcard-worthy destination wedding, Iberostar Selection Hacienda Dominicus is the only venue you need to look at. This beachfront all-inclusive resort is situated in Bayahibe, La Romana, Dominican Republic, a quaint fishing village adorned with breathtaking natural habitats, sea life and beaches to make your wedding photos unique and unforgettable. From the iconic lighthouse to the colonial architecture and stunning gardens, the backdrops are second-to-none and brimming with charm for your special day in paradise.
But wait, there's more to get excited about when you host your Caribbean destination wedding at Iberostar Selection Hacienda Dominicus.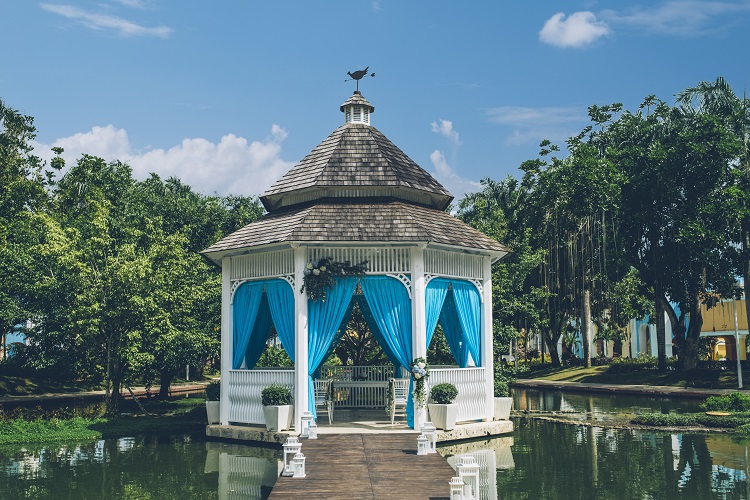 Contact us today to get a free quote from a Certified Destination Wedding Specialist >>
Guest Accommodations
Iberostar offers a variety of guest room and suite options – from family suites with babysitting services to rooftop terraces with panoramic views, you and your wedding guests are sure to enjoy these spacious and comfortable accommodations throughout your stay.
All rooms have been recently renovated and feature daily minibar service, room service, a flat-screen TV and more. Even better, the entire resort is single-use-plastic-FREE. Reservation discounts are available when securing a group room block, so be sure to inquire to your Specialist about a group agreement!
Delicious Cuisine
Finding a restaurant to satisfy your cravings won't be a problem with dining options everywhere you turn! Iberostar Selection Hacienda Dominicus offers a variety of cuisine for every taste bud, whether simple or exotic. With 5 specialty restaurants onsite (Mexican, Italian, Japanese, Steakhouse and French) and one international buffet, along with six tantalizing bars and seven snack shacks, no guest will ever go hungry or thirsty throughout their stay. And don't forget to take advantage of private room service for late-night bites!
Spa & Other Activities
As you can imagine, this Caribbean all-inclusive resort has endless activities to choose from, no matter what your interests are. SPAsensations welcomes wedding couples to enjoy a beachfront massage after the big day, or perhaps you want to treat your wedding party/VIP guests to a special spa day before the festivities begin. From sunrise yoga to the nightclub's live music, entertainment can be found at any time.
If you have children in attendance, they'll be thrilled to go to Star Camp, an activity program for all ages including minigolf, a mini-disco and much more!
Outdoor enthusiasts can play tennis, beach volleyball, basketball or soccer at the many sports facilities onsite. Playa Dominicus offers fun water experiences such as kayaking, windsurfing or snorkeling, while Playa Bavaro is home to the exclusive coral nursery lab.
And, for those looking to tee off, the nearby golf course offers a superb view for you to practice your swing.
All-Inclusive Wedding Packages in the Dominican Republic
The perfect destination wedding is at your fingertips when you start planning it with us. Whether you envision getting married on the beach or amongst the lush gardens, the venue you envision is here at Iberostar Selection Hacienda Dominicus. Choose from a variety of stunning decor packages to make your vision come to life:
Waves of Love in Blue
Tropical Paradise
Perfect Match
White Charm
Glam Rose
Luxury Crystals
All-inclusive wedding packages at Iberostar Selection Hacienda Dominicus include everything you need to have the perfect ceremony and reception in paradise – from the flowers to the cake, and everything in between.
We can't wait to make your dream destination wedding a reality – contact us today to get started and we'll be with you the whole way.