Destination Weddings at Blue Diamond Luxury Boutique Hotel
Dreaming about your destination wedding in Mexico? Blue Diamond Luxury Boutique Hotel gives you every reason to stop imagining and start planning. Its beauty reflects being in the heart of Riviera Maya. Weddings at Blue Diamond Luxury Boutique Hotel is perfect for any adults-only party. Surrounded by the deep, blue Caribbean Sea, lush tropics, and natural stone, this gorgeous resort is the ideal for:
Romantic destination weddings
Captivating view right from your room
Invigorating activities
Delectable dining
and more!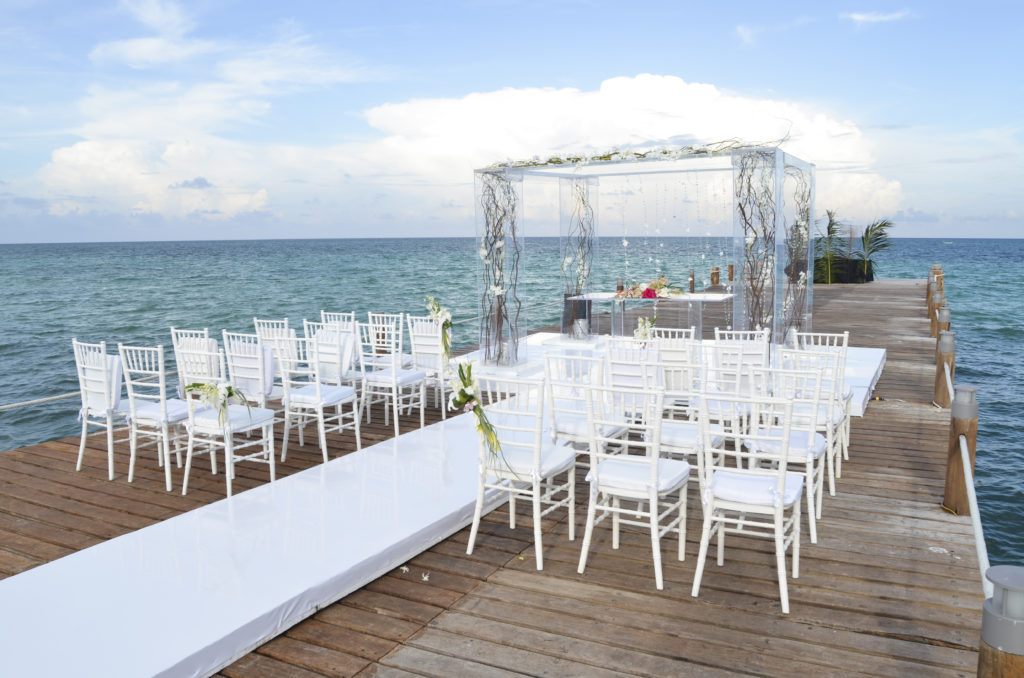 More on wedding at Blue Diamond Luxury Boutique Hotel
Wedding Packages & Romance
At Blue Diamond Luxury Boutique Hotel, you can have the wedding you've always wanted whether poolside, beachside, or in natural exotic gardens. Dedicated planning staff will help you design the perfect day with one of their destination wedding packages.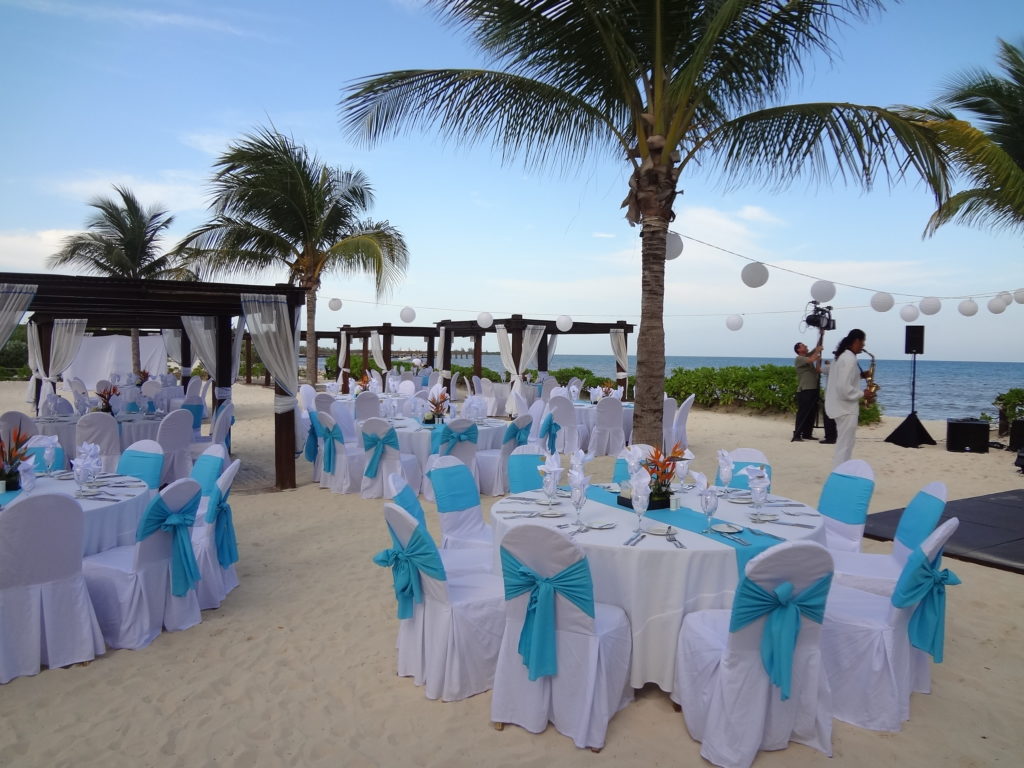 Diamonds in Love Package
The gem of a package supplies wedding party and guest needs for up to 10 people. It starts with taking care of the wedding couple, leaving them relaxed and free of pre-wedding stressors. They'll have a room upgrade with champagne. Wedding dress and tux for the couple will be prepped and ironed before the ceremony and staff will be present to help them get dressed. A 30-minute massage and the groom's free room eligibility will set the tone for a beautiful wedding day.
For the wedding day, guests can choose from a symbolic ceremony or legal one at a designates beach area. Following the wedding, guests will toast before dinner at an on-site A la carte restaurant of choice. Finish the day with a one-tier wedding cake. Then receive turndown device and a honeymoon package with late checkout the morning after.
Heart of the Ocean Package
The love birds will filled with bliss from all the inclusions. Couples and guests will enjoy everything from the Diamonds in Love package plus so much more. The wedding couple's parents are also eligible for an upgrade. As a gift to the newlyweds, the resort gives custom made slippers for each. They also add 20 more minutes to the couple's massage time, making it 50 minutes.
Dinner and drink allowances are superb. The package gives two tasting from a special wedding menu for the couple. The wedding party will enjoy a pre-rehearsal 1-hour tequila tasting with snacks. The post rehearsal dinner for up to 25 and 3-hour reception dinner for up to 50 happens at the a la carte restaurant of choice. There's been more food and drinks to come throughout the wedding events. Other package benefits include a hair and makeup stylist, gazebo and chairs, live music and instruments, and professional photos.
Blue Hope Package
This package doesn't hold back on essential services. Up to 24 guests will revive the same treatment as the Diamonds in Love Package provides plus a few extras. The rehearsal dinner accommodates 12 guests. In lieu of live music, the resort provides 2 hours with the audio equipment. They also receive decoration for the gazebo and reception. The wedding couple will receive a 50-minute couples massage plus 10% off for group spa services. They'll end the night with a strawberry tuxedo, courtesy of the resort.
---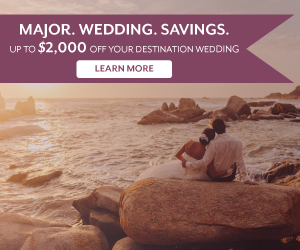 RELATED: Over-the-Top Luxurious Suites in the Caribbean & Mexico
---
Upscale and Romantic Accommodations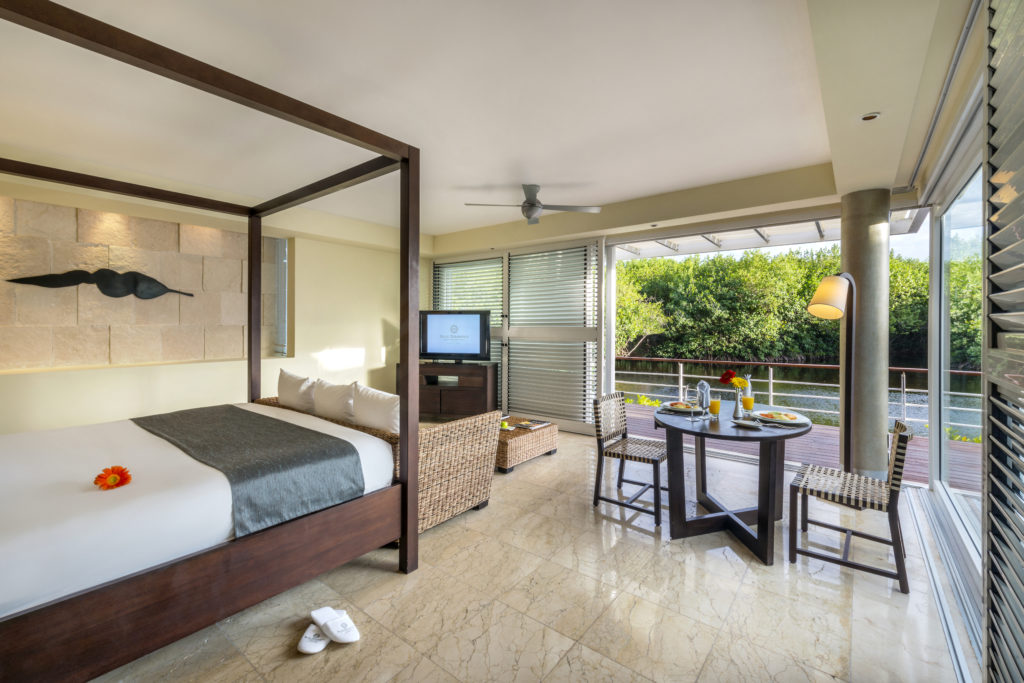 Guests have 128 adults only rooms and suites to choose from with views of the sandy beach and exotic forests. The wedding couple will gush over the Beachfront Presidential Suite. It's as close as possible to the aqua waters, making it accessible right outside your front door. The two story villa has ample room with a pool on each floor.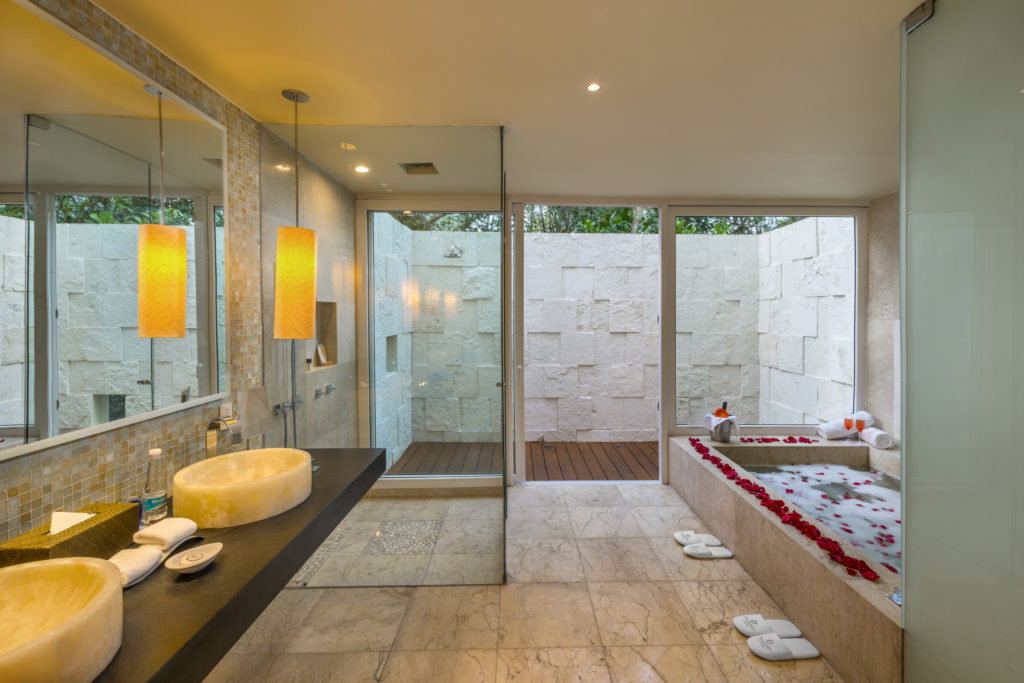 The wedding party and attendees will love the view and private pool in the patio suite. It's perfect for entertainment, privacy, and views that set the ambiance. Other options like the junior suites give patio access and convenient proximity to on-site restaurants.
Amenities for Your Entire Guest List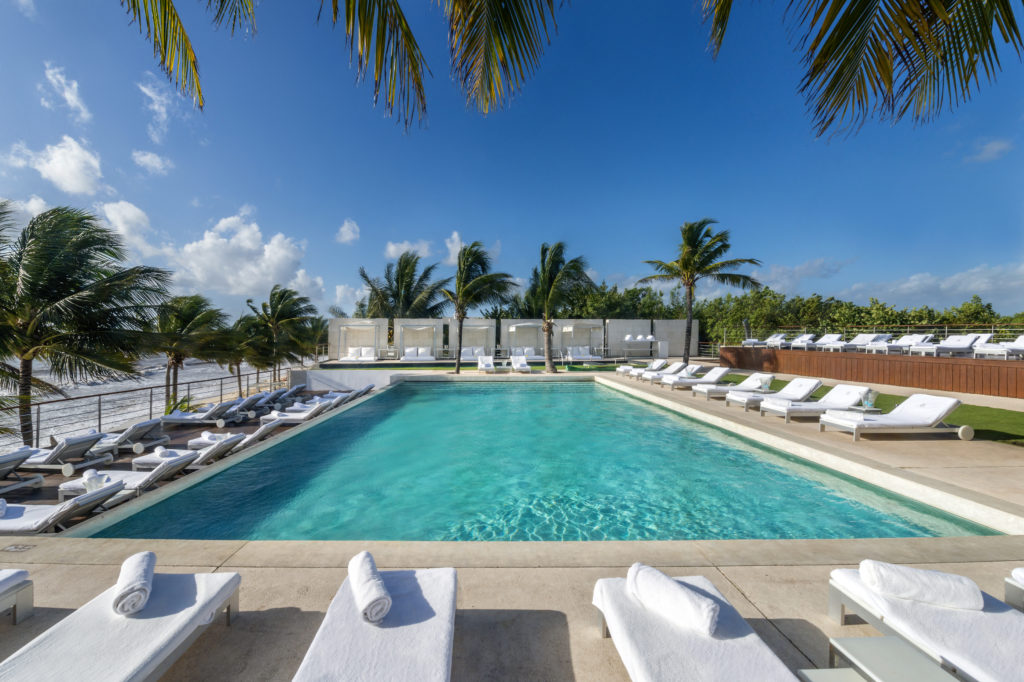 Guest can get in water activities in multiple forms. Take a walk along the gorgeous beach or a nature walk through the tropics. Enjoy a view of the Caribbean from the main pool or the garden view at the spa pool. For even more aquatic adventure plan for kayaking, windsurfing, parasailing and fishing. Don't forget about diving and snorkeling at the facility's world-class diving center.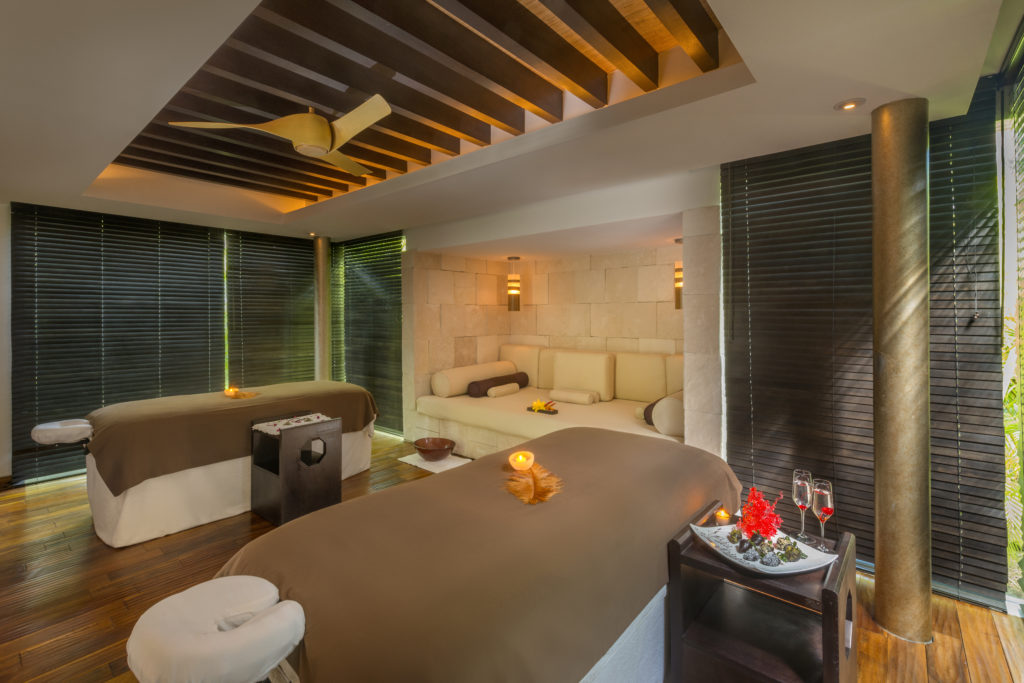 Find your balance and relax with treatments at the 25,000 square foot spa. Enjoy yoga, Pilates, Watsu and Kinesis to stay in shape and unwinded. Access to their two 18-hole golf courses allow for friendly competitions. Guests can also stimulate mind and body with Spanish classes wine tasting and participatory cooking classes, ping pong, and board games. Live music will also keep you in the right mood.
Bars & Restaurants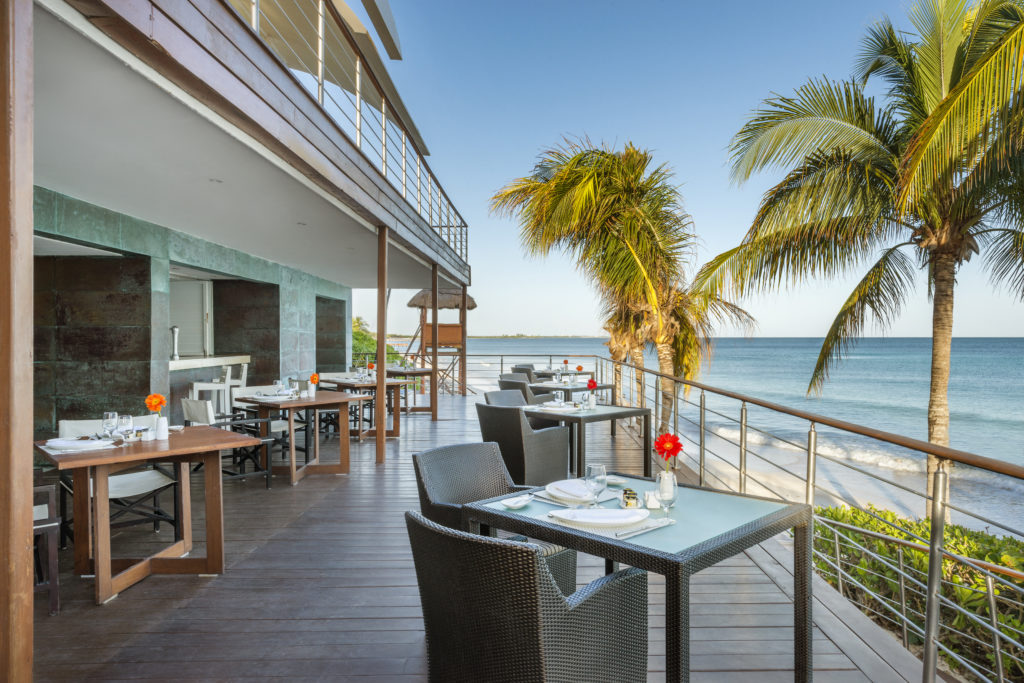 Mexico beach weddings at Blue Diamond Luxury Boutique Hotel include rehearsal and reception at your restaurant of choice.You'll be glad to know the resort carefully selects menu options for your satisfaction. Choose from Restaurant Aguamarina, Ceviche Tapas or Bar, Restaurant Ámbar. For cocktails or food on the lighter side enjoy The Cigar Lounge Bar, Cafe Brulee or The Pool Bar.
Let's Recap on the amazing reasons to choose Blue Diamond Luxury Boutique Hotel
Weddings at Blue Diamond Luxury Boutique Hotel are extravagant, yet affordable. Guests and the honorees will enjoy every detail leading up to the big day.