This is a guest blog post written by Bryan Passanisi of Shutterfly. 
Getting engaged is one of the most exciting things that can happen in your lifetime, and it's easy to get completely caught up in the bliss of the moment. As hard as it may be to come back down to earth, every newly-engaged couple must do so fairly quickly.
One of the very first items you should put on your "to-do" list is creating a wedding guest list. This might seem like a simple task, but it can be a bit more complicated and time-consuming than you might realize. Here are a few tips to help you organize your guest list with minimal stress.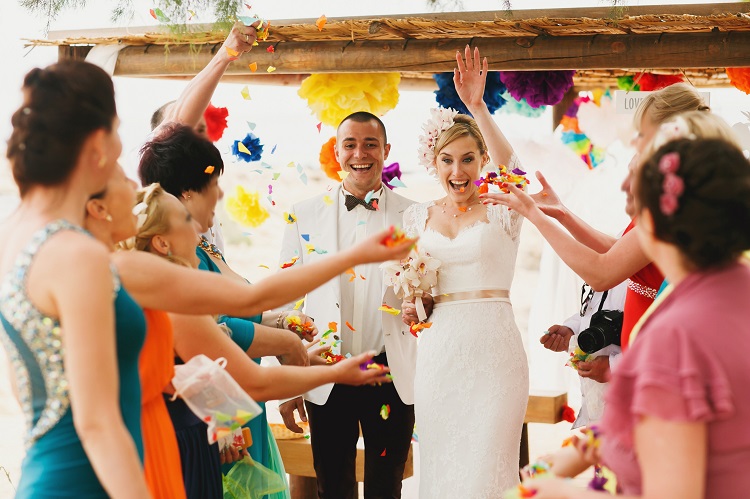 How large will your event be?
The size of your guest list will largely depend on how you and your fiancé envision your wedding day. Do you imagine an intimate event on the beach or a grandiose occasion in a traditional ballroom? Would you prefer to be surrounded by only your closest friends and family, or would you like to invite bigger group to celebrate with you?  It's important to consider budget and location when choosing the size of your guest list.
What is your maximum budget?
Prior to sending out Save-The-Dates and invitations to your big day, it's crucial to talk about any budgetary constraints. Once you have this in mind, you can build your guest list based on what type of reception venue you'll need and what kind of meal to serve.
Who will be in charge of the guest list?
Traditionally, the bride and her family would have taken charge of the wedding day guest list. However, nowadays it's far more common for the wedding couple to work on this together. Especially in the case of getting married abroad, it is important to solidify the most important people in your circle to invite without branching out to distant friends and coworkers.
Where will you be exchanging vows?
Having a destination wedding is a great way to accommodate a simple and intimate celebration.  Inviting only your closest friends and family ensures a personalized experience without having to spend your time greeting guests you haven't seen or spoken to in over a decade. This will not only cut down on the amount of time creating a guest list, but help stick to your budget so you can splurge on other facets of your dream celebration!
Keeping these tips in mind will not only help you create an organized guest list that won't put you over your budget, but it will also ensure that you are surrounded by the people whom you care about the most on your special day.
Bryan Passanisi is online marketer and writer living in Redwood City, CA. He graduated from The University of San Francisco with his Bachelor's Degree in Marketing. Bryan has managed a popular wedding blog and has created viral content. He currently is a blogger for Shutterfly.