So, you've chosen the perfect location for your dream destination wedding! It's filled with breathtaking backdrops and incredible views, we're sure. But your destination has more to offer than just magnificent scenery and luxurious amenities. We're thrilled to announce that we've partnered with some of the most well-known tour providers in the industry, and now our couples can quickly and easily book fun wedding excursions for themselves and their guests directly through their personal wedding websites!
By pre-booking your tours and activities, you're not only saving time and money, but you also minimize the stress of last-minute planning while on vacation. And with access to over 1,000 exciting experiences, you're sure to make memories to last a lifetime. From the turquoise-blue waters of Cancun and Riviera Maya to the jungle-filled atmosphere of Punta Cana and Jamaica, there are a variety of ways to explore your surroundings while celebrating your love. Here is just a sampling of what you can do:
         Take a journey through the Mayan Ruins in Tulum
         Discover the underwater museum in Cancun
         Zip line through the Taino Mountains in Punta Cana
         Swim with the dolphins in Puerto Plata
         Spend the day at Dunns River Falls in Ocho Rios
         Tour the backcountry of Montego Bay on an ATV Safari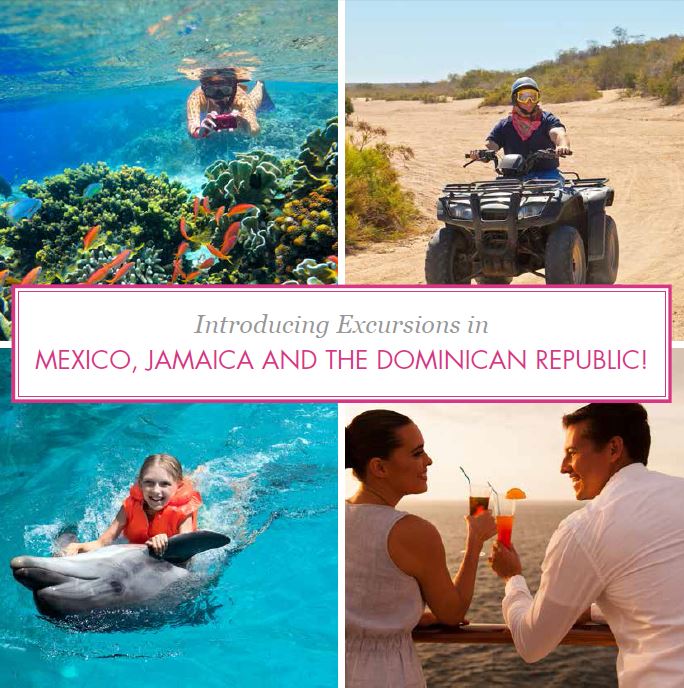 Many couples planning a destination wedding want to be able to provide their guests with excursion opportunities, and we're making it easier than ever before!
So don't wait – start working with a Certified Destination Wedding Specialist today and before you know it, you'll be snorkeling in the crystal-clear waters of the Caribbean Sea as newlyweds!
Also be sure to look out for more information on our new Crowdfun(d) service coming soon, which will make funding for group excursions and other wedding weekend activities fun for you and all your guests! If you already have all the pots, pans and linens you need, our new offering will be your perfect destination wedding registry.
Want to learn more about fun wedding excursions? Click here and book yours today!