Overview – Decisions, Decisions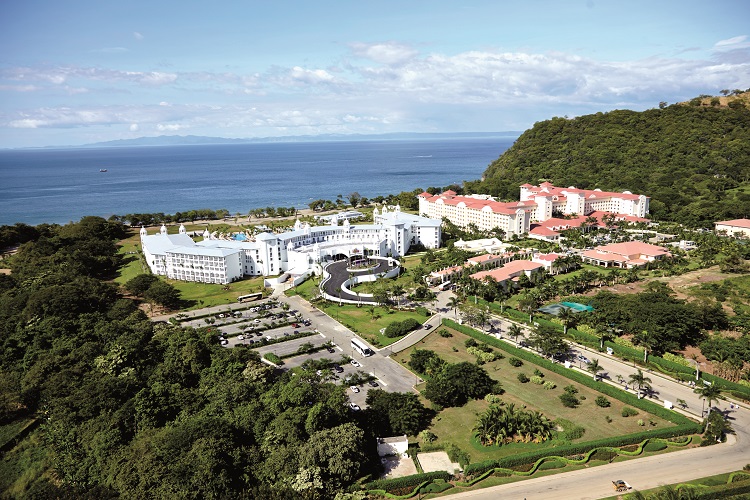 Calling all nature lovers – this is your dream resort! Sitting on a curved stretch of Playa Matapalo, the all-inclusive Hotel Riu Palace Costa Rica offers the perfect base for dipping your toes in the warm Pacific Ocean, enjoying sunset dinners at the water's edge, and taking day trips to some of Costa Rica's wildlife rich parks. Get out and explore the countryside, or enjoy the resort's lush surroundings with your sweetheart. It's your choice! In fact, why choose? Do it all!
All Inclusive Convenience and Fun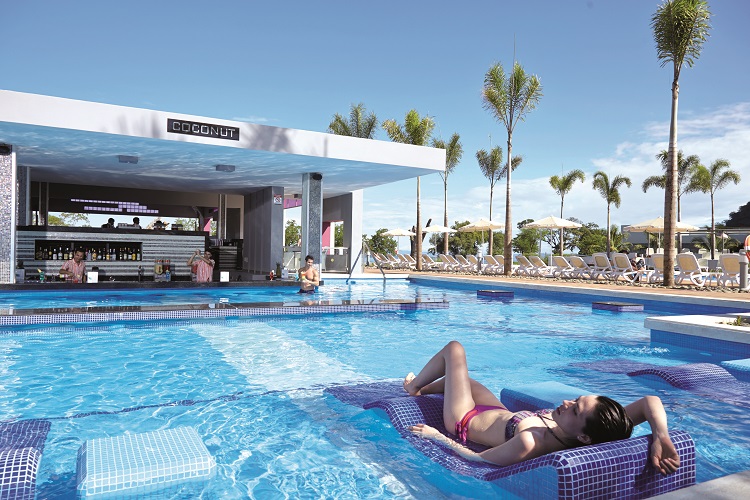 Staying at Riu Palace Costa Rica means that you have the privilege of living the Costa Rican life – with drinks, meals, and activities included! Work out at the gym, play tennis, get a SCUBA diving lesson in the pool or learn to paddle board. Kayaks and snorkeling equipment are available onsite, so feel free to dive in and splash around with the marine life! Your concierge will assist in booking golf rounds, horse back rides and various off-site water sports, such as parasailing and windsurfing. This does require additional fees, but the experience and memories are totally worth it!
Inviting Accommodations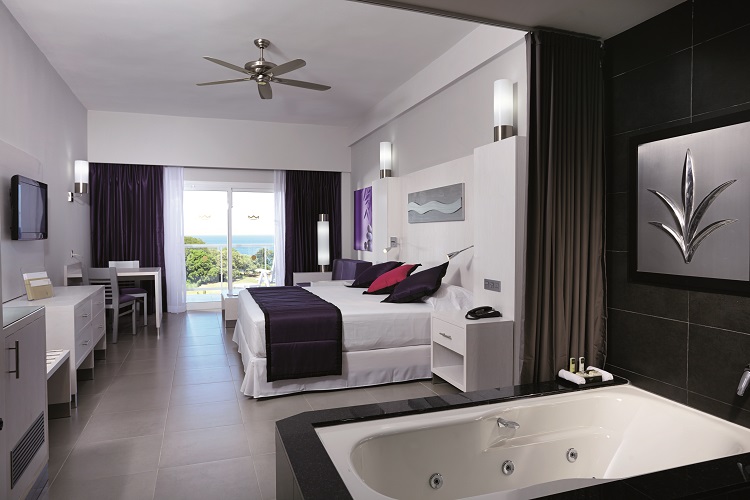 Featuring 538 guest rooms and suites done in neutral tones with bold splashes of color, the Hotel Riu Palace Costa Rica invites relaxation and a spirit of fun. Unwind and dine on your balcony or terrace, and enjoy a soak in your hydro-massage bathtub. Whirlpool bath suites feature extra large rooms with a seating area and a private outdoor hot tub. With a view of the blue Pacific or the hotel's tropical gardens, you'll be relaxed in no time!
Creative Assortment of Restaurants and Bars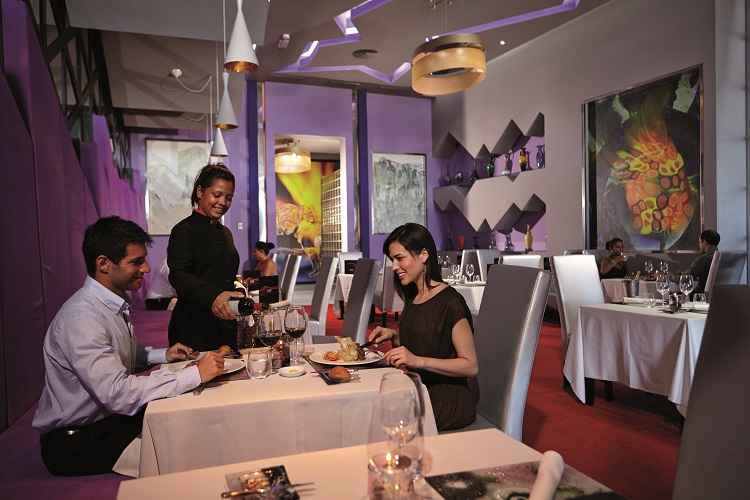 What ever you're craving, Riu will satisfy. Sample some Japanese fare at Tokio or the richest steaks at Papagayo. Love Italian food? Visit L'Anforna for an array of pastas and fresh seafood dishes. Krystal serves fusion cuisine, a marrying of local specialties with tastes of the Pacific Rim. For more casual dining, check out the various gourmet buffets! In a rush? Order some fresh-off-the-grill pancakes or a creative omelet to go with fresh tropical fruits. Don't forget the resort's delectable coffee! Enjoy all-day buffet dining at Arenal or stake out a place at Capuchino to do some serious pastry and ice cream sampling.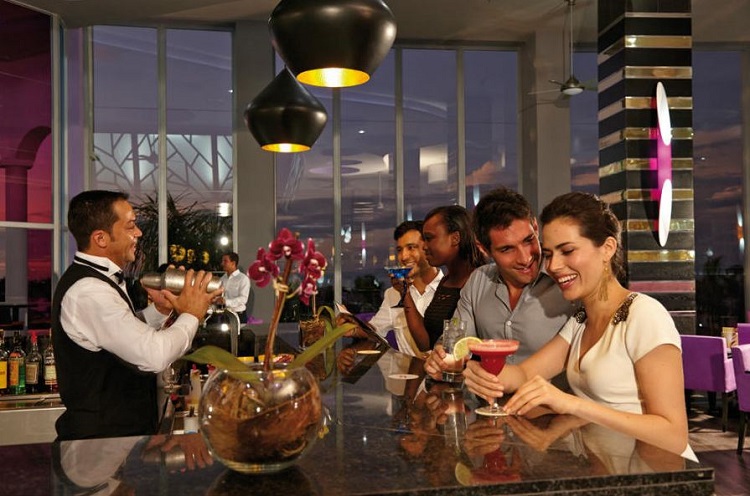 For exotic liquid nourishment, try Stars. This relaxed watering hole has it's own terrace, so you can sip your cocktail while gazing out at that lush Costa Rican scenery. If you're in the pool, no problem! Coconuts is a popular swim-up bar and perfect for when you just don't want to leave the pool. Call the 24-hour room service if you're looking for a romantic dinner for two – have your meal served on your private balcony or terrace! Can you think of anything better?
Weddings, Vow Renewals and All Things Romantic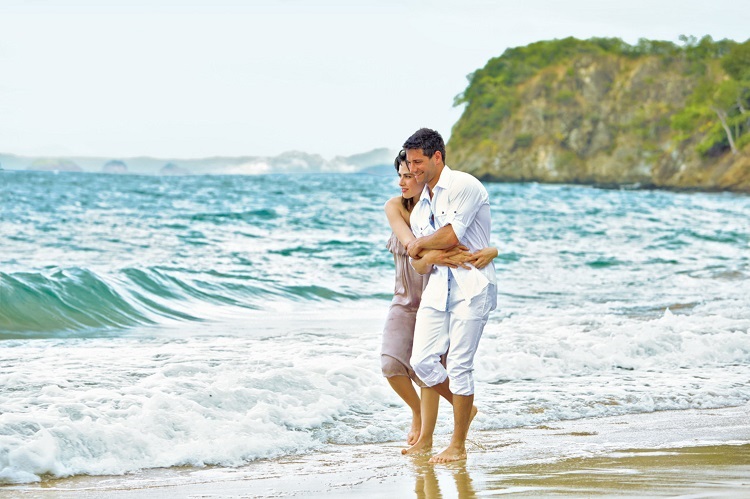 Tie the knot on the sands of Playa Matapalo, in Riu's lush garden or on the property's terrace. Civil, symbolic and vow renewal ceremonies are available. One of the fun parts is already being at a cherished honeymoon spot with plenty of space to accommodate your wedding party and guests. Choose one of the wedding packages and leave the planning to your Certified Destination Wedding Specialist – how simple! The most elegant package is the Caprice. In addition to all other wedding amenities, it includes a couple's massage as well as manicures, pedicures and hair style services for the wedding couple! Discounts are also offered at the on-site Renova Spa.
For more wedding inspiration, tips, and destination spotlights, visit our website or Pinterest page!