Located in stunning Riviera Maya, Mexico, El Dorado Royale offers the ultimate in adults-only luxury. The all-inclusive resort is known for its serene setting, attentive service, and sophisticated atmosphere. Whether you're planning a destination wedding in Riviera Maya or simply want to get away from it all for a few days, you will have a wonderful time at this idyllic beach resort.
Pools, Beaches, and Activities
If your idea of a dream vacation includes hours of lounging on the beach, you will absolutely adore the mile-long expanse of sand at El Dorado Royale. Experience the beauty of Riviera Maya while snorkeling out into the warm, turquoise water or kayaking across the ocean while admiring picturesque views. Opportunities for pool-side relaxation are abundant, thanks to the resort's thirteen pools. If you've always dreamed of mastering scuba diving, you now have that opportunity, as scuba lessons are available in the resort's main pool.
Accommodations
A variety of luxury rooms and suites are offered at El Dorado Royale. Several accommodations have swim-up access, so you'll never be more than a few steps away from the pool (or beach!). Royal suites amp up the luxury with champagne, house wine, and an upgraded minibar. Select room categories also offer Bvlgari amenities and outdoor hammocks, for a hint of extra relaxation during your stay!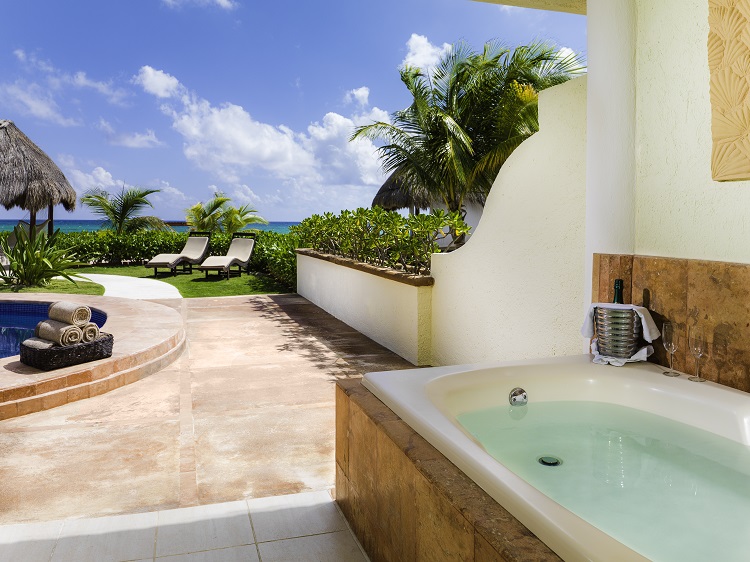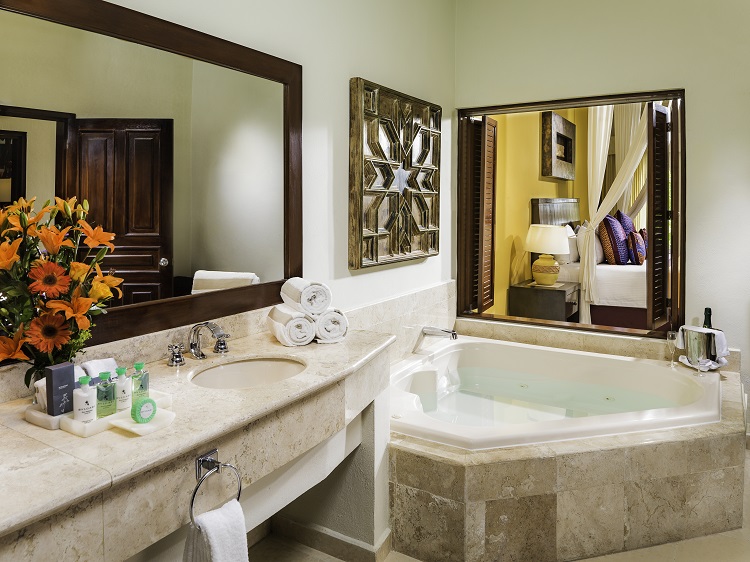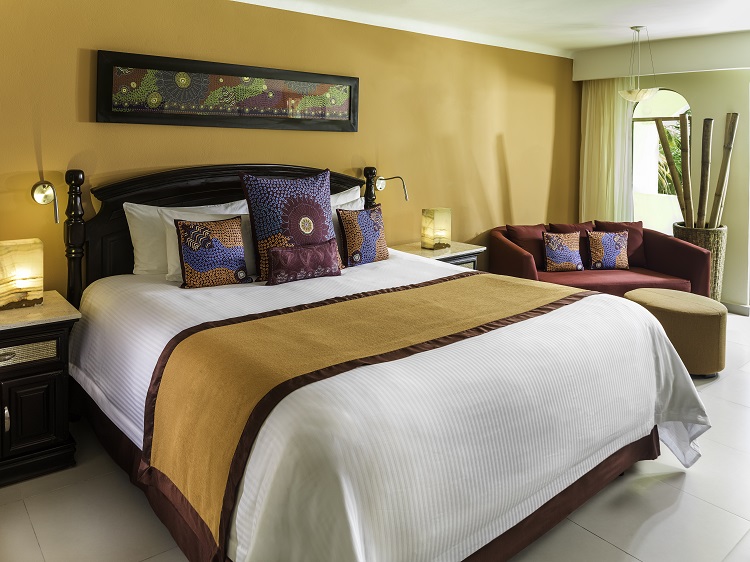 Restaurants and Bars
Food is a top priority at El Dorado Royale, which offers a vast range of quality, culinary experiences. If you're looking to broaden your palate, you can easily do so with Pacific Rim cuisine at Kampai Restaurant or the innovative dishes at the Santa Fe Grill. Stop by Fuentes Culinary Theatre to enjoy a feast for all of the senses. Other popular establishments include La Cabaña Pizzeria and Rincón Mexicano.
The luxury resort experience wouldn't be quite the same without delicious alcoholic beverages. Experience true sophistication at the Martini Bar, where you can sample a variety of premium vodkas and other liquors from all around the world. Bar Las Guacamayas is a favorite spot for relaxed guests, who enjoy sipping fancy drinks while chilling in the bar's swinging beach chairs.
Honeymoons and Destinations Weddings
There's no better way to say "I do" than with the beauty of the Caribbean Sea as a backdrop. From whimsical to glamorous, a variety of wedding styles are offered through the resort's Memorable Moments Wedding Collections. The pampering doesn't end with the wedding — during your honeymoon experience, you could enjoy a private, candlelit dinner on the beach and gourmet breakfast in bed.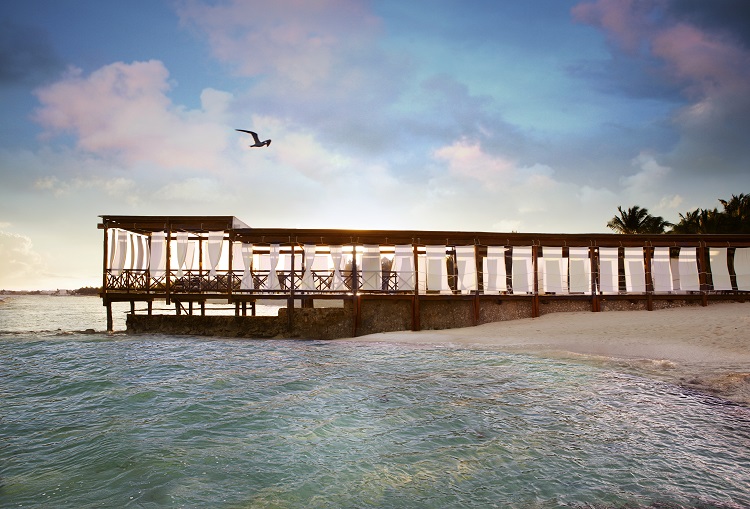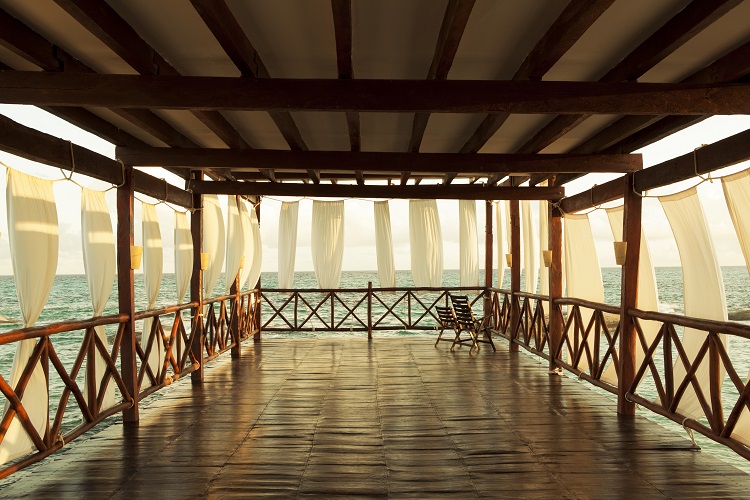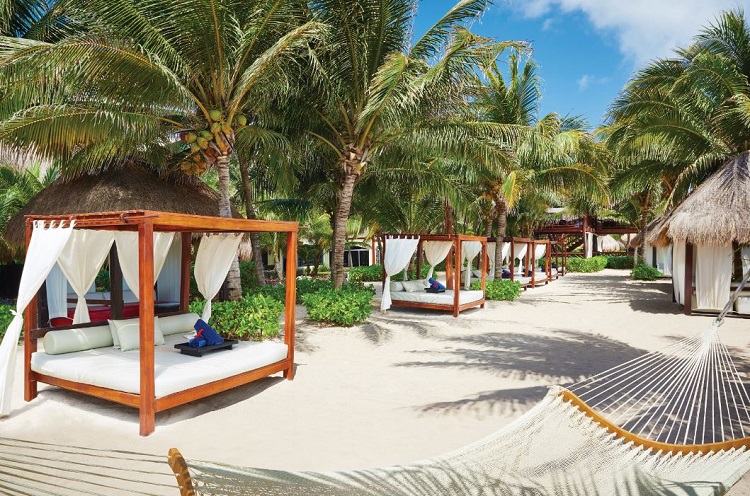 Conde Nast Traveler ranked El Dorado Royale as one of the world's top 100 hotels — and when you relax on the beach or in one of the hotel's luxury suites, you'll quickly recognize why. Prepare to be pampered — you'll never forget the attentive service received at El Dorado Royale!