There's a lot to love about Montego Bay, Jamaica—from dazzling nightlife and chic shops to the affordability and gorgeous Caribbean Beaches. Still, of all the reasons to visit this idyllic Caribbean port town, privacy isn't usually high on the list. Unless, of course, you're familiar with Sandals Royal Caribbean.
The resort's decidedly British heritage, with manicured gardens, roaming peacocks, afternoon teas and breakfast in bed will make you feel like you're visiting a rich, distant relative from across the pond—but with the amenities of a five-star resort and a Caribbean Sea view. From over-the-top baths to sumptuous canopy beds and top-shelf liquor and wine, there's warmth in the luxurious accommodations that makes it feel like a home away from home.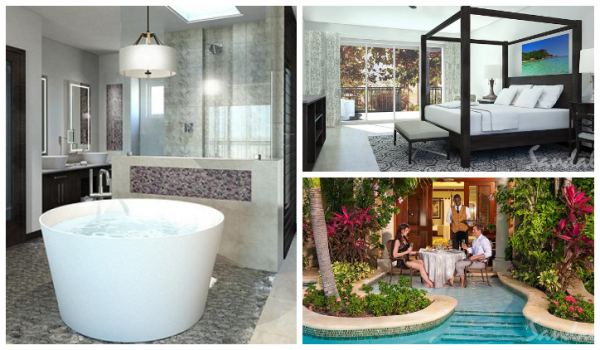 Still, you wouldn't be nearly as impressed with that imaginary British relative if they didn't happen to leave out the keys to their dragon boat so you could explore their private offshore island, right? You know, the one with the swim-up bar, butler service, and nightly fire dancers? Oh yeah, that exists at Sandals Royal Caribbean—and it's just as good as it sounds. It should go without saying that there's not much better on this earth than an afternoon on a private island with friends and family spent lunching, swimming and hanging out. (Correction: a wedding on a private Jamaican Island might top the hangout!)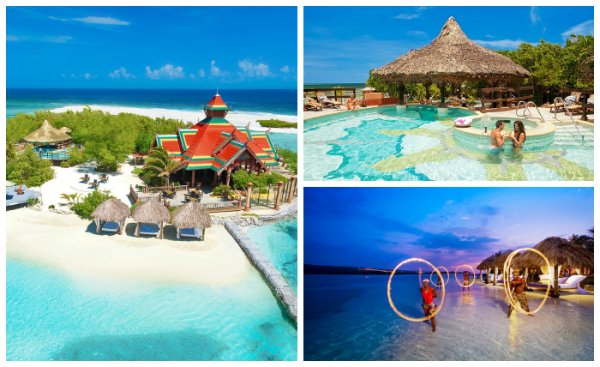 Aside from the luxurious vibe and incredible private island, Sandals Royal Caribbean offers plenty to savor with your destination wedding crew, from eight on-site restaurants with international gastronomy options to unlimited scuba diving and water sports. At night, the festivities keep up with a nonstop circuit of beach parties, live bands, themed nights and talent. So go ahead. Live a little. Get fancy and act like you own the place. A once-in-a-lifetime trip deserves a once-in-a-lifetime attitude.