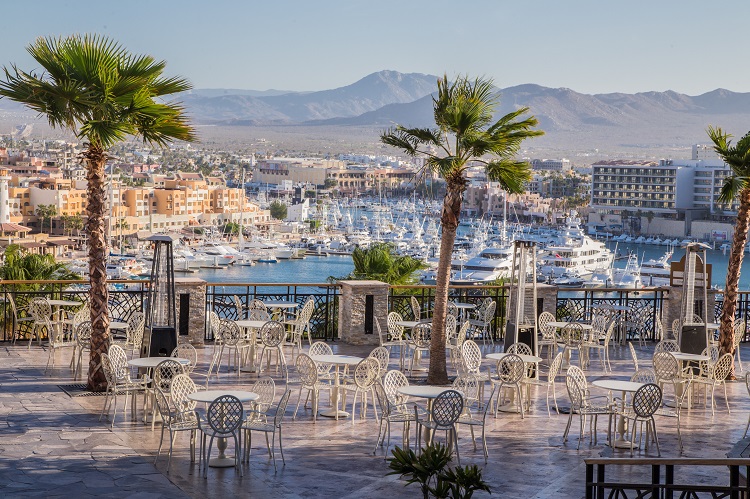 Situated at the southernmost tip of Mexico's sun-splashed Baja Peninsula, Cabo San Lucas enjoys a reputation as one of the Western hemisphere's premier destination wedding locations.
Destination Weddings in Cabo San Lucas are particularly magical and romantic —couples spend their days relaxing next to the sparkling azure waters of the Pacific Ocean and wine and dine the night away in the region's vibrant downtown core.
All-inclusive destination wedding resorts such as Sandos Finisterra Los Cabos provide an excellent way to enjoy Cabo San Lucas no matter what time of year it is. The following are just a few of the benefits you and your guests will enjoy while celebrating your love in Mexico:
A gorgeous array of different ceremony locations and wedding packages
Amazing accommodations
Spa access
Panoramic views of Cabo's diverse landscape
Delicious dining options
And much more!
Sandos Finisterra Los Cabos All-Inclusive Wedding Packages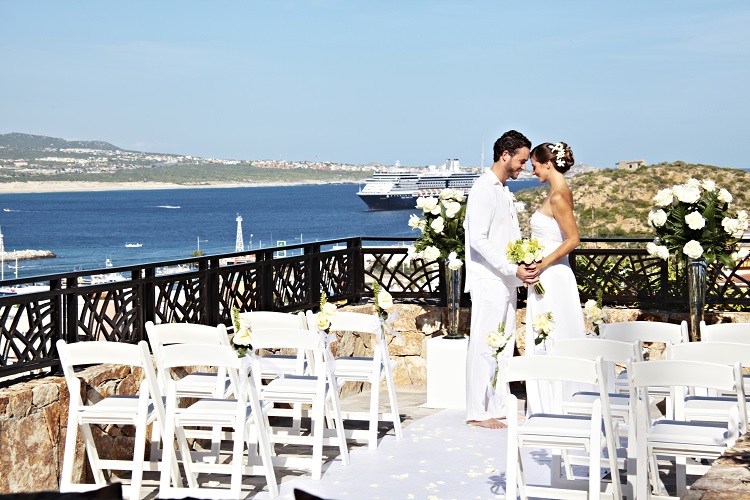 Whether you plan on slipping away with your beloved for a private wedding in this tropical paradise or getting friends and family in on the fun, Cabos San Lucas offers the ultimate destination wedding experience. With five different wedding packages offered, couples can find exactly what they are looking for when hosting a memorable celebration within their budget.
Sandos Finisterra Los Cabos has so much natural beauty that it allows for couples to hold their wedding events all throughout the resort. This means a wide variety of picturesque settings to choose from. Including, the beach, the Finisterra garden, or a rooftop terrace with breathtaking views of the not-so-distant mountains.  Each ceremony is custom made to your preferences and overflowing with beautiful, romantic touches, complete with decorations of the couple's choosing. The all-inclusive wedding packages have everything a destination wedding needs to be the experience of a lifetime. Each ceremony includes private cocktail hours, a 3-hour dinner, sparkling wine, a custom-made wedding cake, a DJ and florals for the couple. Additional benefits can be added as well, such as couples' massages, access to the beauty salon, and a complimentary honeymoon package.
Sandos Finnistera Los Cabos also specializes in South Asian destination weddings. These celebrations are especially gorgeous, as no detail is spared. Couples can enjoy all the traditions of a Sangeet, Mehndi party and a luxury car rental for Baraat. Authentic Indian Mandap décor options are available, as well as delicious Indian menu options.
By working with a Certified Destination Wedding Specialist, this process will be relaxed and enjoyable for the couples. Your Specialist will take care of all of the heavy liftings; all you and your fiance(e) need to do is decide what flavor cake would be the tastiest!
---

---
A Stress-Free Stay in Paradise
Hosting a destination wedding at Sandos Finisterra Los Cabos resort allows you to let go of the role of "hostess" and just enjoy the laidback and fun atmosphere of your destination. This will also let your guests have a customized experience based on their own personal interests and preferences.
There are tons of activities to keep your guests entertained onsite if simply relaxing on the beach or hanging by the pool isn't their style.  Beach volleyball, snorkeling, yoga, tennis, movies,, water aerobics, and sandcastle building are just a few examples of the many complimentary activities on the menu. Also, kids and baby clubs are available, allowing parents with little ones to fully enjoy the resort's amenities and time to themselves.
Wining and Dining to Suit Every Palette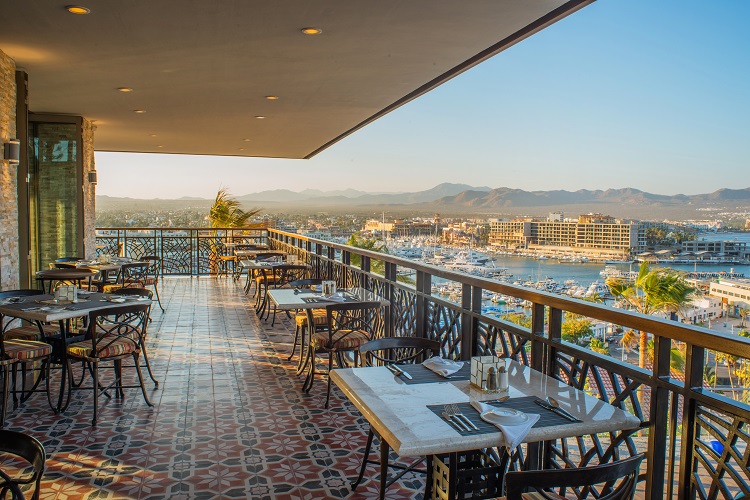 Sandos Finisterra will satisfy everyone's tastebuds when you and your guests are ready to dine. Emiliano's features mouthwatering Italian cuisine, and clifftop views no less. This venue really supplies a one-of-a-kind dining experience that all wedding guests will enjoy. Sandos Finisterra does casual too. Guests can grab delicious meals by the pool, and innovative cocktails at the Whale Watchers Bar. For those with a sweet tooth, Cupcake Café is a must! In addition to delicious sweet treats and coffee drinks, there is a breathtaking panoramic view. But if that is not enough, the views on the terrace from Don Diego's restaurant will certainly satisfy your Instagram feed.
If you are looking to indulge while staying in the sun, Sandos Finsterra Los Cabos offers an onsite swim-up pool bar, a VIP pool bar exclusively for those staying in Finisterra Suites. In addition to a casual beach club, sports bar/nightclub, and a cocktail lounge with a gorgeous view of the Pacific.
Water Views from Every Room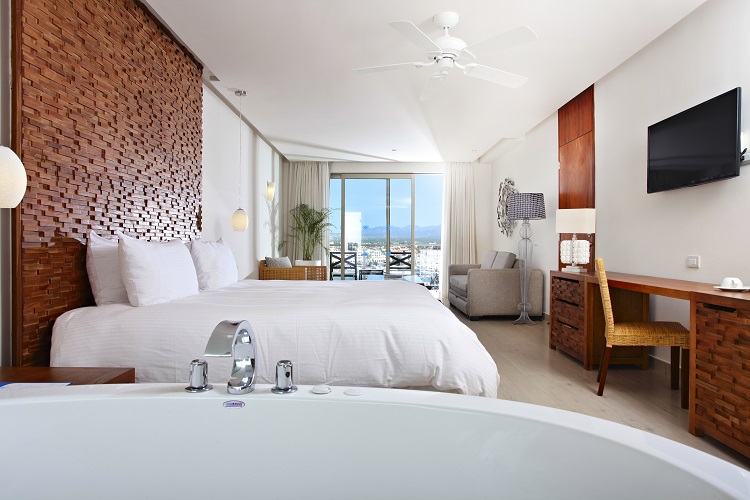 All of the rooms at Sandos Finisterra feature spectacular views of the Pacific Ocean and the San Lucas Bay, backed by the vibrant cityscape of Cabo San Lucas. Room sizes range from junior suites with one king-sized bed or two double beds to elaborate suites with separate bedrooms and living areas. All rooms and suites feature breezy tropical decor, balconies or terraces, and complimentary Wi-Fi.
Destination weddings at Sandos Finisterra Los Cabos are not complete without relaxing and enjoying the in-room jacuzzi tub. Perfect for winding down after a long day, and entering into full vacation mode.
World-Class Spa Treatments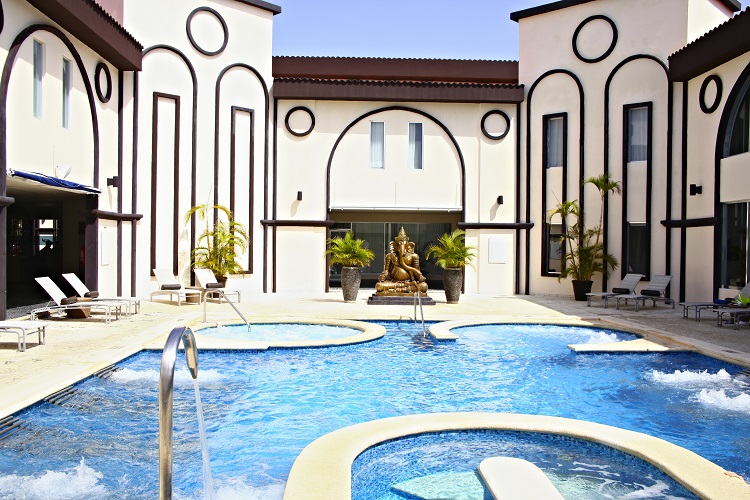 Sandos Finisterra Los Cabos has a spa that you could spend your entire stay at if you had the time. Complete with a sauna, steam room, and diverse temperature pools, guests can indulge in the hydrotherapy circuit, relaxing massages, and other tranquil treatments that will leave them feeling refreshed, and rejuvenated. This is the perfect place to hang with your bridal party before the big day. And again after (as newlyweds), to kick off your romantic honeymoon!
Let a Destination Weddings at Sandos Finisterra Los Cabos be the romantic start to your happily ever after.
Ready to start planning? Create an online profile today so one of our award-winning Specialists can assist you in creating your perfect destination wedding!