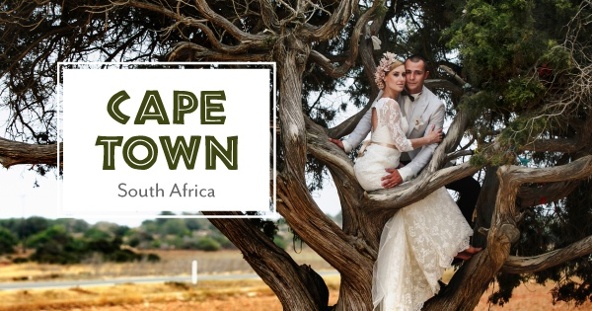 Weddings in Cape Town
Cape Town perches on the very tip of South Africa; a much sought after destination wedding choice because honestly — there is nothing that this city cannot provide for couples in love. Cape Town lays claim to some of the country's most romantic beaches spanning two oceans, magnificent mountain slopes, and world-class wine estates, all within a 30-minute drive from the chic, sophisticated "Mother City." Trust us, weddings in Cape Town, South Africa are a sight to see!
Capetonians revel in an easygoing lifestyle and welcome soon-to-be-marrieds and honeymooners with their infectious warmth and wide-open smiles. Your marriage ceremony can take place almost anywhere – and the venues are unlimited — but the legal signing part of the ceremony must be conducted or repeated indoors, beneath a roof and in the presence of at least two witnesses. A legally authorized marriage officer must perform your ceremony and can help simplify the legal requirements for you.
There is no minimum period of stay requirement in South Africa before marriage, and as one of the world's top destination wedding locations, Cape Town offers engaged couples oodles of help in the form of wedding planners, photographers, caterers, and cake bakers. So what are you waiting for?
Among the Vines
Let's not overlook the obvious: some of Cape Town's most idyllic wedding venues are set in the impeccably landscaped romantic gardens, fruit and olive orchards, and rolling hill farmlands of the region's innumerable wine estates. Outdoor ceremonies are held beneath French gazebos, thatched tents, or a shady canopy of ancient willow and oak trees. Indoor accommodations might feature the most modern architecture or sit-down dinners inside historic wine cellars. The catering and wine are outstanding at these venues, and several farms offer charming guesthouses and other on-site accommodations.
The Palmiet Valley Wine Estate offers five-star accommodations on a 300-year-old wine farm in the beautiful Paarl Valley, only 30 minutes from Cape Town. Say your vows in the poolside garden gazebo or the romantic thatched-roof stone chapel nestled in the vineyards against a majestic mountain backdrop.
Along the Shore
Cape Town is blessed with numerous world-class beaches spanning the long West Coast and the Atlantic Seaboard, along with the more tranquil choices nestled along the False Bay coastline. Your options for a seaside ceremony are plentiful.
Cape Town's famous 16 Mile Beach in the small harbor town of Yzerfontein will happily host your wedding smack on the sand. Follow it up with a reception under a tent or gazebo perched on a sand dune catered by the steps-away Strandkombuis restaurant. If you prefer solid wood under your feet during the vows, the restaurant provides a beautiful wooden deck steps from the beach.
The Grootbos Private Nature Reserve, two hours from Cape Town along the Atlantic Ocean, is a five-star eco-paradise that overlooks the marine-life-watching haven of Walker Bay. Whales, dolphins, seals, sharks, and penguins dwell here, where the Atlantic and the Indian Ocean converge to form one of the most biologically diverse marine ecosystems on the planet.
Atop a Mountain
More rich biodiversity is found just 20 minutes from Cape Town within the 85 square miles of Table Mountain National Park. Pristine beaches, scenic hiking trails, and magical forests blanketing the mountain's slopes provide ideal settings for every budget.
Silvermist Mountain Lodge and Wine Estate lies within the park and offers couples 60 acres of non-stop views of Table Mountain and the Twelve Apostles Mountain ranges, exquisite rolling lawns, and Constantia Vineyards. With two excellent restaurants to cover the catering and individually designed lodges and suites to house the wedding party, this dream destination provides a one-stop wedding solution. They've got every angle of your fantasy trip covered, including free accommodations on the night of your nuptials and just-married breakfast the morning after!
To see more visual inspiration on how to make dream weddings in Cape Town come to life, browse our latest edition of Get Married Away!