Let's face it: most of us don't need an excuse to think about food in our daily lives. It's a tireless pleasure that never seems to lose its appeal, whether we're savoring a Saturday morning brunch with girlfriends, hosting a leisurely dinner party, or reaching for that devilishly good brownie between conference calls. Still, for something that plays so prominently into our cultural imagination, we oftentimes mysteriously forget to ask this simple question when we plan our trips: how's the food?
The irony of course is that for most travelers, eating is practically a competitive, contact sport on vacation. Who hasn't seen a herd of ravenous vacationers hovering around the dessert tables, or felt a pang of idiocy when you find yourself contemplating the lunch menu as your breakfast plate is cleared. It happens to the best of us.
And why shouldn't it? Vacations are memorable when—you know— you actually enjoy them.  So instead of settling for the cold pizza, lackluster lettuce, or flavorless fish, let your belly fall in love and indulge.  We won't judge.
Allow us to humbly kick start your culinary adventure on none other than the famously dazzling, soft white beaches of Cancun, Mexico. Though we have scores of reasons for recommending Cancun's Paradisus Resort (it's family-friendly, has great lounges and a stunning beach), the list below has been compiled with your taste buds in mind. Bon Apetit!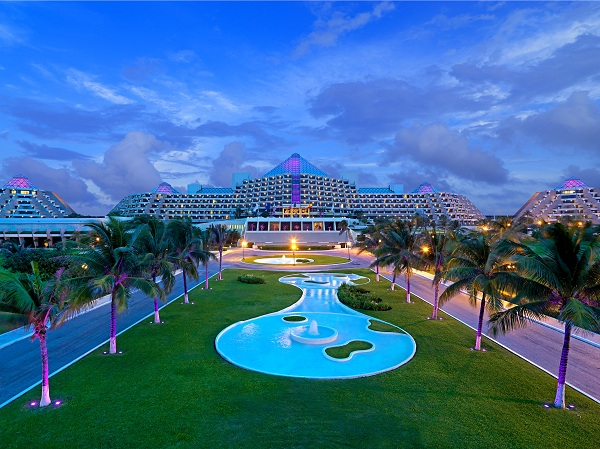 You know that restaurant from back home that you have to make a reservation months out for? The one that has the food bloggers clamoring for a coveted bar stool and hosts a chef who's racked up countless awards? Yeah, Paradisus has one of those. Spanish culinary hero Martín Berasategui calls Paradisus' Tempo Restaurant home. With 6 Michelin Stars under his belt, this internationally-acclaimed chef serves indulgent dishes at this chic, retro-glam hotspot. Outfitted in off-white accents, you'll want to graze for hours over intimate conversation.
Tacos and Tequila are a match made in Cancun beach heaven. Whether you're craving a spicy Mexican dish packed with flavor or want to feel the heat from local tequila, Blue Agave Restaurant is a must. The friendly staff prides themselves on their local knowledge, so prepare for a gastro-tour of the country's endless flavors.
Sure, you were expecting heat on your Mexican getaway. You just didn't know it would be coming from the kitchen. Meet Fuego, a Latin-flavored hideout ready to turn up the temperature. Seductive red decor pairs well with the spicy ceviche, fresh seafood and tantalizing raw bar, making for a mouth-watering and steamy evening.
Stake out a spot on the Zen terrace at Bana for an exceptional Pan-Asian experience. The globally-inspired menu has a dazzling variety of both western and eastern style sushi, leaving you pleasantly overwhelmed with all of your options. Our suggestion? Sample them all!
Lest you had forgotten your Caribbean location at Paradisus Cancun, La Perla is here to remind you. This poolside restaurant has fresh, pan-seared fish and plenty of Caribbean specialties to keep your mouth happy.
There you have it: a roundup of culinary treasures to keep those taste buds content on your getaway to Mexico. If you're interested in learning more about Paradisus Cancun, or want to get a jump on planning your dream Mexican holiday,
we are here to help
.