The best beaches all have white sand and turquoise water, right? Maybe not! Some of the world's most spectacular beaches come in surprising shades. From olive green to pale pink, several stunning hues can be found along the shores of the Pacific Ocean, the Caribbean, and Mediterranean Sea.
Papakōlea Beach — Hawaii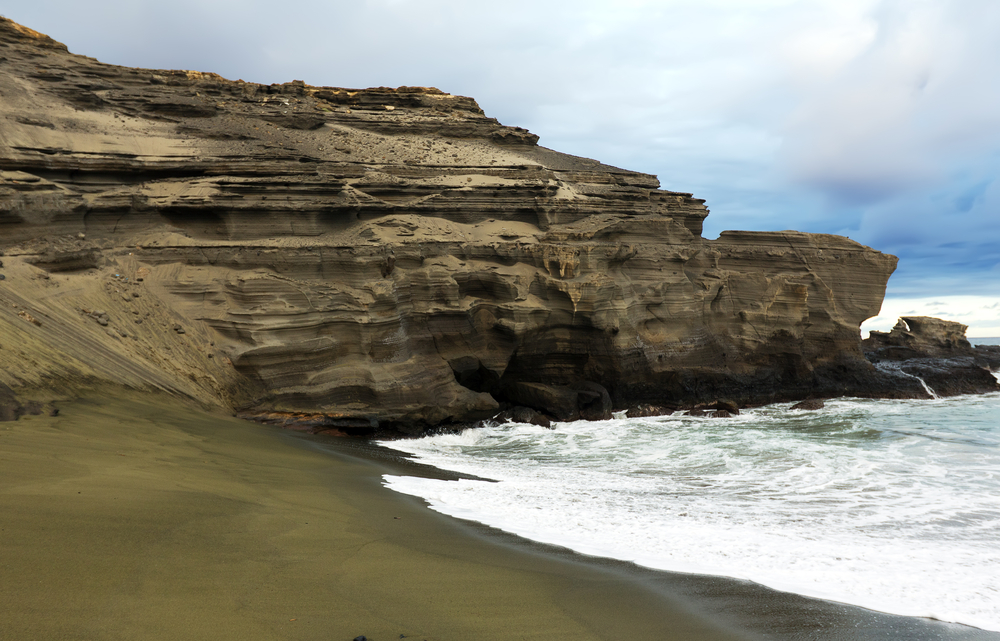 One of just four green sand beaches in the entire world, Papakōlea Beach derives its unique hue from surrounding cinder cones. Look closely at the sand, and you'll spot olivine crystals, lava, and tiny fragments of white shell. To access this magnificent sight, you'll need to bring your walking shoes and embark on a two-mile journey. We can't think of a better reason to hike!
Where Should You Stay?
Royal Kona Resort on the Big Island of Hawaii is about an hour and a half away from this beautiful green beach! Situated right on the ocean, this jaw-dropping resort offers amazing backdrops for couples looking for a romantic getaway. An on-site massage and spa center will help you and your loved one unwind, and the beaches will make you full of euphoria. But before the sun goes down, take a short walk to the saltwater lagoon – the sun sets there are to die for!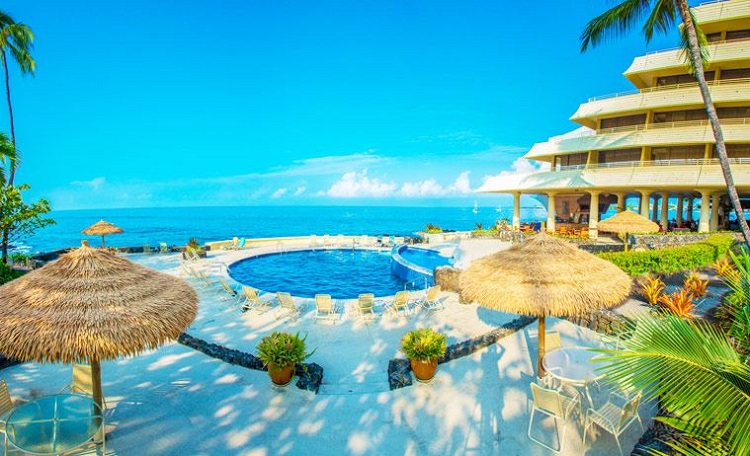 Pink Sands Beach — Harbour Island, Bahamas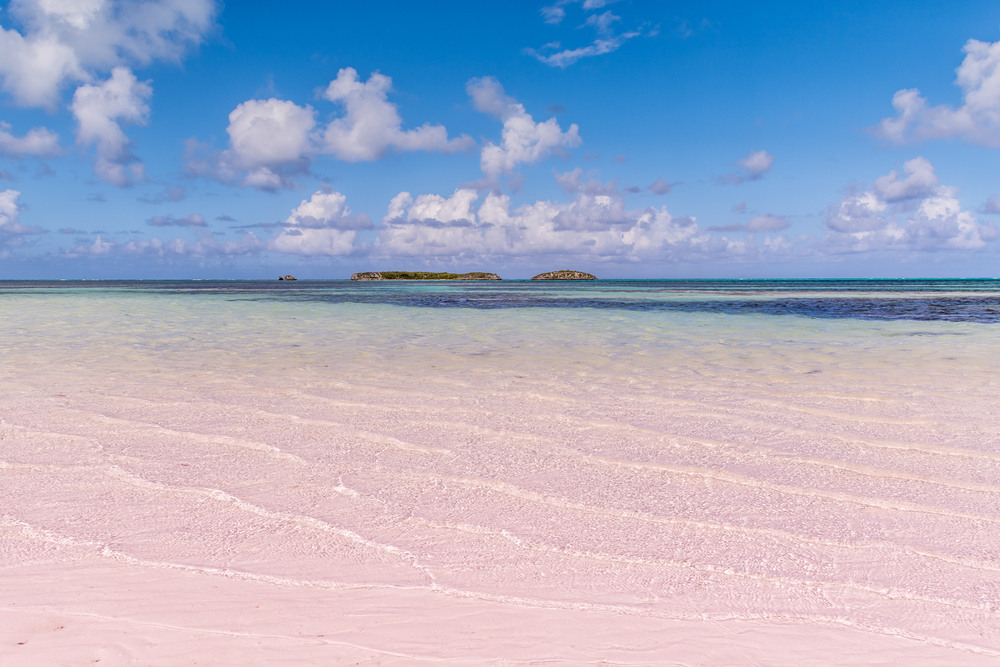 Head to the stunning Pink Sands Beach for a relaxing day! Its pale pink hue is derived from microscopic organisms known as foraminifera. The beach is within walking distance of several excellent restaurants and tourist attractions, so pack an extra outfit and make a day of it! Bonus: despite being one of the most beautiful pink beaches in the world, it's rarely busy. You'll have the whole beach to yourself!
Where should you stay?
The Pink Sands Resort is luckily right on Pink Sands Beach – so if you were looking for a unique and beautiful back drop, this resort is for you! Exchange your vows as the Bahamian waters lap against the beautiful sand, and enjoy each moment as it passes by. As if it couldn't get better, a complimentary bottle of champagne is given as a gift from the resort on your wedding day. Yes, please! As for your honeymoon, be sure to enjoy a little pampering at the on-site spa, work your cardio game at the tennis courts, and discover all Harbour Island has to offer.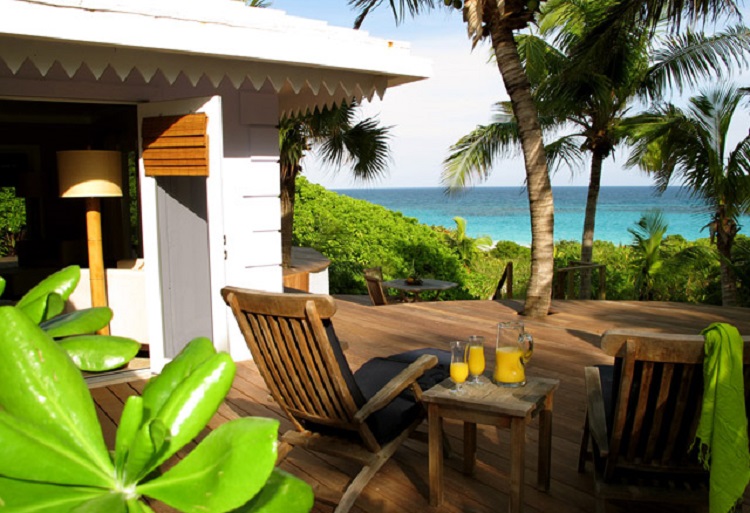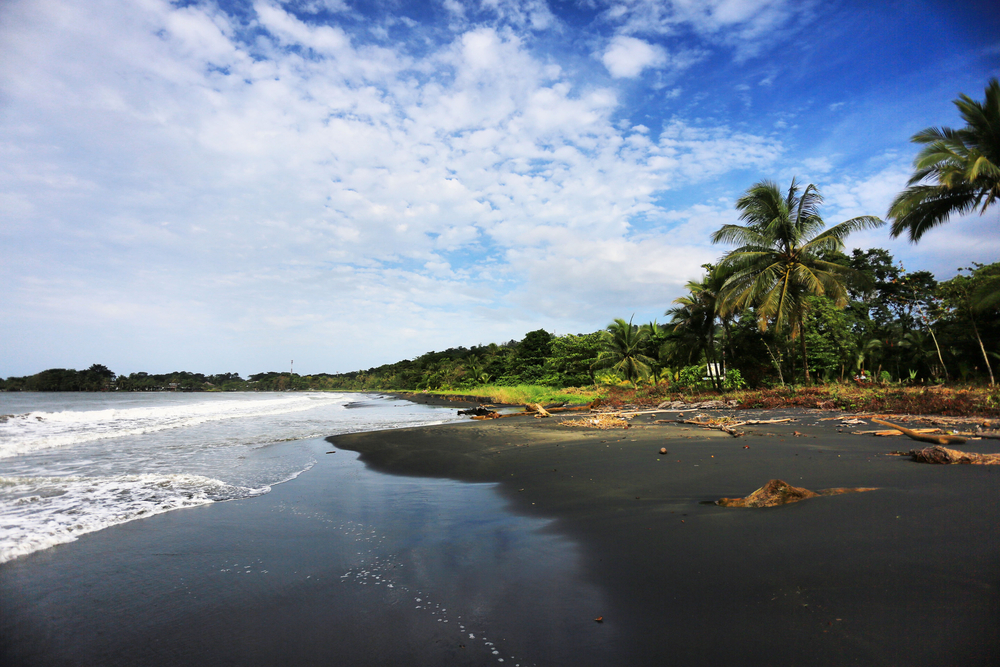 Playa Negra may be known for its distinctive dark sand, created by volcanic runoff, but visitors are most enticed by its barrel waves! Surfing, anyone? Be prepared to encounter large crowds if you visit at high tide. If you prefer a more laid-back outing, you'll enjoy exploring the beach's many tide pools and relaxing in the sun. So enticing!
Where should you stay?
Adventure lovers, rejoice! Occidental Tamarindo is the perfect answer for anyone looking for a lush jungle couple's retreat. Whatever adventure you crave, this resort is sure to deliver. Banana boats, catamarans, diving, fishing, kayaking, snorkeling, and surfing are all activities you and your partner can enjoy! Not a beach fan? No problem. Golf, giant chess, archery, gymnastics, aerobics, and dance classes are all offered on site! As if this resort couldn't get any better, car rentals are offered at the front desk! Luckily for you, Playa Negra is a mere 40 minutes away. What are you waiting for?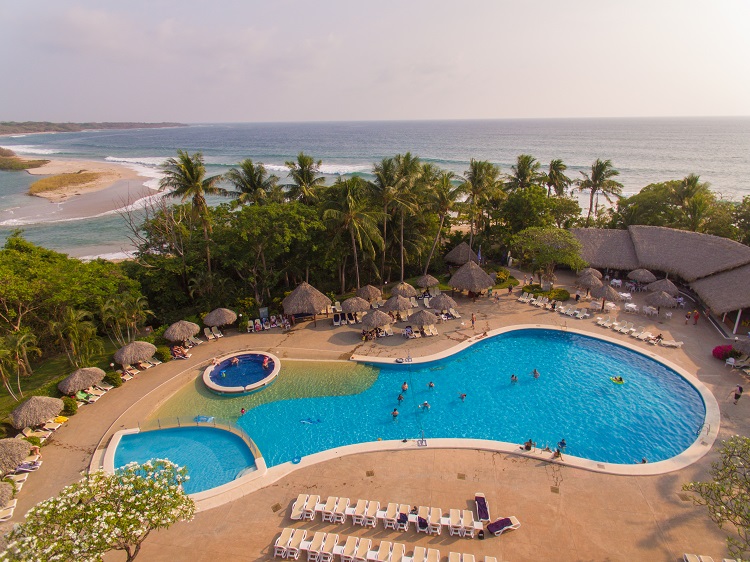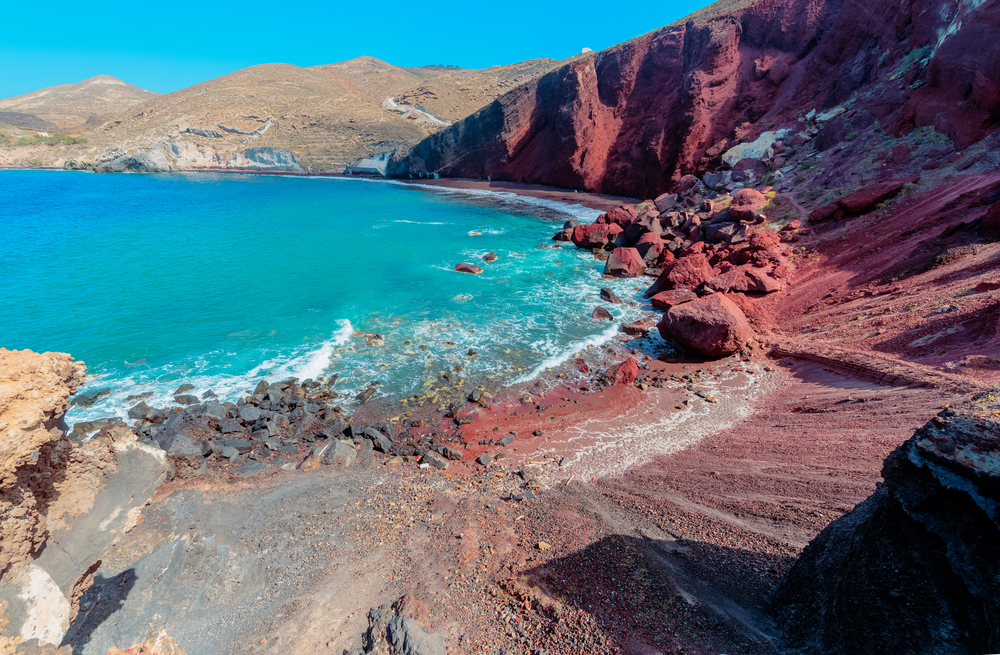 A stroll along Kokkini Beach may be the closest you ever come to experiencing life on Mars! However, while Mars' red hue can be chalked up to high levels of iron oxide, the red sand at Kokkini is a direct result of lava spewed by nearby volcanoes. Located near Akrotiri, Kokkini can be accessed on foot or by boat! Unique rocks make for an intriguing snorkeling experience, so knock that off your bucket list! For a relaxing afternoon, rent a sunbed and marvel at the view.
Where should you stay?
Take a second an picture the breathtaking cliffs in Santorini, Greece. At Aressana Spa Hotel & Suites, that view is visible from every room! This resort is 20 minutes away from Kokkini Beach, but there's so much to see during that small excursion! After you say your "I Do's", celebrate by dancing the night away with panoramic views of the Mediterranean Ocean. Of course, don't forget to indulge in a little spa treatment before the Big Day. And good news for wine-o couples – the Santorini Wine Adventure Tours are located next door. Hello, honeymoon fun!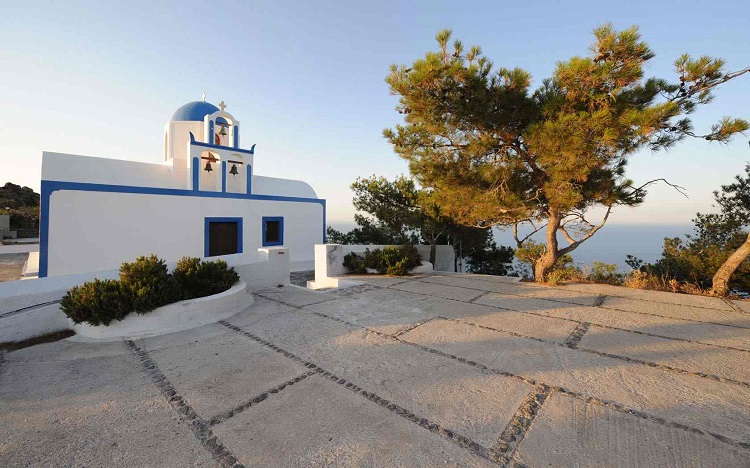 Cinnamon Bay Beach — St. John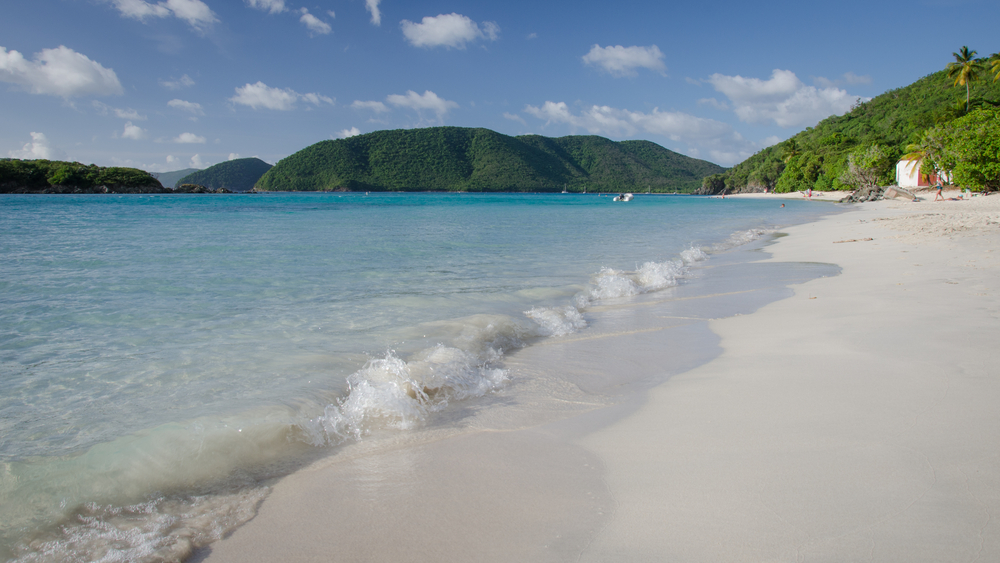 White sand beaches may seem common, but at Cinnamon Bay Beach, you'll witness white sand as you've never seen it before. The longest beach on the island of St. John, Cinnamon Bay boasts all the amenities you demand: bathrooms, showers, snorkeling gear rental, and even a snack bar! Relax on the soft white sand or grab your snorkel and head for the nearby cay! If you're lucky, you'll find some sting rays and turtles. What an adventure!
Where should you stay?
Located just 10 minutes away from Cinnamon Bay Beach, Caneel Bay Beach Resort is a perfect setting for the ultimate beach wedding! Sail around the island on a sunset cocktail cruise, discover the marine life and go for a snorkeling excursion, and taste the local rum at the resort's own demonstration. Here, you'll never run out of activities for you and the love of your life to enjoy! And as far as wedding venues go, just imagine how amazing that lush greenery and turquoise water will look in your wedding album. Need we say more?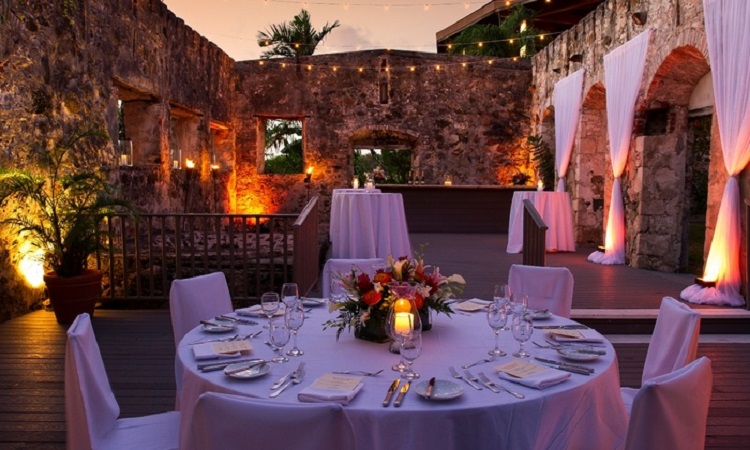 Whether you dream of white sand or green crystals, our magnificent planet boasts a beach in your favorite color. Pack your sunscreen and camera, and prepare to be dazzled by the world's most colorful beaches!
Need more wedding inspiration and information? Be sure to visit our website or Pinterest!