Imagine your dream wedding. Does it include the sun, sand, and minimal stress? If so, you're the perfect candidate for a destination wedding in the Bahamas. These beloved islands boast the world's most gorgeous beaches. There, you'll find a luxurious yet chill vibe ideal for the days surrounding your I do's.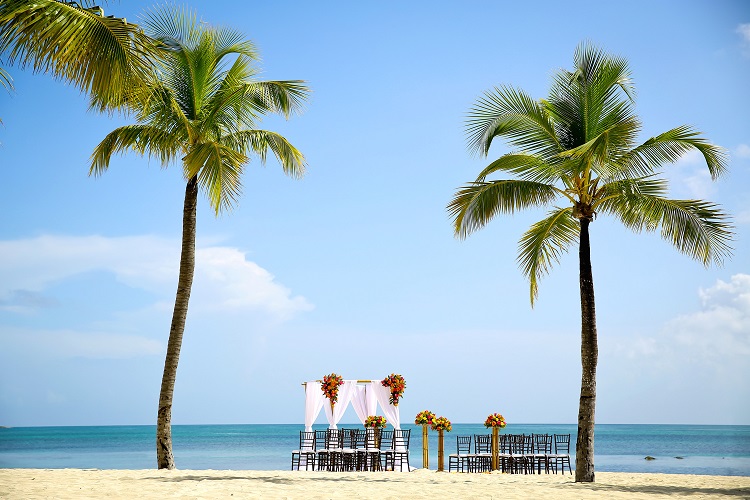 The decision to throw a destination wedding in the Bahamas marks the beginning of a long list of choices. Next up: choosing a location. The Bahamas boast a wide array of resorts, ranging from intimate to party central. Don't make your decision based on name recognition alone. Some of the most beautiful and serene accommodations can be found in lesser-known resorts.
No matter your preferred resort size, you'll want to take several factors into consideration when choosing among the best Bahamas wedding resorts. For example: can your resort accommodate your full wedding party? Some resorts cater to elopements or small wedding parties, while others accommodate (or actively prefer) larger groups.
Another important factor: adults-only versus family-friendly. Adults-only resorts either emphasize privacy or nightlife. Kids, while treasured, can distract from intimate moments. Conversely, family-friendly destinations allow parents to make priceless memories alongside their children. Some resorts offer a hybrid experience, with specific zones reserved for adults or programs that cater to kids and teens.
No matter the age of your wedding party, you'll be impressed by the natural beauty and welcoming atmosphere at the Bahamas' top resorts.
RELATED: A Bahamas Destination Wedding: How Much Does it Cost?
Most Romantic Resorts in the Bahamas
Not sure where to begin your hunt for the perfect wedding resort? The following are a few of the top resorts in the Bahamas for couples:
Experience the magic of Nassau as you recite your vows before a natural backdrop of clear water and white sand. This is an ideal destination for intimate weddings; the beach venue accommodates up to 45 guests. Extravagant details ensure a fairytale wedding, while couples massages encourage rejuvenation following 'I do.'
Your spouse will look drop-dead gorgeous on Cable Beach. All senses are covered; as your eyes feast on the spectacular view, your ears will appreciate serenading from a professional violinist, saxophonist or even a steel pan player. After your tropical fairytale ceremony, enjoy champagne and chocolate-covered strawberries in your suite.
A serene enclave tucked within the tropical Bahamas cay known as the Exumas, Sandals Emerald Bay provides a wedding like no other. Like all Sandals resorts, Emerald Bay offers stunning beachfront nuptials. Up the sophistication with a unique ceremony in a European garden, complete with sparkling pools and perfectly manicured lawns. Before the big event, enjoy full pampering at the Red Lane® Spa.
Most Romantic Activities in the Bahamas
The Bahamas boast some of the world's most romantic getaways. What could be dreamier than gazing at the sunset over the ocean or taking a starlit stroll along the beach? Balmy weather and idyllic scenery encourage full relaxation.
The romance shouldn't end after you say 'I do.' If you're like most destination brides and grooms, you plan on spending several days in paradise. You'll find plenty of intimate enclaves at your resort, but adventure also awaits beyond your accommodations.
Check out the beach from a different perspective — on horseback. Local stables and equestrian centers allow you and your sweetheart to ride through lush rainforests or along the coast. If you like the idea of a romantic vacation cruise but prefer to remain on dry land as you sleep, enjoy the best of both worlds with a day cruise. Nassau is a top port city; cruises lasting just a few hours or all day regularly set sail to explore the nation's other beautiful cays. Grottos provide a uniquely intimate experience; relive your favorite James Bond moments at the Thunderball Grotto.
Dining is part and parcel with the international experience. Candlelit dinners evoke amore, but other options can be intimate or even sensuous in their own way. Located in the heart of Nassau, Café Matisse is a go-to for vacationing couples. Cozy and sweet, the bistro serves some of the Bahamas' best desserts. Equally enticing: Tipp's Bar, which is far more romantic than it sounds. There, you'll immerse yourself in island vibes while dancing to local music. Other favorites include Eleuthera and Flying Fish.
How to Up the Romance at Your Destination Wedding
The beauty of the Bahamas lends itself to romance, but it takes more than a white sand beach to supply those butterflies in your stomach. Alone time and relaxation are key to achieving the romantic island wedding you desire.
Enjoy Some Time Alone As a Couple
This is your day, but whether you invite eight guests or 80, you can quickly get sucked into worrying about what everyone else wants. Yes, it's important to interact with your guests, but you should also enjoy some time alone with the love of your life.
To accomplish this, schedule activities for just the two of you — horseback riding and couples massages are great options. If guests invite you to hang out during your alone time, politely decline with an offer to meet up later.
Minimize Stress
Far too many brides and grooms stress out instead of enjoying the special period of engagement. For some, stress continues long past the planning phase and into the big day. Afterward, they can't remember their vows or the reception; they only recall worrying about finances or decor.
Wedding stress can come from many sources, but for many, planning is the biggest culprit. Offloading to a wedding coordinator is a wise option, but not financially realistic for many couples — unless they take advantage of complimentary wedding coordination that accompanies many destination packages.
Unexpected situations are bound to arise, but the better prepared you are for the worst-case scenario, the less stressed you'll feel in the moment. Your wedding coordinator can help, of course, but only you may be able to fill in some details. For example: do you need to pack any special medications? Do you need to fly with any treasured items (in addition to your wedding dress)? Resort coordinators are well-versed in the stressors that destination wedding brides and grooms deal with and can provide some serious relief in helping you to navigate them.
Personalized Nuptials
You don't want to feel like just another couple at just another wedding resort. Every detail of your big day should be executed to ensure that you feel like royalty. Many beach resorts offer personalized details such as decor or menus specified by the couple. Some even allow you to choose your favorite instruments so you can be serenaded during your ceremony.
Your wedding is the beginning of a grand adventure; why not spend it on a stunning island surrounded by those you love most? You'll never regret saying 'I do' in the beauty of the Bahamas.
Ready to get your free quote? Get in contact with a Specialist today! >>